Rishikesh is located in northern India (Uttarakhand state – the old name of Uttaranchal), in the foothills of the Himalayas. Hindus consider Rishikesh a holy place, as the sacred Ganges flows through it, and the city itself has always been the residence of yogis and holy sages – "sadhus". Below are the Rishikesh Places To Visit.
Translated from Sanskrit, "sadhu" means "virtuous person." In India, this is the name for ascetics, saints, and yogis who renounced the joys of worldly life in favor of liberation from the chain of rebirth and cognition of God. Ordinary people often refer to sadhus as baba. Sadhus lead a hermitic lifestyle in mountain caves or at ashrams and live on donations from parishioners.
Rishikesh gained worldwide fame thanks to the musicians of the Beatles, who spent several months in Rishikesh in 1968, practicing yoga and meditation with the master Maharishi Mahesh Yogi. Since then, various ashrams and yoga centers have been growing here like mushrooms, and Rishikesh himself has been called the "World Capital of Yoga".
Yoga and meditation courses in Rishikesh are offered in literally every hotel, but the best way to advance in your skills and gain new knowledge is through classes in the ashram.
In ancient India, an ashram was called a secluded abode of sages and hermits somewhere in the mountains or forest, in which they practiced their spiritual practices. Nowadays, ashrams have moved closer to the people and have become something like "spiritual boarding houses" where anyone can spend a couple of weeks in a room with all the amenities, improving their yoga and meditation skills. Each ashram is headed by its own Teacher, the methods of which should be familiarized before the trip.
Every year in the first week of March, thousands of yogis and pilgrims gather in Rishikesh for the International Yoga Festival.
Places To Visit in Rishikesh in 2021
Ashram Parmath Niketan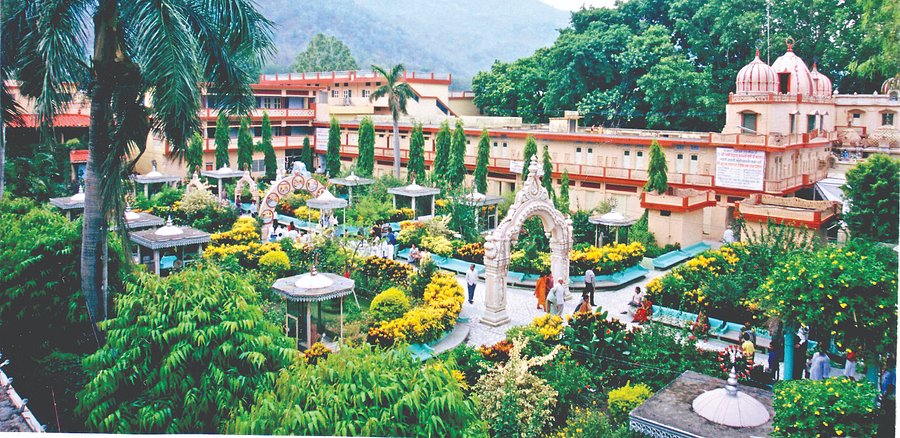 The Beatles Ashram is the very place from which the glory of Rishikesh began. The huge territory of the ashram, overgrown with banyan trees, is located right on the banks of the Ganges, and local teachers are famous for their successes in naturopathy. The ashram has a thousand rooms equipped with everything you need!
Sivananda Ashram
This ashram was founded back in 1932 by one of the greatest yoga masters of the twentieth century, guru Swami Sivananda Saraswati. At the ashram, there are constantly courses of meditation, yoga, and other methods of spiritual practice. Those wishing to settle here during the training should notify the administration in advance – two months before arrival.
Yoga Niketan Meditation Center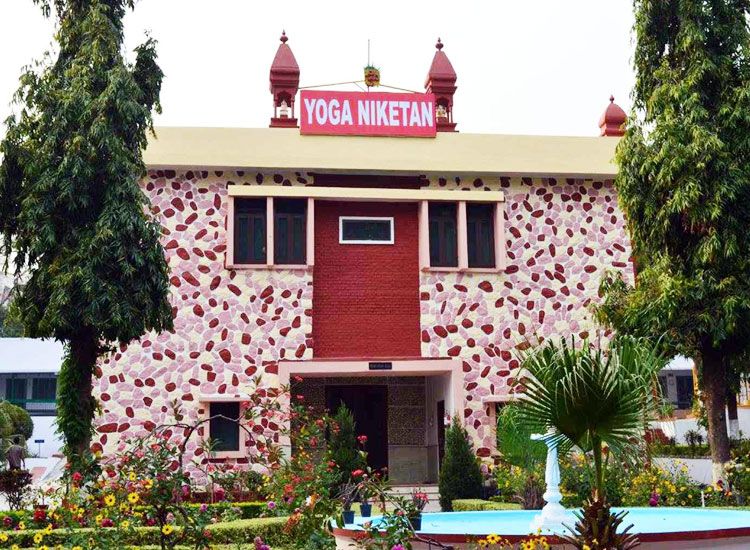 A yoga-specialized ashram offering a complete package of services to its students. Accommodation in comfortable rooms, meals, hatha yoga, and meditation courses are all included in the price. True, it is difficult to call all this a carefree vacation – the minimum stay in the ashram is 15 days, and classes begin every day at half-past five in the morning.
Lakshman Jhula
One of the most prominent places in Rishikesh, Lakshman Jhula is a 450 feet long suspension bridge at a height of 70 feet from the river. The bridge, built-in 1939, is an important attraction as it is believed to be the place where Lord Laxman crossed the river Ganges on a jute rope.
While you will find plenty of cafes on both sides of the bridge, the famous places you must visit are the Lakshman Mandir and the Tera Manzil temple located nearby. While crossing the bridge, stop in the middle and enjoy the view of the hills around you. Nothing is more real than this!
Ram Jhula, Rishikesh
Ram Jhula is a few miles away from Lakshman Jhula. Almost identical in its structure and construction, this suspension bridge was built in 1980 a little later than Lakshman Jhula.
As you cross this bridge, you will see the Himalayas peeking out from the clouds on clear days and the river Ganges flowing in full flow. It makes for a beautiful sight that you don't want to miss out on in Rishikesh. The bridge is also famous for connecting two popular ashrams of the city – Swarg Ashram at one end and Sivananda Ashram at the other end. This bridge, about 450 feet long, gives a breathtaking view of the valleys and the surrounding temples. If you want to take it all in, go slowly.
Tera Manzil Mandir, Rishikesh
Also known as Trimbakeshwar Temple, this is one of the most renowned temples of Rishikesh. Perched on the banks of River Ganga, the temple (as its name suggests) has 13 stories and strikingly beautiful architecture. It can be easily distinguished from afar thanks to its colorful facade.
Triveni Ghat, Rishikesh
It is one of the most famous ghats of Rishikesh and makes for a beautiful place to watch the evening Ganga Aarti. The sanctity of the ghat comes from the legend that it sees the confluence of three major rivers – Ganga, Yamuna, and Saraswati.
The ghat is considered sacred and Hindu mythology is said to wash away all your sins by taking a dip in the holy waters of the Ganges near the ghat. After all, this ghat is mentioned in both our epics – Ramayana and Mahabharata.
The Beatles Ashram, Rishikesh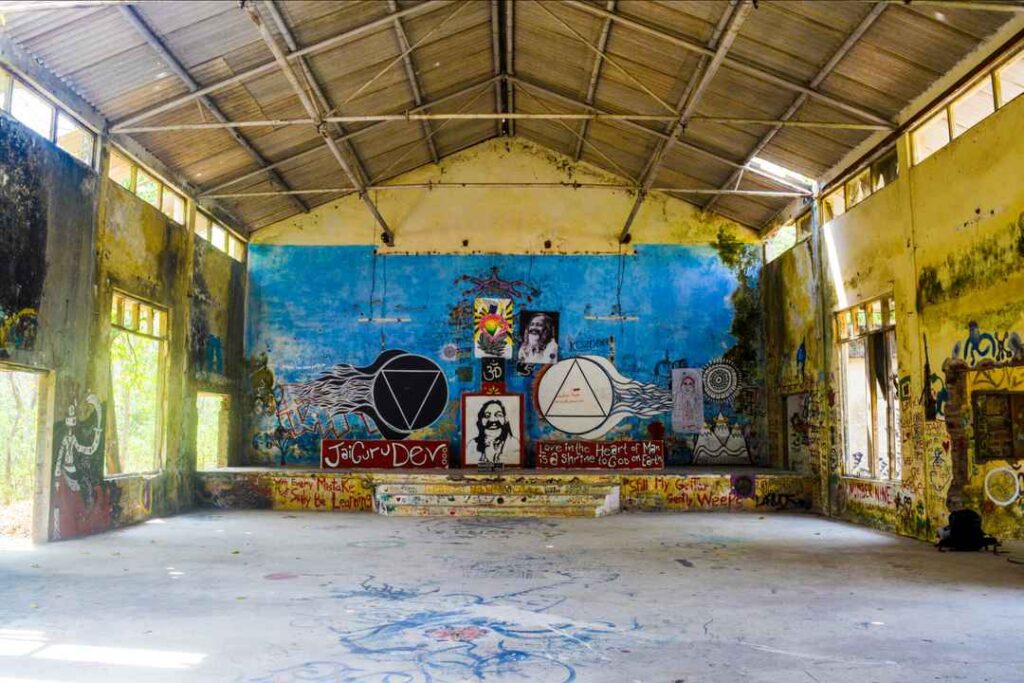 Located at a distance of about 18 km from the city center, Beatles Ashram is one of the most important places to visit in Rishikesh. When the Beatles visited the ashram to meditate on the transcendental, the outlook on Indian spirituality changed around the world.
The time spent by the Beatles at the ashram is known as one of their most productive periods, where they wrote many songs. If you are a Beatles fan, you must visit the Ashram and enjoy its serenity. The place is not maintained properly but still, the ruins look beautiful. Just find a place inside the ashram and spend a few hours in meditation.
Shivpuri, Rishikesh
No trip to Rishikesh is complete without trying out an adrenaline-spiking water sport – river rafting. And the best place to indulge in one of the most exciting adventure activities in Rishikesh is Shivpuri. The epicenter of river rafting, this place is full of people who want to try this adventure sport. Whether you want to go for a short expedition of 9 km or a longer expedition of 21 km, you will find all the equipment and arrangements in Shivpuri.
Of course, if that's all you want to do, we recommend booking a 1N/2D camp. After river rafting, you can relax in tents and spend your evenings around the bonfire.
Read More About Rishikesh
Frequently Asked Questions About Rishikesh
Q. What is the best time to visit Rishikesh?
A – Best time to visit Rishikesh / Rishikesh Temperature / Rishikesh Weather
| Travel Seasons | Min/Max Temperature | Season |
| --- | --- | --- |
| October to February | 8 to 34°C | Winter – Chilly |
| March to May | 14 to 39°C | Summer – Hot and humid |
| June to September | 24 to 35°C | Monsoon – High Rainfall |
Q. What is the cost of bungee jumping in Rishikesh?
A- Bungee Jump (83 mts): is the highest (83 mts) fixed platform BUNGY JUMPING (Bungee) in India. The bungee jumping is located at Mohanchatti near Rishikesh.
Price Table.
| Activity Type | Cost Per Person |
| --- | --- |
| Entry Ticket | Rs 100 |
| Combos | |
| Bungee Jump + Giant Swing | Rs 6500 |
| Bungy Jump + Flying Fox | Rs 4750 |
Q. What is famous in Rishikesh?
A – Places to Visit in Rishikesh
Lakshman Jhula.
Ganga Aarti.
Jumpin Heights – Bungee Jumping.
Neelkanth Mahadev Temple.
Ram Jhula.
Triveni Ghat.
Parmarth Niketan.
Geeta Bhawan.
Q. Is Rishikesh worth visiting?
A – Oh sure, yes. Rishikesh is a charming small town and the Lakshman Jhula is quite distinct on both sides of the bridge. It's a bit quieter and feels more spacious for staying on the west coast and crossing for shops, aarti at Parmarth Niketan Ashram, and the Beatles/Maharishi Ashram.
Q. Are 2 days enough for Rishikesh?
A – Sightseeing places of Rishikesh are- Laxman Jhula, Triveni Ghat. You can do rafting there. Haridwar-Har Ki Pauri, Mansa Devi/Chandi Devi Temple. You can also take a day/short trip from Rishikesh to Mussoorie. One week will be enough for Haridwar and Rishikesh.
Q. Which god is Rishikesh?
A – Rishikesh means 'lord of the sense's and is another name for Lord Vishnu. Under a mango tree, Lord Vishnu appeared to 'Raibhya Rishi'. Legend has it that when a huge fire broke out here, Lord Shiva was angry with Lord Agni and cursed him.
Q. Is alcohol banned in Rishikesh?
A – The city is a wine-dry destination because according to Hindu mythology, Rishikesh is a religious place, an important pilgrimage center in India. Consumption of alcohol is not allowed in public places and is not even served in any eatery or cafe, so keep that in mind!
Q. Is it better to live in Haridwar or Rishikesh?
A – Rishikesh is blessed with nature and because it is situated at a higher altitude and it is situated by the roaring Ganges. While the peace of the Ganges is located in Haridwar. It is more known for its spiritual and religious impact on tourists.
Q. How many days do you need in Rishikesh?
A – With three days in Rishikesh, you'll have plenty of time to see the main attractions, from the temples and ashrams along the banks of the Ganges River to the forests on the outskirts of the city.
Q. Is Rishikesh good for couples?
A – For couples who love nature, adventure, and a spiritual vibe, Rishikesh is the best place for them. From sipping a hot cup of tea on the beautiful balcony of your home with your spouse to the fun-filled adventure of river rafting, Rishikesh is a place to fully feel the romantic vibe.
Q. What is the old name of Rishikesh?
A – According to Skanda Purana, this region was earlier called Kubbark because here lord Vishnu appeared to Rishi Raabh under a mango tree. And the whole region along with the surrounding area was then called Kedarkhand (now Garhwal).
Q. Is Rishikesh safe now?
A – Being a revered pilgrimage place, Rishikesh is quite safe to visit. The road condition in Rishikesh remains largely unaffected during monsoons. The local people of Rishikesh are very courteous and also ensure that all the tourists are safe and sound.
Q. Is Rishikesh safe at night?
A – Rishikesh is very safe as it is a tourist area, it is not dangerous to wander at night unless there are two people. No worries. Yes, with all other security points- travel in a pre-booked taxi- exclusively managed by the travel agent or your hotel.
Q. Why is Rishikesh famous?
A – Rishikesh is a small quiet town famous for meditation and yoga. It is the gateway to the Himalayas and being on the banks of the river Ganges, it is an ideal place for adventure activities like rafting, trekking, rock climbing, kayaking, etc.
Q. Which are the Best Hotels in Rishikesh?
A – Below are the best hotels in Rishikesh
The Roseate Ganges
Sterling Palm Bliss, Rishikesh
Taj Rishikesh Resort & Spa Uttrakhand
Atali Ganga Resort
Aatithya Resort
Bull Adventure 0015
Ecoterra Serene
VNA Beach Resort And Camp By The Ganges
Lemon Tree Premier, Rishikesh
Aloha on the Ganges By Leisure Hotels
The Narayana Palace by Salvus
The Ayali