The sheer serenity and the historical romanticism of this valley will sweep you to the brink of nothingness until you awake from the trance and realize what time you actually are in. Nubra Valley is a trekker's inevitable halt and is constantly besotted with bikers and trekkers from around the globe who come here to quench their thirst for adventure trips to the Siachen Glacier north of the valley. The valley is dotted with monasteries, which look mystically beautiful from the river basin, out there in the open and vast expanse. Nubra valley – things to do.
Diskit Gompa
As the largest and the oldest surviving monastery in the Nubra Valley, Diskit Monastery or Diskit Gompa occupies a special place in the history of Tibetan Buddhism and belongs to its Gelugpa (Yellow Hat) sect. Changzem Tserab Zangpo, the disciple of Tsong Khapa, the founder of this sect, established the monastery in the 14th century. The architecture of the monastery is typically Tibetan with various (slightly damaged but few renovated) murals inside it depicting paintings of the Guardians of the world, whose images grimly grace the second-floor chamber as well. A visit to the Diskit Monastery will offer you a chance to develop a wholly fresh perspective about life, one that will only deepen your ties with spiritualism.
Panamik Hot Sulfur Spring
For as long as we can remember mortals have forever been spellbound by the mysteries of the world in any form and shape, including what we know as hot water springs. Panamik is one such place that has invited the attention of a growing number of people in recent times. Situated about 150 kilometers (93 miles) away from Leh and at an altitude of 3183 meters (10,442 feet) the village of Panamik plays host to a hot water spring in the middle of nowhere. It's been said that the temperature of the water is really hot, with sulfur being established as the chemical that's present here. No wonder it's believed to be laden with healing properties, the effects of which can probably be experienced if you take a dip here.
Sumur village & Samstemling Gompa
At an elevation of 3096 meters (10,157 feet) and 28 kilometers from Panamik, Sumur village rests along the Nubra River and is an amazingly picturesque settlement with vast expanses of green fields reaching up till the valley parapets. Other than Diskit, Sumur is the only other village in Nubra Valley that organizes a grand festival every year with camel races, ibex and peacock dances, traditional archery competitions, traditional marriage ceremonies, war dances and even flower exhibitions. However, the biggest attraction of Sumur village is undoubtedly the Samstemling Gompa or Samstemling Monastery. As an entire complex comprising seven different temples, it is a fabulous storehouse of a huge collection of thangkas and arduously restored frescoes, which can be found, distributed neatly across the several prayer halls here.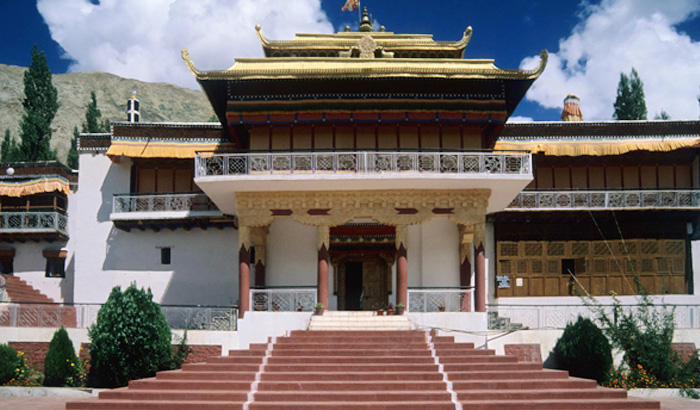 Bactrian Camel Ride
Bactrian camel rides are a major form of tourist activity in the Nubra Valley today. The double-humped camels, which were once used as pack animals have now become increasingly popular among a large number of tourists who come here for this most unusual experience. This highly interesting ride is flagged off from different locations and takes tourists through various points of interest along the Silk Route. Swaying rhythmically with the movements of these twin-humped, large even-toed ungulates you can be your own Lawrence of Arabia and eye such sights as the graveyard of Hor, Diskit Monastery and The Dalai Lama's palace.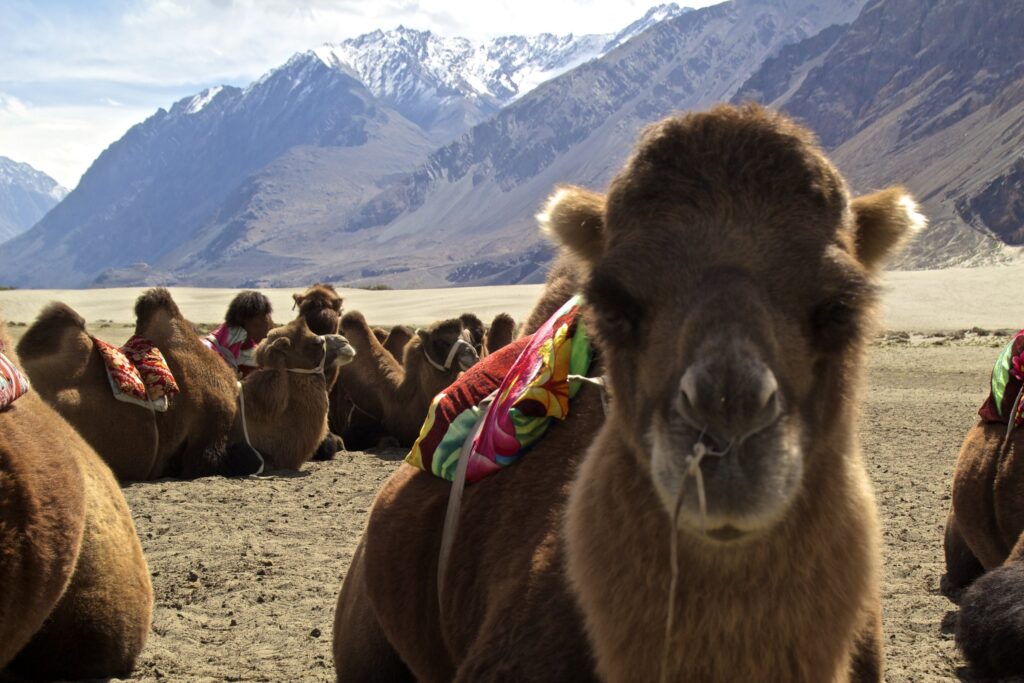 Public transport service in and around Nubra Valley is quite limited with local buses running from Monday to Saturday between different points with few frequencies. These buses also ply to nearby places like Diskit, Sumur, Panamik, and Hunder at sporadic intervals and the fares range from rupees 10 to rupees 45. Even jeeps, both booked and shared, are available at various points for you to get around and visit places that are of interest to you. If you have sufficient time at your disposal you can comfortably walk and explore the valley.
Similar Articles
Important Links
Frequently Asked Questions About Things To Do In Nubra Valley
Q. How to reach Nubra Valley?
A. There are two routes from Leh that reach Nubra Valley. One is from Leh to Khalsar and the other is from Srinagar to Leh. The most common route is the Leh to Khalsar to reach Nubra Valley. Srinagar to Leh is one of the scenic routes you can take as you will pass through many mountain ranges and scenic routes
Q. How long can you stay in Nubra Valley?
A. You can visit a few places and return the same day back to Leh. It takes up to 3 days to explore the valley and its scenic villages. This is a popular place for camping, trekking, mountain biking, and river rafting.
Q. What are the places to visit near Nubra Valley?
A. Pullu, Phyang, and many other remote villages can be visited near Nubra Valley. You must remember that a few places here have no accommodation or any other facilities. They are vast scenic lands but you cannot stay overnight.
Q. Things to keep in mind when visiting Nubra Valley?
A. Carry a torch with extra batteries. Always stay hydrated. Carry a lot of energy foods. Keep all of your IDs and documents with you in a safe place. Do not rely on mobile and keep a hard copy of all of your contact lists. Keep a first aid kit and auto repair kit handy.
Q. Are there pubs and lounges in Nubra Valley?
A. A few hotels might have bars in Leh. Most of the camps and eating joints are in Leh. You can enjoy a great view and other facilities at camps, resorts, and hotels in Leh.