How to travel with pets? If traveling without a four-legged friend no longer brings joy, then you will have to stock up on patience and money – apart from the hassle of chips, documents and vaccinations, you will have to think carefully about the route because many of the usual ways of movement are not available for animals. How best to organize your shaggy friend's travels within the country and abroad
In Belarus
What documents are needed? Veterinary certificate or veterinary certificate.
On the train. To ride a train around Belarus with your four-legged friend, you will have to buy out an entire compartment. Even so, the cat (or bird) will need to be caged or transported, and the dog should be muzzled and on a leash. Strong and independent women will have a hard time – a maximum of two cats can be transported in a compartment. Another thing is the electric train. Here you can take an animal without documents and without purchasing additional seats. True, if you do everything according to the law, then even with the most adorable dog you will have to stand in the vestibule all the way.
On the bus. "Minsktrans" does not mind if you want to transport an animal, you won't even have to pay extra. Anyone who can be asked to be put in cages or bags with "waterproof absorbent bottom". Large dogs must be accompanied by passengers over 16 years of age.
CIS
What documents are needed? If you are heading to Russia, with which there is virtually no border, then you can get by with documents for Belarus – a certificate or a certificate. To enter other countries, you will need a complete set – a veterinary passport, a chip, and a certificate for leaving. You can get it at the district veterinary clinic one day before the trip. In order for the certificate to be given, the pet must have all the necessary vaccinations (and not older than a year!).
On the train. Again, the only way out, if you are driving BZD, is to buy out the whole compartment.
On the bus. It will be possible to leave Belarus only by Minsktrans – other carriers are not eager to carry your pet.
By plane. Most air carriers are allowed to take small animals (weighing up to 8 kg with the cage) into the cabin, but larger children will need to be checked in. The price for such a service differs from company to company: for example, Aeroflot asks for € 100, and UIA already wants € 165.
To the EU and the UK
What documents are needed? To enter the European Union, the animal will need to be microchipped, prepare a passport and take a certificate from a veterinarian. In addition, if you fly from Belarus, you will need an international certificate, which is issued by the State Veterinary Inspectorate right at the airport (for details, call +375172791215). In order to enter back using the same documents, your trip should not be longer than 10 days. An animal under three months old will not be allowed to be taken out.
On the train. Only the option with the purchase of four seats in a compartment is available for rent. By the way, SV and reserved seats cannot be removed.
On the bus. Despite the huge variety of bus routes across Europe, they are not available to pet owners. Unless you go to Vilnius with "Minsktrans" – then you won't even have to pay anything extra.
By plane. Low-cost lovers will be disappointed – neither WizzAir, nor Ryanair, nor EasyJet is ready to transport your dog yet. The exception is AirBaltic and Vueling. Regular airlines are not against animals, they just have to pay. Since the prices for transporting an animal in the cabin (for everyone who is lighter than 8 kg with the cage, but there are restrictions on the size of the cage) and cargo are different, it is always better to ask the airlines in advance for details.
Please note that the UK, Malta, Ireland, and Finland have additional requirements for the import of animals. So, if your dog wants to see Big Ben, then he will have to undergo a separate course of treatment against Echinococcus multilocularis (in other words, worms) no later than 24 hours, but not earlier than 120 hours before entry. All this looks like a real headache, and therefore Belavia, for example, does not even associate with the transportation of animals to Britain. For example, you can only take animals to Ireland by cargo.
The easiest way to clarify the situation in advance is to call the embassy of the country where you are going. They are usually aware of the rules for importing animals into their country and are ready to help with advice.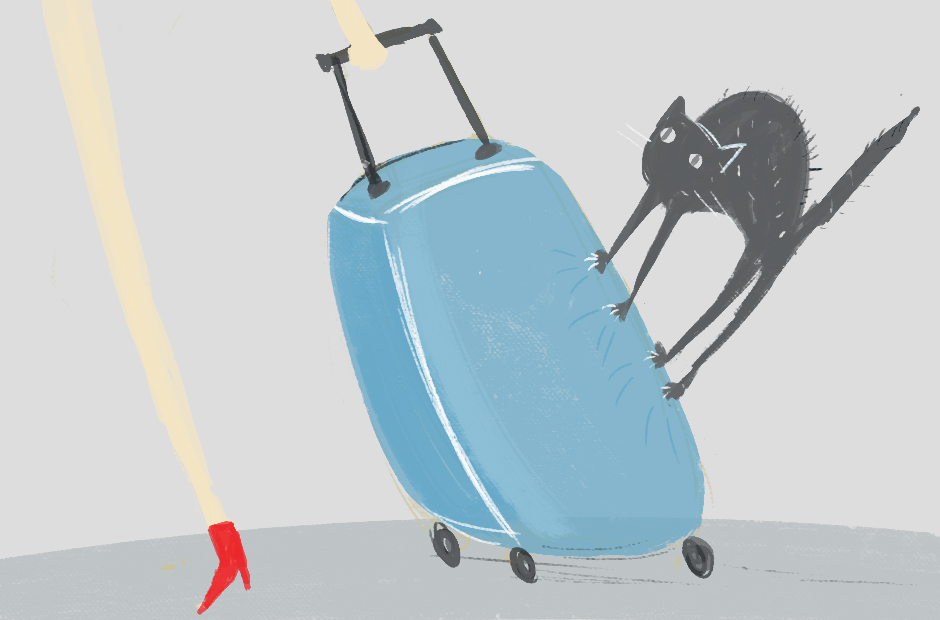 How to prepare yourself and your animal for the trip?
Buy a cage if necessary. The cage should allow the dog or cat to stand tall and, ideally, rotate 360 ​​degrees. Some airlines may refuse to take the animal if it seems to them that the cage is too small for it. A few days before the trip, but the animal is in a cage so that it can gradually adapt to the conditions of transportation. Registration of an animal for a plane usually takes a lot of time, and therefore arrive at the airport no later than three hours before departure.
If you travel with your dog for more than a day, be sure to walk it at the stops. Preferably every 6 hours. It is better than the dog does not drink before the trip – at least 4 hours. Giving sleeping pills or tranquilizers is a so-so idea, the consequences can be unpredictable.
Cats are transported in shipping containers, wicker baskets, and bags. Kittens will like to travel more in soft shoulder bags.
For birds, transport cages or road cages are suitable, in which three walls are blank. To prevent the bird from going crazy from stress, it is better to cover the cage with a cloth. If the bird is large, you can move it to a travel container for the cat. By the way, it is forbidden to import birds into Uruguay if you were suddenly going to.
And most importantly, don't panic. Often, animals can handle the road even better than their owners. How to travel with pets?
Similar Article