EIFFEL TOWER
Hit all the Paris highlights, starting with a guided tour of the Eiffel Tower including standard access to the tower's summit. Follow up with a narrated cruise along the Seine River, a tour of Ile de la Cité home to the Notre-Dame Cathedral, and a guided walk through the Louvre Museum. Enjoy skip-the-line access so you can bypass the Louvre's outdoor crowds and tour the artworks with your guide. The summit, louvre & Seine river cruise – Paris
Eiffel Tower |Description
Meet your English-speaking guide in the morning at the centrally located Saint-Michel fountain. After a nice and invigorating walk, discover the majestic Notre-Dame Cathedral. Admire its construction and architecture from the outside, and learn more about the cathedral's secrets with your guide, from gothic art to the gargoyles.
Continue your day with a walking tour from Notre-Dame of Paris Cathedral to the Louvre Museum. Enjoy a 2-hour guided tour of the Louvre Museum with fast-pass entrance, and admire the legendary Mona Lisa and her world-famous friends: Venus de Milo, Winged Victory of Samothrace, and many more.
Discover sculptures by Michelangelo and Canova, Neoclassical paintings by David, and romantic paintings such as Delacroix's Liberty Leading the People as well as the crown jewels of the French Monarchy.
Next, enjoy a relaxing 30-minute Seine river cruise starting near the Louvre museum and stop at the Eiffel Tower where your tickets up to the Summit are already reserved. Enter the Eiffel Tower and head up to the 2nd floor, where your guide will finish the day telling you fascinating tales and anecdotes about the Eiffel Tower's unique history.

After that, you are free to go to the Eiffel Tower Summit on your own to admire the privileged views and stay as long as you want, at your own pace. You may have to queue to access the Summit.
In the middle of the day, you will be given a 1-hour well-deserved and pleasant lunch-break. Feel free to ask for suggestions to your local guide! As well as dinner ideas if you want to stay near the Eiffel Tower after your visit.
Itinerary
09:00 AM – Meet your guide at Saint Michel Fountain
09:30 AM – Discover Notre Dame Cathedral
10:00 AM – Visit Louvre Museum
12:00 PM – Discover sculptures by Michelangelo and Canova, Neoclassical paintings
02:00 PM – Enjoy a relaxing 30-minute Seine River cruise
03:00 PM – Visit Eiffel Tower
04:00 PM – End of Tour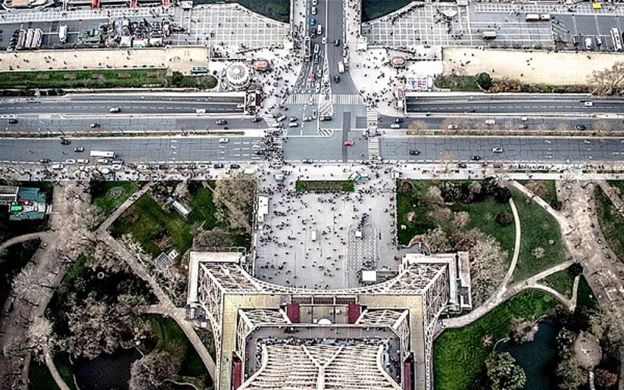 Memories
Visit Paris' main highlights in 1 day including the Eiffel Tower with Summit access, the famous Notre-Dame Cathedral, the Louvre Museum, and a narrated Seine River cruise. Bypass the crowds with skip-the-line access to the Louvre.
Experiences
Visit the iconic Eiffel Tower and go to its summit
Skip the line at the Louvre and learn about its treasures
Admire the Notre-Dame Cathedral from outside
Enjoy a pleasant cruise through the city along the River Seine
Relax and optimize your time during a 1-day fully guided tour
Historic & Cultural Walk
Related Post – PARIS – TOP 10 PLACES TO VISIT
Frequently Asked Questions About Paris In December
Q. Which is the best time to visit Paris?
A. If you want to see Paris at its best, you can plan the trip from April to June and in early November. You can also visit Paris in December if you want to get a cheap deal on flights & hotels and also stay away from the crowd.
Q. Is Paris too cold in December?
A. December is the winter season in Paris, so you can expect chilly weather at this time. Generally, the temperature is within 2°C to 7°C, but it never goes below the freezing point.
Q. Can you expect snow in Paris in December?
A. December is the winter season in Paris, but it is full of rain. Due to rain, the weather sometimes gets warm and humid which is a hindrance to the creation of snow. Even if it is snowing, it is only 1 to 2 inches.
Q. What is there to do in Paris in December?
A. You can beat the winter by having lots of fun in Paris in December. The holiday lights and window displays will make you remember that Christmas is coming. Also, you can go for ice-skating, taste the best French cuisine and drink, go sightseeing, and so on.
Q. What to do in Paris on Christmas?
A. If you plan to stay in Paris to enjoy the festive spirit of the city, you can visit the Eiffel Tower on that day. Also, you can have fun at Christmas Cruise where you get the opportunity to eat and drink whatever you want.
Q. What to wear in Paris in December?
A. December is the winter season, so you have to be prepared to beat the coldness. Warm coats must be there in your luggage. You should always cover yourself with two layers of apparel that include wool ponchos, polo neck sweaters, turtlenecks jackets, woolen hats, and scarves.
Q. What are the best items to eat in Paris?
A. French cuisine is unique, so you can eat as per your taste. But, there are certain things that you shouldn't miss, like falafel, chocolates, salted butter caramels, Steak Frites, French Cheese, etc.
Q. How to plan your trip to Paris in December?
A. You should plan early. Though it is the off-season, still some people want to visit Paris without a crowd. So, book your hotels and flight tickets early.