In the mountains of Colombia, at an altitude of more than 8,000 feet above sea level is the sprawling capital of Bogota. This is a place I have been to three times in the last seven years and it holds a special place in my heart. It was the first city I ever visited in South America. I filmed my first travel video there. 5 Top Things to Do in Bogota
Unlike other cities where the top things to do are too touristy to ever repeat on your second or third visit, like Times Square in New York City, I find myself enjoying Bogotá's iconic experiences over and over again. I never get tired of doing these top five things:
5 Top Things to Do in Bogota
Monserrat
For the best views of Bogotá's vast network of neighborhoods, take the cable car to Mount Monserrat, which stands at 10,407 feet in elevation. Climb the steps of a 17th-century cathedral as you gaze into the sky for some of Bogota's most breathtaking panoramas. While a day trip gives you the clearest views of the city, Monserrat is open until midnight, so take advantage of the late-night hours to see the magic of Bogotá at night.
Ajiaco for Lunch
The weather can be unpredictable when you are so high in the mountains. Temperatures can drop and sudden rainstorms can make you crave a hot and hearty lunch. The perfect antidote is Colombian ajiaco. This is a traditional soup with chicken, corn, potatoes avocado, capers, and a drizzle of sour cream. do I need to say something else? You can find it throughout Bogotá, but especially in the oldest quarter of Bogota, La Candelaria. One of the best ajiaco I've ever tasted comes from La Puerta Falsa. It's almost one of three things on the menu. Sit upstairs in the loft for a uniquely Bogotano experience.
Shopping at Artisan Markets
Also in the neighborhood of La Candelaria, you'll find several artisan markets where you can shop for authentic Wayuu Mochila bags, alpaca ponchos, and handmade jewelry. Most vendors accept credit cards, although some charge extra for using them, so it's best to negotiate with cash!
Botero Museum
While there are many museums to see in Bogotá, including the famous Museo del Oro, the Gold Museum, my particular favorite is the Botero Museum. It is a celebration of Colombia's most famous artist, Fernando Botero. It's your makeover to visit his collection of erotic sculptures as well as the iconic Botero paintings. On the way to the museum, don't miss a stop at Plaza de Bolivar.
Andres Carne de Res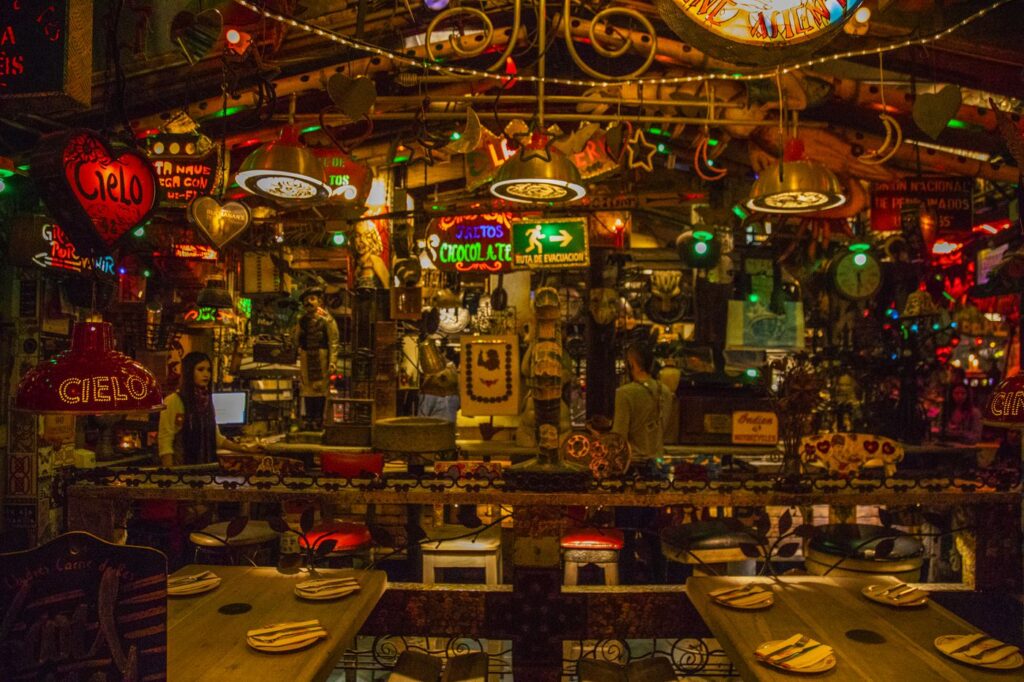 Imagine a circus, a steakhouse, a theater, and a nightclub all under one roof. That's what it feels like at Andrés Carne de Res. While there is a location in the center of Bogota, the original Andrés Carne de Res is about an hour outside the city in a small town called Chia. If you have time, it is well worth the visit. Make a reservation for a Friday or Saturday night and let your senses blow.
What are your favorite things to do in Bogota, Colombia?
Similar Articles