Toy Train: The Nilgiri Mountain Railway toy train is the highlight of a visit to the popular hill station of Ooty, in south India's Tamil Nadu state. Established in the early 19th century by the British as the summer headquarters of the Chennai government, Ooty now draws tourists wanting to escape the stifling summer heat.
The railway opened in 1899 and was completed in 1908. It was declared a UNESCO World Heritage site in 2005. The quaint toy train pulls blue and cream wooden carriages with large windows.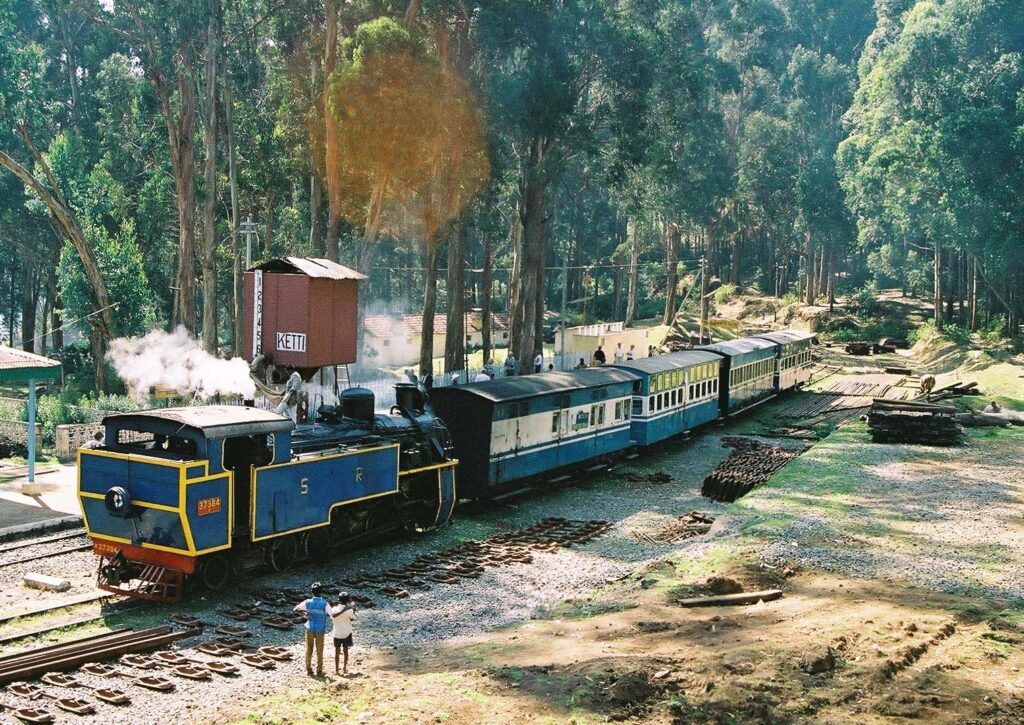 Railway Features
The Nilgiri Mountain Railway runs from Mettupalayam to Udagamandalam (Ooty), via Coonoor, in the Nilgiri Hills of Tamil Nadu. It's the only meter gauge, rack railway in India. Also known as a cog railway, it has a middle rail fitted with a rack that engages a pinion on the locomotive. This provides traction for the train to go up steep inclines. (Apparently, it's the steepest track in Asia, increasing from 1,069 feet to 7,228 feet above sea level).
The railway predominantly uses a fleet of X-Class steam locomotives. In recent years, its vintage coal-fired steam locomotives have been replaced by new oil-fired steam engines. This was necessary due to recurring technical snags, problems getting quality coal, and the risk of causing forest fires. The retired steam engines will be exhibited at Coimbatore and Ooty railway stations, and the Nilgiri Mountain Rail Museum at Mettupalayam.
However, according to a news report, officials want to retain the heritage value of the railway and plan to reintroduce one of the coal-fired steam engines. Unfortunately, it failed a trial run in February 2018, due to a lack of steam pressure.
The train's steam engine is switched to a diesel one on the section between Coonoor and Ooty.
Route Features
The Nilgiri Mountain Railway is 46 kilometers (28.5 miles) long. It passes through many tunnels, and over hundreds of bridges (about 30 of them are large ones). The railway is particularly picturesque because of the surrounding rocky terrain, ravines, tea plantations, and thickly forested hills. Coonoor, with its world-famous teas, is a tourist destination in itself. The most spectacular scenery and best views are situated along the stretch from Mettupalayam to Coonoor. Hence, some people prefer to only travel along this part.
How to Reach Mettupalayam
Coimbatore is the closest city to Mettupalayam. It's located about an hour south and has an airport that receives flights from all over India.
The daily 12671 Nilagiri (Blue Mountain) Express train from Chennai arrives in Mettupalayam at 6.15 a.m. and connects with the toy train's morning departure. (It also connects with the toy train's evening arrival in Mettupalayam on the return journey). The Nilagiri Express stops in Coimbatore at 5 a.m. on the way, so it's possible to take this train from there to Mettupalayam. Alternatively, a taxi will cost about 1,200 rupees ($18).
Frequent buses run from Coimbatore to Mettupalayam, starting from 5 a.m. There are also regular passenger trains between the two places during the day. You'll find a few decent budget hotels in Mettupalayam if you want to stay there overnight to catch the toy train the next morning. However, better accommodations are available in Coimbatore.
Regular Train Services and Fares
One toy train service operates on the Nilgiri Mountain Railway from Mettupalayam to Ooty per day. There are seven stations along the route. The timetable is as follows:
Both first class and second class seating are offered on the toy train. The main difference between the two is that first class has cushions and fewer seats. If you're concerned about comfort, it's worth buying a first-class ticket to have a more peaceful and less cramped journey away from the crowds. A small number of unreserved tickets is also made available for purchase at the ticket counter before departure. However, they usually sell out within minutes. A fourth carriage was added to the train in 2016, due to rapidly growing demand. The train still books up quickly though, especially in summer.
The adult train fare is 30 rupees ($0.45) in the second class and 205 rupees ($3) in the first class, one way. The unreserved general fare is 15 rupees ($0.15) one way.
Do note that the area receives rain from both the southwest and northeast monsoons, and this commonly disrupts services.
Reintroduction of Summer Train Services
After a break of five years, special summer train services will recommence in 2018.
A "Heritage Steam Voyage" will operate between Mettupalayam and Coonoor, on Saturdays and Sundays, from March 31 to June 24. The train is officially called the 06171/Mettupalayam-Coonoor Nilagiri Summer Special. It's scheduled to depart Mettupalayam at 9.10 a.m. and reach Coonoor at 12.30 p.m., with stops at Kallar and Hillgrove. In the return direction, it will leave Coonoor at 1.30 p.m. and arrive in Mettupalayam at 4.20 p.m.
The train will have two first-class carriages and one-second class carriage. Be prepared to pay a lot more than the regular toy train! Tickets in first-class cost 1,100 rupees ($16) for adults and 650 rupees ($10) for children. The second class costs 800 rupees ($12) for adults and 500 rupees ($8) for children. A welcome kit, souvenirs, and refreshments will be provided onboard.
How to Make Reservations
Reservations for travel on the Nilgiri Mountain Railway can be made at Indian Railways computerized reservation counters or on the Indian Railways website. It's advisable to book as far ahead as possible, particularly during the peak summer season from April to June, the Indian festival season (especially around Diwali vacation), and Christmas. The train fills up months in advance for these times.
The station code for Mettupalayam is MTP, and Udagamandalam (Ooty) UAM.
Read More: Darjeeling – The Queen of Hills Places to visit
Frequently Asked Questions About Nilgiri Mountain Railway
Q. Is Nilgiri Mountain Railway open?
A – The Nilgiri Mountain Railway service resumed on Monday after a gap of more than four months. Nilgiri Mountain Railway resumes operations. I. F. 6 September 2021. Train number 06136 departed from Mettupalayam Junction at 07.10 am on Monday carrying 105 passengers.
Q. Why is the Nilgiri Mountain Railway famous?
A – It is the only meter gauge rake railway in India. Its youngest X-class locomotive is over 50 years old, and the oldest is 80 years old. The Nilgiri Mountain Railway is the toughest track in Asia, ranging from 1,069 feet to 7,228 feet above sea level at its highest points.
Q. Where will the Nilgiri Mountain Railway take you?
A – Ooty to Mettupalayam (Nilgiri Mountain Railway toy train)
Q. Where is the Nilgiri train?
A – The Nilgiri Mountain Railway (NMR) is a 1,000 mm (3 ft 33⁄8 in) meter gauge railway in the Nilgiris district, Tamil Nadu, India, built by the British in 1908.
Q. What is the Nilgiri Toy Train running?
A – This train runs from Mettupalayam to Ooty via Coonoor. The track covers a total of 46 km and completely passes through the picturesque Nilgiri mountains and the journey is well worth the time spent on the train.
Q. Which is the best seat in Ooty Toy Train?
A – The Ooty-Coonoor leg train prefers to ride backward (or forward) with the right-hand window seat (the seat farthest from the platform). The best first-class seats are in this order: 1-2, 7-8, 15-16, 9-10 (there are 16 seats in total).
Q. What is the name of the Ooty train?
A – Udagamandalam railway station, also known as Ooty railway station, is a terminus station in Ooty, Tamil Nadu. The terminus is a part of the Nilgiri Mountain Railway, a World Heritage Site.