More than ever, all levels of adventurers are ready to take themselves to places they've always wanted to visit. The "someday I'm going to hike the Inca Trail" mentality is fast becoming a reality. sound like you? You might be surprised that one of the most famous treks in the world is within reach of most people. You definitely need to stay healthy and in good shape, but our experienced (and award-winning!) team will keep you hyped, well-fed, and rested all the way.
Like many people considering the climb, you probably have a few questions left to answer before you book your big Incan adventure. And wouldn't you know it, we've got tons of great answers for you. Eight of them, in fact. So let's dig in!
1: How difficult is the trek?
While we have a few ways to "do" the Inca Trail to Machu Picchu, the popular four-day trek is challenging but not reserved for athletes. Healthy people of all ages take up the climb and it only requires a good dose of energy, perseverance, and some preparation. It's also important to adapt to the altitude, so you'll either have to arrive a day or two in advance or book a tour with adjustment times to the itinerary.
Just to give you a sense of the effort required, a traditional Inca trail trek begins with a hike of up to 82km by van, covering a distance of 11km/6.8 miles you might think, to Vaylabamba Camp at 2,950m/9,678ft. easy for. The second day takes it up a notch with a long climb to Warmianuska, commonly known as the Dead Woman's Pass.
This is the highest point of the trek (about 1,800 m / 5,905 ft higher than Machu Picchu) and completing it with an early afternoon arrival for camping boosts your energy for the rest of the journey. The third day has the longest walk at 16km / 9.9mi, but rewards you with epic scenery and marvels of Incan architecture. Then, all that muscle toning takes you up to your final pre-dawn hike to reach Machu Picchu before sunrise. Long story short: You can do it and we'll help!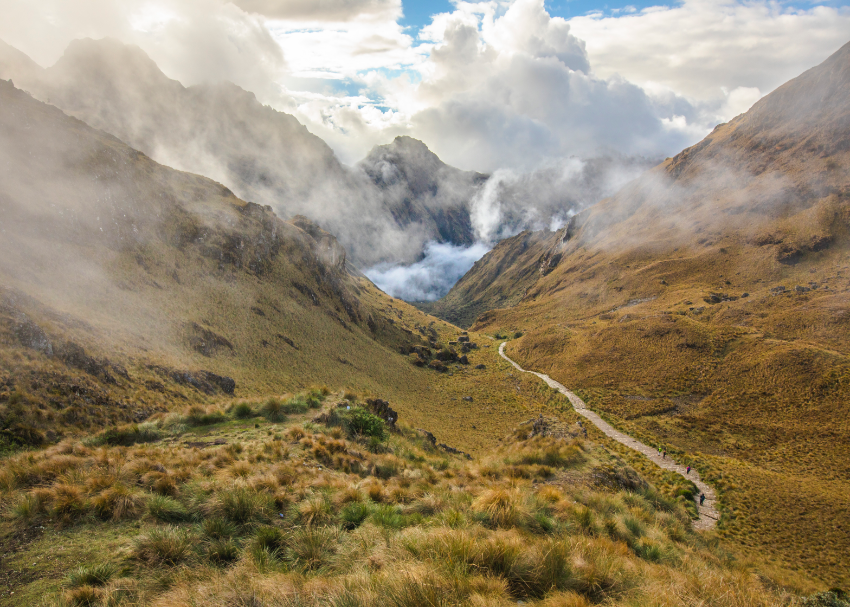 2: Speaking of help… who is hiking with us?
Like any great endeavor, it takes a village, and we send our best men to lead. Our guides, porters, and cooks are absolute champs on the trail and are all hired from the local community. Not only will you trek with a small group of like-minded travelers from around the world but you will also be fed, encouraged, and supported by our 'Inca Warriors'.
Our chefs serve three delicious meals along the way and all the snacks you need for an energy boost. Our team of porters lift, set up, and take down your tents every day and all you have to do is bring your own daypack. And, of course, your local guide is there to lead the trip, teach you about the culture and sights, watch for your own safety and make sure you have the time of your life!
3: Where do we sleep along the trail?
To keep Peru and its ancient trails beautiful, there are camping sites where you'll make your way every night. As mentioned, all your sleeping gear is supplied and transported to the camps by our team of skilled porters. The services available at each stop vary, but we make every effort to make sure the bed downstairs is clean and comfortable. Usually, we use three-person tents for two people and their sleeping bags with mats.
4: How much am I carrying and what should I pack?
All of our itineraries include exclusive packing lists and tips. The high altitude means it can feel quite cold, especially at night, so layers and a warm hat and gloves are essential. You can rent sleeping bags, mats, and walking poles or bring your own during your trek briefing. All your essentials such as your binoculars, camera, and cash stay on you in your day pack and everything else (up to a maximum of 6 kg per person) is handled by our team.
The packing is light but perfect and we can't sing enough praises about a quick-dry towel, headlamp, and extra battery for your electronics. You'll also need rain gear, a liner to a waterproof bag, and a travel pillow. Again, we have ready lists!
5: How do permits work and do I buy one myself?
In an effort to preserve one of the world's oldest and most popular trails, the Peruvian government limits the number of visitors to the Inca Trail each year. Not surprisingly, permits are issued and sold out quickly. Only tour operators such as G Adventures can obtain permits and we work with a locally located Cusco team to secure one on your behalf. If we are successful, it will be waiting for you in Peru before your tour begins. You must have a permit to hike the Inca Trail, so it is best to book with us as soon as possible.
6: Do I have to hike? I heard there's a train.
Choo chu! You heard it right You can save your footwear and tear and opt for locomotive power to travel from Cusco to Machu Picchu. On tours like Peru Upgraded or The Inca Journey, you travel a scenic 3.5-hour route along the Urubamba River to Aguas Calientes at the bottom of Machu Picchu. Alternatively, if you want a taste of the Inca Trail but want to hike the less-traveled route, there is The Lares Trek with One-Day Inca Trail Tour that gives you the best of both experiences.
7: What is the trek like during COVID-19?
We were thrilled to welcome travelers to the Inca Trail in early August 2021. With new health and safety protocols, our team of 'Inca Warriors' is traveling safely to reach the famous citadel of Machu Picchu once again. We worked closely with local officials to support the vaccination rollout for our porters so they can do what they love.
To protect everyone, you can expect new safety precautions, including physical distancing, hand sanitization, wearing a mask, and reducing trail capacity. In keeping with Peru's entry requirements, all tours of the Inca Trail require full vaccinations and a negative test within 72 hours of arrival.
8: Do I have to wear a mask the entire time?
When you're hiking or camping along the Inca Trail, you'll only need to wear your mask when social distancing isn't possible. With small groups and space between climbers, you can take it off as you climb. As far as your time spent in Machu Picchu is concerned, wearing a mask is enforced where physical distancing is not possible and when taking pictures of people.
The number of people coming at a time is reduced so there is generally less crowd. Even with the COVID-19 restrictions in place, we keep getting good reviews from our most recent travelers.
Similar Articles