The Four Most Impressive Volcanoes in Europe: You might be surprised, but Europe is pretty heavily covered in volcanoes. However, do not worry, the vast majority of them are dead or dormant. Dormant volcanoes are technically active but have not erupted for a long time. Although it is expected that they will manifest again sometime in the future.
Most of Europe's volcanoes are centered around the Mediterranean or in Iceland, on the boundaries between tectonic plates. A volcano is considered active if it has erupted at least once within the last 10,000 years, but some erupt more frequently.
Here are four of the most impressive active volcanoes in Europe. The Four Most Impressive Volcanoes in Europe
Geldingadalir, Iceland
There are about 130 volcanoes in Iceland, and Geldingadalir is the newest of them all. It started erupting about two months ago. This is the first volcanic activity on the Reykjanes peninsula since the 13th century.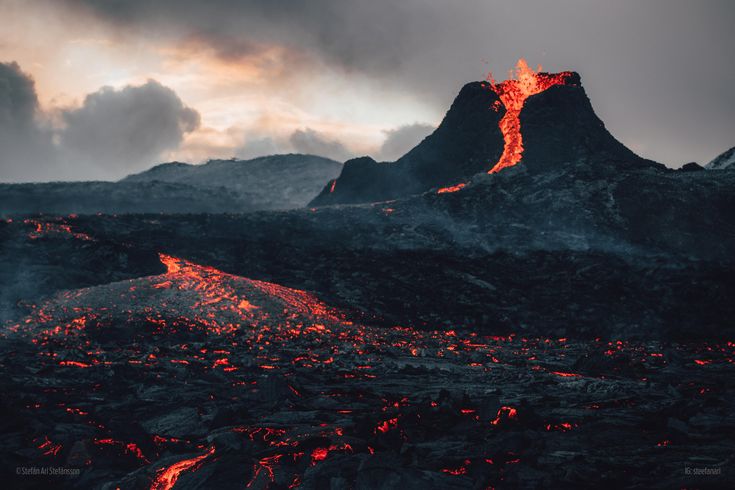 After the first eruption, it remained stable for over a month before spewing lava again in early May. Experts believe that the eruption is the beginning of a new period of activity for the region, and volcanic emissions are expected to become more frequent here.
Stromboli, Italy
Stromboli, or "Lighthouse of the Mediterranean", is one of the most active volcanoes on Earth. But it has been steadily erupting over the past 2000 years. The last burst of serious activity was in 1932. One of its most impressive features is the "Sciara del Fuoco" or "Stream of Fire".
The most interesting thing is that people live on the island, by which the volcano was formed, and you can come here as a tourist. The volcano was quiet after an intense outburst in November 2020 but began erupting again in mid-May.
Santorini, Greece
Santorini, a stunning island off the coast of Greece, is actually a dormant volcano. Its last major eruption was many centuries ago (about 1600 BC), the eruption split the large island into 3 parts, and the volcano's mouth went underwater, but scientists believe that it may soon awaken again.
Throughout history, small eruptions have occurred here, the last of which occurred in 1950. But despite the low activity of the volcano in recent millennia, in a study published in March, scientists classified it as an island with a "high risk of volcanic and seismic hazards."
Etna, Sicily
Place number obviously goes to the impressive Mount Etna in Sicily. The locals call it "Mongibello" and it is the most active volcano in Europe.
In just five weeks in March 2021, it erupted more than 16 times. Mount Etna erupts about 200 times every year, and this number is increasing periodically.
This is not only one of the largest volcanoes in Europe but also the longest-lived. Eruptions of Mount Etna were recorded over 2,000 years ago, when Europe was still under the rule of the Romans, and since then it has been constantly active.
Similar Articles