Luxury Hotels in Dalhousie: It is truly an incredible feeling to be amidst valleys, mountains, and floating clouds. And when you are in Dalhousie, you can experience it and much more. With so many things to do in Dalhousie, it is often the first choice for those looking for an in-demand tourist destination. And if you are planning a holiday to this awe-inspiring hill station, do not miss booking accommodation in one of the luxury hotels spread across the region. Most of these hotels overlook the mountains, providing comfort and enjoyment to each and every visitor.
To be honest, the quaint hotel options available in the city can overwhelm you. So, here we are with the list of top 5 places to stay in Dalhousie. Trust us, these luxury hotels will enhance the overall experience of your vacation, leaving you longing to come back soon!
Luxurious luxury amidst a picturesque landscape, Fortune Park is not the best place to stay in Dalhousie. The opulent hotel has various rooms and suites, which are thoughtfully furnished with all the necessary amenities. Here comes the best part? The rooms overlook the panoramic valley, allowing you to get closer to the natural beauty and serenity. You can choose from the Deluxe Pine View Rooms, the Valley View Suites, or the Duplex Family Rooms. Now let's talk about food! Zodiac, the in-house dining restaurant, brings the flavors of the world to your plate. And if you want to grab a few drinks, head to the Neptune Bar and Lounge.
If you think that's all, it isn't! You can indulge in a satisfying spa session with a trained therapist or spend some leisure time in the indoor temperature-controlled pool. Want to Hit the Gym? Fortune Park also has a well-equipped gym. No wonder why it has got a mention in the list of best Dalhousie hotels. So, book your accommodation at this exquisite hotel and get ready to experience relaxation and bliss on your next vacation.
The place where you can enjoy luxury in the lap of nature, Snow Valley Resorts is one of the most popular hotels in Dalhousie near Mall Road. With best-in-class furnishings and contemporary design, the rooms speak of class and comfort. You can choose from various accommodation options like the Presidential Room, Maharaja Rooms, and Maharaja's Corner Room. No matter which room you choose, you will be able to enjoy breathtaking views of the snow-capped mountains.
Talking about the food, the resort has an in-house restaurant that serves a range of multi-cuisine dishes to savor. It's not him! Snow Valley Resort is renowned for its central location near top Dalhousie tourist places including the famous Gandhi Chowk and Subhash Chowk. This means that you can enjoy your vacation to the fullest without any hassle. Talk about the perfect stay!
A paradise for honeymooners as well as an elegant stay for families, BrijVilla is an exquisitely designed abode for travelers. This eloquent property features colonial-themed rooms that give off a rustic and cozy feel in the lap of the mountains. We know you're thinking, there are two categories, the Classic Room and the Imperial Room. Both types of rooms are decorated with striking interiors, warm colors, and wall paintings. Relax in their spacious rooms, play a round of chess in the chess room or enjoy an exciting bonfire; There's something for everyone at BrijVilla!
Want to explore the nearby area? Take part in nature walks specially organized for guests. A perfect accommodation is incomplete without an exotic gastronomical experience! While you are in BrijVilla, you can savor the delicious cuisine at Cedars, its multi-cuisine restaurant. So, get ready to make countless memories at Dalhousie's finest Hotel Valley View BrijVilla.

A charming resort set amidst peaceful surroundings, Indraprastha Resort is one of the top hotels in Dalhousie. The well-furnished rooms, classy hospitality, and pristine location impart a homely feel here. Guests can choose from their Deluxe Hotel Rooms, Super Deluxe Hotel Rooms, Suite Rooms, and Maharaja Suites. Once you settle into your room, you can enjoy relaxing spa sessions to soothe your senses. And when you get hungry, the mouthwatering menu of the in-house restaurant will satiate your hunger.
Boasting a serene environment and stunning natural beauty, this resort offers top-notch accommodations for visitors. Also, you can travel in and around Dalhousie without any hassle due to the convenient location of the resort. And in case you are wondering, Indraprastha Resort is the perfect match for leisure travelers, honeymooners as well as business travelers.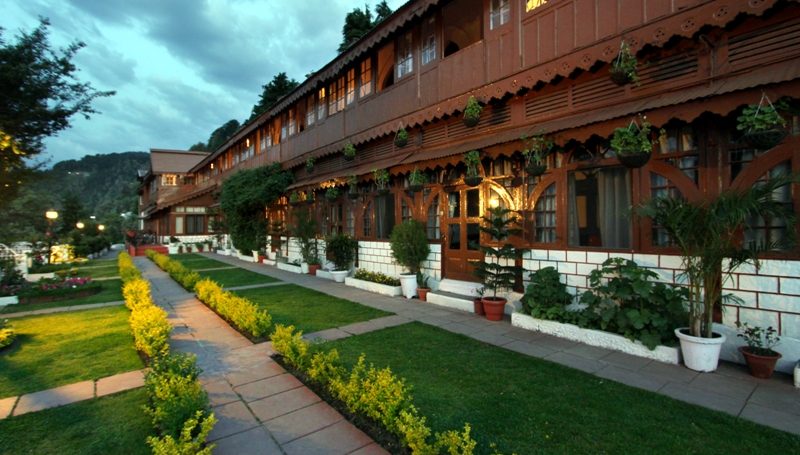 With beautifully styled and lavishly appointed accommodations, Grand View Hotel redefines luxury and comfort. You can find it mentioned in almost every travel guide to Dalhousie, thanks to its excellent reputation. The rustic interior, well-equipped washrooms, and spacious rooms are enough to tempt the guests all in one go. The open terrace and manicured gardens are ideal places to soak in the beauty of the surroundings. After all, this property is known for providing the most panoramic views in the city! Honestly, there is a lot to do and experience at this hotel. You will be spoiled for choice in the dining options at Tiffin Restaurant too. Also, if you are a coffee lover or traveling with someone, you cannot miss out on a cup of coffee from the in-house coffee shop.
We almost forgot to mention it! Grand View Hotel is perfect for a weekend getaway with your families. Why? Because the hotel offers a slew of entertainment activities. From campfires and game nights to DJ parties and more, there are tons of fun things to do here.
Next time you plan a trip to Dalhousie, make sure to book your accommodation in one of these luxury hotels. After all, a comfortable stay is essential to an unforgettable trip!
Related Articles