Italy for First-Time Travelers: Italy, Europe's most enticing country, is steeped in history and culture. This magical country is full of ancient ruins, sunny Riviera's, fine wines, and the dolce vita energy of the Italians. Italy, also famous for its marvelous architecture, unparalleled art, diverse scenery, picturesque cities, quaint hillside towns, and incredible food has become a de facto bucket list destination for people across the world. Popular destinations in Italy entice all kinds of travelers, whether it is the fashion capital of Milan, the historical center of Rome, the canals of Venice, the landscape of the Amalfi Coast, or the cobblestoned streets of Naples.
In most cases, people traveling to Italy for the first-time focus on the country's 'Big 3' cities (Rome, Florence, and Venice). However, if you plan to stay in Italy for more than ten days, there are many charming towns like Cinque Terra, Amalfi Coast, and Milan that are worth discovering. Plan your trip to this wonderful Mediterranean destination with the following list of the best places to visit in Italy.
Rome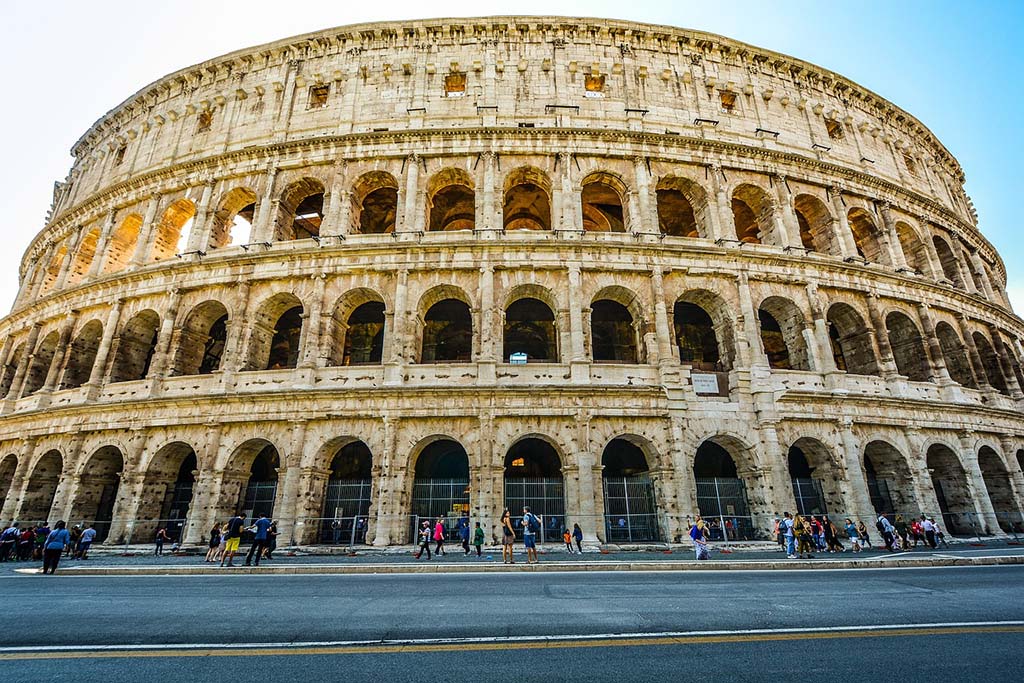 The city of seven hills situated on the banks of the Tiber River bulge with 3000 years of tremendous history depicted in buried Roman ruins, massive domes of great basilicas, and tombs. Rome immerses you in the wonders of Italian art, culture, and history with beautiful Baroque churches, grand museums, and lively piazzas. Vacationers to this capital city throng to visit iconic landmarks like the Colosseum, Capitoline Hill, Pantheon, Roman Forum, Spanish Steps, Piazza Navona, and Trevi Fountain.
Florence
Florence is a Renaissance masterpiece that exemplifies the art and architecture for which Italy is famous. Boutique stores reflect the greater beauty of the fashion business, while seasonal food and local wines contribute to a strong sense of pride in traditional cuisine. The undulating hills, cobblestone streets, and unique skyline give a rich palette of colors that nearly matches the treasure trove of art shown throughout the city. The attractions visited by tourists are the Uffizi Gallery, Duomo Cathedral, and the anatomy of Michelangelo's David in Galleria dell Accademia.
Venice
As the city on the canal represents elegance and grace, Venice is Italy's architectural masterpiece provides a unique experience to its visitors. The best way to explore the city is by foot. Stroll the narrow streets, cross bridges, and admire medieval architectural buildings.
Gondolas that speak of aristocratic dynasties give a different perspective of the city. The points of interest not to be missed here are the St. mark's Square, Grand Canal, Venetian Gondola ride, Doge's Palace, Rialto Bridge, Bridge of Sighs, St. Mark's Basilica, and the pedestrian waterfront promenade Riva Degli Schiavoni.
Cinque Terre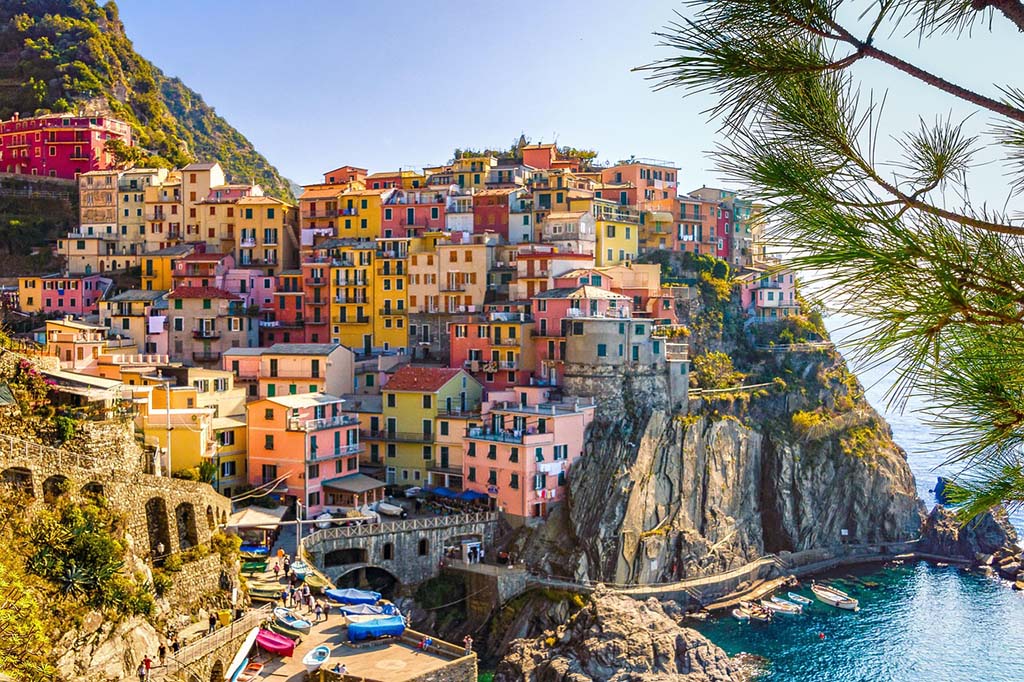 Cinque Terre is the collective name of five picturesque seaside villages, Corniglia, Manarola, Riomaggiore, Vernazza, and Monterosso al Mare. These colorful villages are perched between the steep hills dotted with terraced vineyards, traversed by steep hiking trails overlooking the azure blue sea. Soak in the atmosphere with breathtaking scenery, with harbors housed with fishing boats and eating joints serving seafood specialties. Climb the many viewpoints to engrave a golden-hued evening in your memories.
Lake Como
Lake Como, in Northern Italy, set against the foothills of the Alps, famed for its Y shape due to the melting of glaciers, offers stunning views of the mountains with lush greenery surrounding them. It is the most photographed spot in the world. Celebrities love visiting Lake Como for its secluded marinas, opulent mansions, and romantic promenades. Many popular films, like "Star Wars" and "Casino Royale," have been filmed here. The gardens and villas, notably Villa Carlotta and Villa del Balbianello, are Lake Como's main attractions.
Pisa
Pisa is a small city located along the Arno River in the northwestern region of Tuscany. Millions of tourists visit this city to click photographs along its iconic landmark, 'The Leaning Tower of Pisa'. The Camp des Miracoli, also known as the Field of Miracles, is the most stunning plaza in all of Italy and surrounds this well-known landmark. The Baptistry, Camposanto Monument, and Duomo Cathedral are three great specimens of the Italian Renaissance on this stunning plaza, each with marble features, frescoes, sculptures, and artifacts. There are several gift stores on the premises selling souvenirs and bakeries that provide pasta, pizza, and biscotti.
Milan
Milan, the fashion epicenter of Italy, is situated in the Lombardy region in the country's northwest. The National Stock Exchange, located here, serves as a major financial center. A first trip to Milan will likely include stops at iconic locations like the Pinacoteca di Brera, Galleria Vittorio Emanuele II, La Scala Opera House, Milan Cathedral, and the Castello Sforzesco. Milan is known for its upscale retail stores and dining establishments. Leonardo da Vinci's mural 'The Last Supper' at the Santa Maria Delle Grazie and the Gothic Duomo di Milano Cathedral testifies to the centuries of art and cultural scene of Milan.
Capri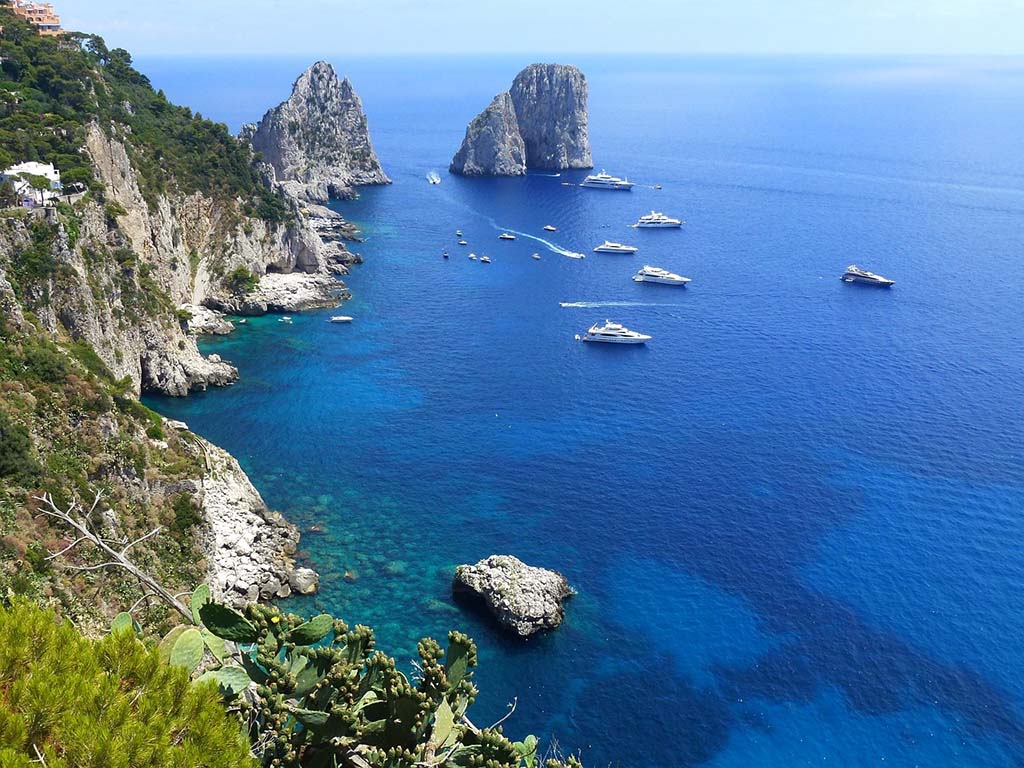 Capri is a paradisiacal location with its rocky cliffs, beautiful waves, vivid green foliage, and vibrant squares and marinas. This getaway in the Bay of Naples has been a vacation hot spot for royalty and celebrities since Roman times. Some of the best sights of Capri can be seen by boat, which includes the Faraglioni rock formations and the Blue Grotto, where sunlight turns the water into a vivid shade of blue. In the city center, visitors can relax in world-class restaurants and five-star hotels and shop at upscale boutiques. Travelers will surely get smitten by the laid-back charm of this island.
Amalfi Coast
The Amalfi Coast in the Campania region is another popular tourist destination in Italy. The rugged coastline, dotted with colorful fishing villages near turquoise blue waters of the Mediterranean and majestic terrain and coastal cliffs displaying vibrant vegetation, looks like a real-life painting. The 13 seaside towns connected via SS 163 highway are supposed to be the most scenic drives in the world. Positano draws the rich and famous for its luxurious cliffside resorts and fine Italian dining.
Italy is so diverse and enchanting, with endless majesty from the dramatic coastline, rolling hills, and beautiful lakes, that you would want to keep coming back again and again. The country makes for a perfect holiday spot all year round. UAE citizens do not need a visa if their period of stay in Italy is shorter than 90 days. However, you will require an Italy visa from Dubai if you are of a different nationality.
Similar Articles
Frequently Asked Questions About Best Places to Visit in Italy for First-Time Travelers
Q. What are the must-see tourist destinations in Italy?
A – Rome, Florence, Venice, and the Amalfi Coast are among the most popular tourist destinations in Italy.
Q. What is the best time of year to visit Italy?
A – The best time to visit Italy depends on your personal preferences, but the shoulder seasons of spring (April-May) and fall (September-October) are generally considered the best times to visit.
Q. How long should I plan to stay in Italy?
A – The length of your stay in Italy depends on your travel itinerary, but most first-time visitors plan to stay for at least one week to 10 days.
Q. How can I get around Italy?
A – There are several options for getting around Italy, including train, bus, car, and plane. The train is often considered the most convenient and efficient way to travel between cities.
Q. What should I pack for my trip to Italy?
A – Pack comfortable walking shoes, lightweight clothing, a waterproof jacket, and a hat or sunglasses. Also, bring a reusable water bottle and a small bag or backpack to carry essentials.
Q. What is the currency used in Italy?
A – The currency used in Italy is the Euro (EUR).
Q. Are there any safety concerns I should be aware of when traveling in Italy?
A – Italy is generally a safe country to visit, but as with any travel destination, it's important to be aware of your surroundings and take precautions to protect yourself and your belongings.