Did you know that Little India once had a racecourse, cattle herders and brick kilns? Before it was given its current name in the 1980s, the cultural and historical district was simply known as Serangoon. 
It wasn't even assigned in the Raffles Town Plan as an area for the Indian community in Singapore. In fact, it was mostly inhabited by Europeans in the 1840s before cattle trading took root in 1860. Business started booming, and the area became a mostly Indian trade as traders employed Indian migrant workers.
Today, the vibrant ethnic enclave retains its unique heritage with a tantalising blend of restaurants dishing out traditional South Asian dishes, buildings stamped with contemporary street art, and age-old temples like the Sri Veeramakaliamman Temple. Whether you're looking to learn more about Singapore's Indian community, get your fill of biryani, or shop for beautiful sarees, Little India is the place to be.
Little India | Places To Visit
Indian Heritage Centre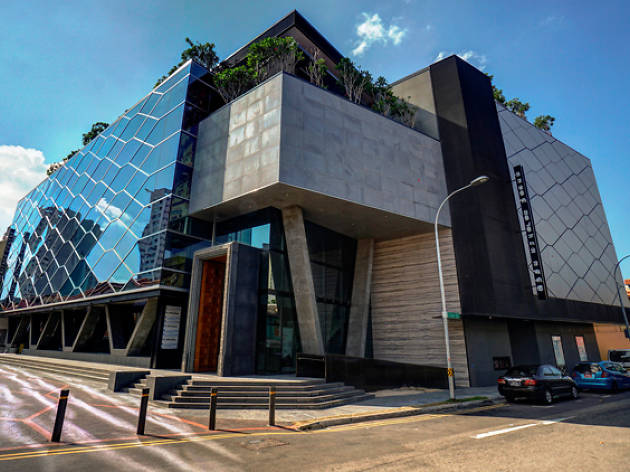 It's hard to miss this four story building on Campbell Lane with its exterior inspired by the baoli (Indian stepwell). Inside, the India Heritage Centre holds over 440 artefacts dating the rich history of the Indian and South Asian communities in Southeast Asia.
Artefacts include wartime publications donated by Singapore's sixth president Mr SR Nathan, temple jewellery from the Saigon Chettiars' Temple Trust and personal heirlooms by pioneering Singapore Indian families. Not to be missed as well is the spectacular three-metre-tall wooden Chettinad doorway from the late 19th century that's adorned with 5,000 intricate carvings.
Airzone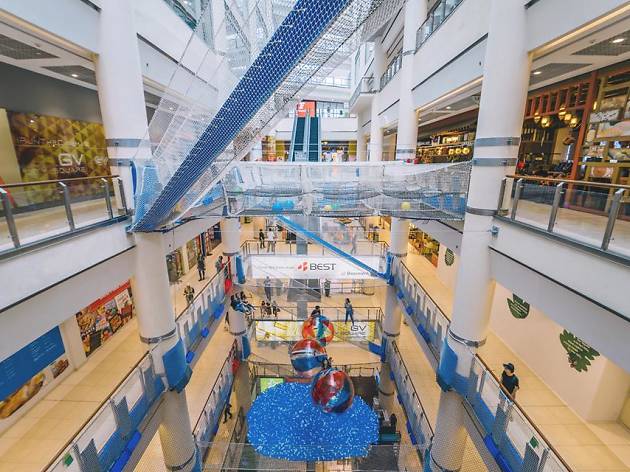 They say everywhere can be a playground – that's certainly the case for Airzone, the world's first indoor suspended net playground.
Occupying the mall atrium space between different floors in City Plaza Mall, be prepared to explore the multiple play areas where you can dive in a ball pit, crawl through a maze, climb to the top and try out the slides or just hang out on the suspended nets.
Tan Teng Niah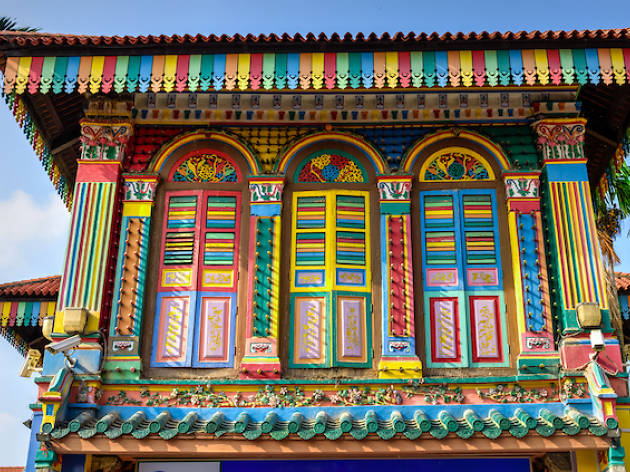 Down Tekka Lane, look out the kaleidoscopic House of Tan Teng Niah. Built in 1900, this colourful sweet digs complete with eight rooms is the last surviving Chinese villa in Little India.
It belonged to the towkay Tan Teng Niah before restoration and conservation in the 1980s for commercial use. Now, it's an eye-catching backdrop fit for the 'gram.
The Great Madras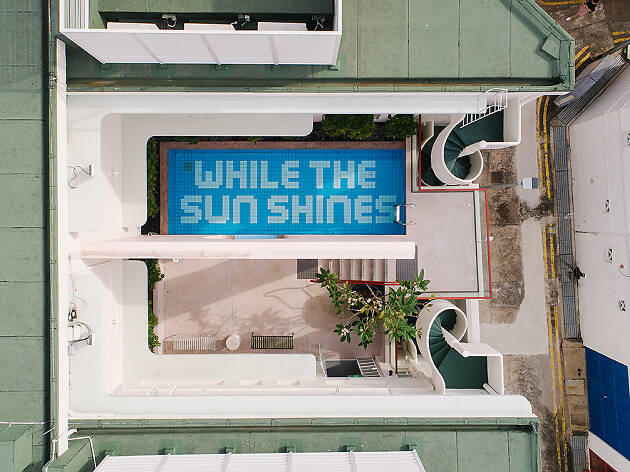 Singapore's answer to Wes Anderson's The Grand Budapest Hotel – minus the purple uniform- clad concierge and lobby boy. This pastel-hued, tropical-wallpapered dream pad is complete with Instagrammable opportunities at every nook and cranny – even in each spacious cocoon.
There are fives beautifully decorated room types adorned with retro furniture and bold wallpaper. Go big or go home with a night's stay at The Great Suite (from $195), complete with a study and circular bathtub for a relaxing bubble bath.
Museum of Independent Music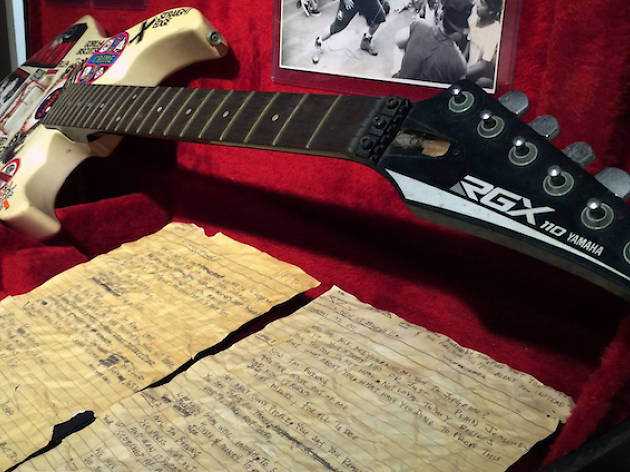 While Lush 99.5FM is no more, the love for local music continues to live on at the Museum of Independent Music where Tarmizee Taksen and Anvea Chieu have catalogued Singapore's music scene in its entirety: vinyl from the '60s (The Quest) to cassette tapes made in the '90s (The Oddfellows), to more obscure genres like grindcore and screamo.
Aside from listening to the artists showcased, there are also video documentaries and the odd piece of memorabilia like a Yamaha RGX 110 Electric Guitar belonging to the veteran guitarist Suhaimi Subandie of local band Stompin' Ground.
Little India's murals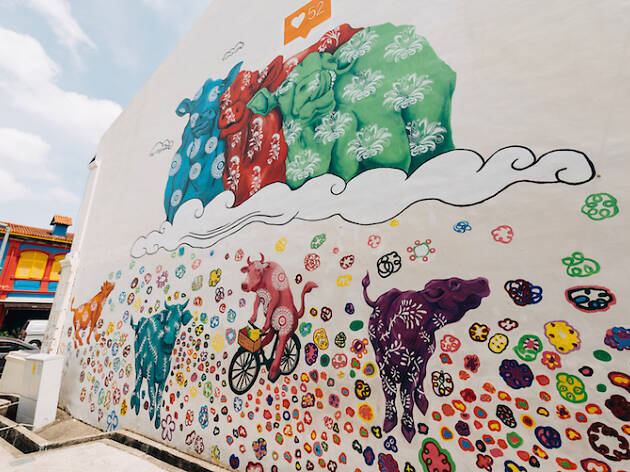 What's a day without some #OOTDs? Track down various murals located on Clive Street, Upper Dickson Road, Kerbau Road, Hindoo Road, and Dunlop Street. 
A collaboration between LASALLE College of the Arts, Singapore Tourism Board, and the Little India Shopkeepers and Heritage Association, the street art depict everything from the changing landscape of Little India, to a traditional dancer by street artist Traseone, and a collaborative work of buffalos amongst colourful flowers and patterns
Little India | Places To Eat
Madras New Woodlands Restaurant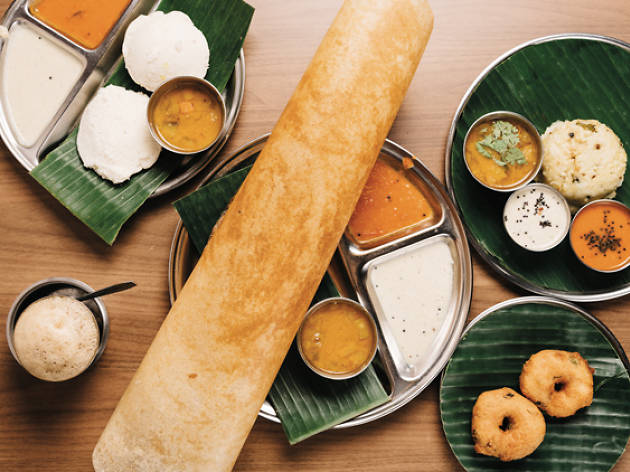 For what it's worth, Prime Minister Lee Hsien Loong and his wife frequent this vegetarian eatery – we were told they were there just days before we visited. Madras New Woodlands serves predominantly South Indian dishes that are lighter than your average greasy piece of prata.
Try pongal, a sticky mix of rice and lentils cooked in milk and served with three sauces. You're supposed to mix them all together and eat it in one go. The paper thosai is also popular – light and crispy, it retains its crunch even after being drenched in curry. 

Muthu's Curry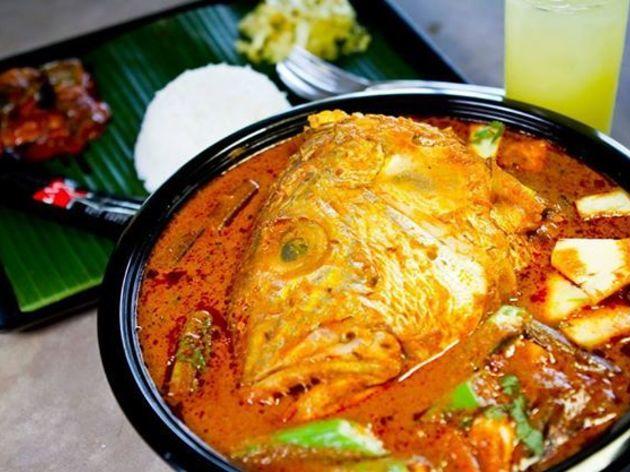 Among the scores of Indian restaurants in Little India, Muthu's is easily the most dressed up. To boot, the kitchen more than holds up its end. The smell of spices hits you the moment you push through the front door. The menu is small (try the creamy butter chicken, and the crispy onion-flecked brinjal) with a very good vegetarian section, but the star attraction is the fish head curry.
Even the small serving is a huge bowl of tart pineapple- scented sauce bathing a fleshy whole fish head. The fancy serving island – dotted with hot trays of luridly coloured curries and a hulking tandoor – offers a takeaway option.
Brunches Café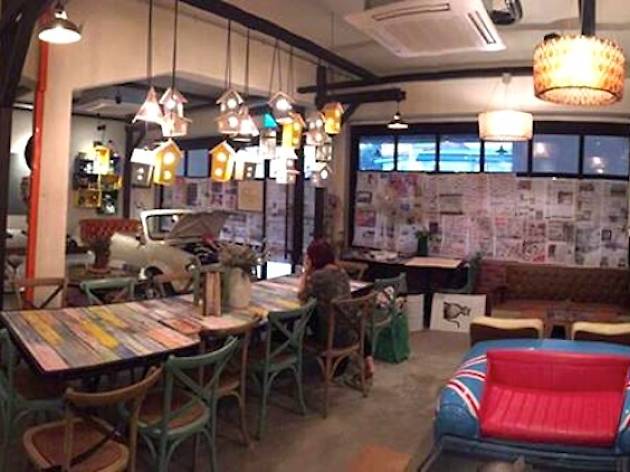 Another in the clutch of cafés on Rangoon Road in Farrer Park, Brunches Cafe is a vintage-themed spot serving all-day breakfast, gourmet sandwiches, and café standards. Their high tea set, with slices of cake, mini tarts, and sliders, is limited to ten sets a day, and is served in a birdcage.
Apart from brunch staples like the eggs benedict, Brunches Cafe also serves vegetarian options such as the truffle-infused mushroom dish and brioche french toast. Diners can also buy the furniture that they sit on or shop at the vintage retail corner.
Meatsmith Little India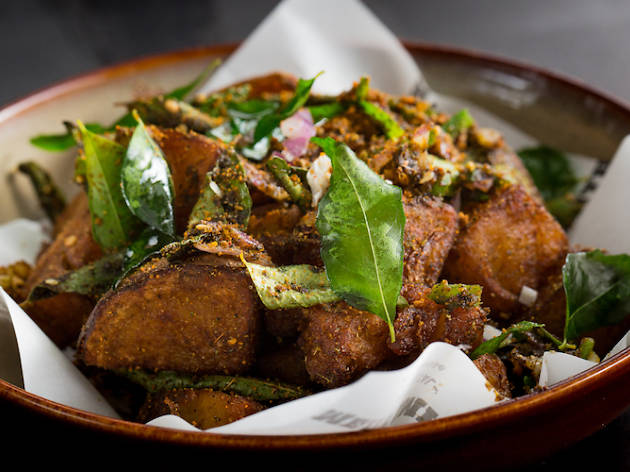 It's hard not to get excited by the thought of a good biryani, let alone crab biryani served with fresh crabmeat, together with flying fish roe that lends some crunch.
Served at Meatsmith Little India where the menu is all about barbecue-style dishes but with an Indian twist – seriously, why hasn't someone else thought of this earlier? Aside from the show-stealing crab biryani, there's also pork ribs with coconut chutney, potatoes dusted with a spicy gunpowder seasoning, tandoori chicken cooked low and slow; all cooked in a tandoor oven, spit roaster, or smoker, so the food is next-level delicious and juicy.
Tekka Centre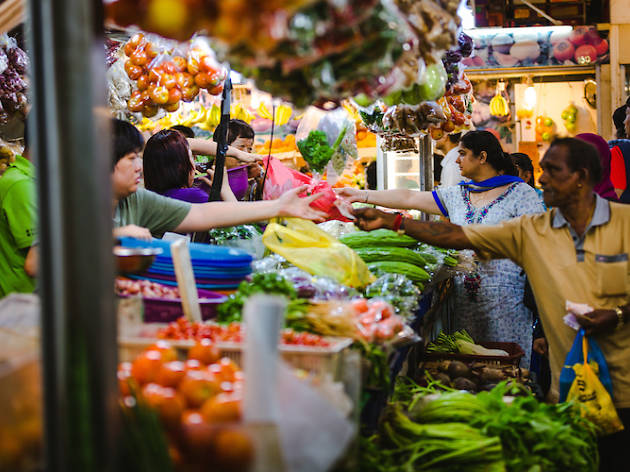 Home to one of the best wet markets in town, the pasar's adjoining food centre has become a hawker institution offering great grub from a range of cuisines. Great things are always said about the biryani at Tekka Centre, and The chicken dum biryani served at Yakader  is the reason for its popularity – buttery, yet not greasy, the chicken is impossibly tender and beautifully spiced.
Other good Indian cuisine options on offer include the very decent bowls of butter chicken, best with the crispy garlic naan, at SJ Tandoori ; and the mixed plates of shrimp fritters, fishballs and potatoes drenched in a spicy thick orange sauce at Temasek Indian Rojak
Allauddin's Briyani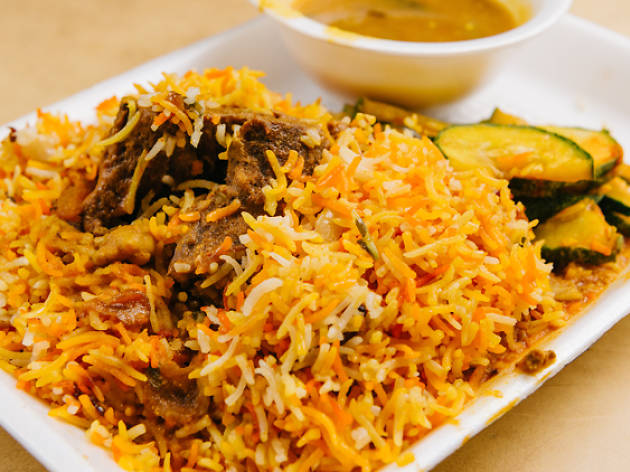 Tekka Market is home to dozens of stalls that claim to be the best in the same thing: biryani. Yet among them all, Allauddin's comes out top. Its reputation lies in the biryani rice. Perfumed with heady spices, the fluffy basmati reawakens the taste buds instead of weighing down the palate.
So despite its generous portion, you won't have trouble scooping up every single grain of rice and shred of mutton. Special mention goes to the vegetable dhal and achar that add zing to the meat and rice.
The Malayan Council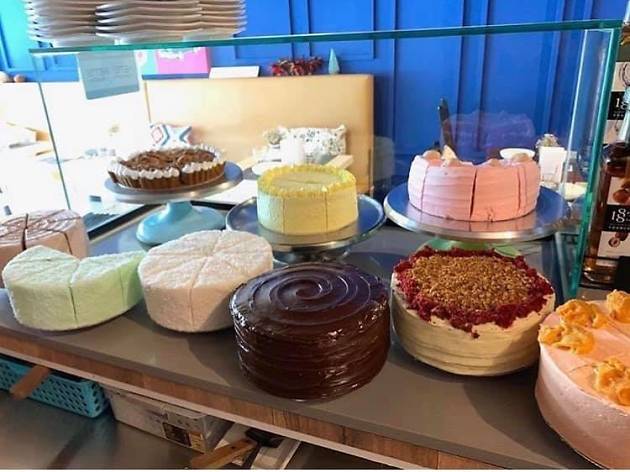 Known for its hearty localised pasta dishes and rich indulgent cakes, The Malayan Council is the best place to go in Little India of some comfort food. Dig in a huge plate of smoked duck lemak chilli padi pasta or share a serving of Singapore chilli lobster – which comes with the mandatory fried mantou buns for mopping up the sauce.
Finish off the meal with a slice of ondeh-ondeh cake which comes with crunchy gula melaka bits and coconut cream.
Komala Vilas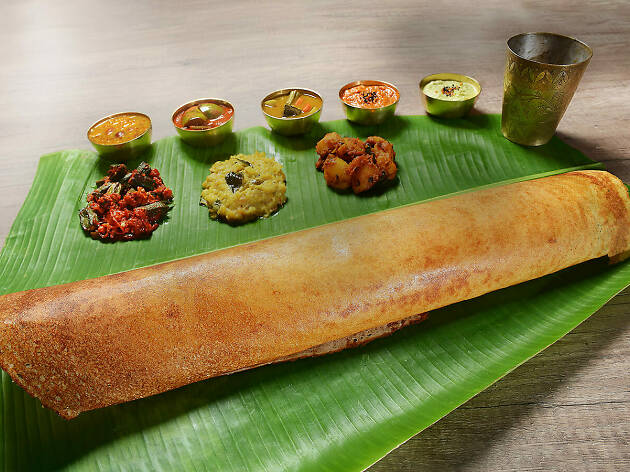 We like the basic-but-effective Komala Villas, which has been open since 1947 and has branches on Race Course, Buffalo, and Serangoon Roads. The food comes in hearty sets on metal trays – go for the whopping vegetable biryani set, which comes with chapati, papadum, saffron rice, veggie curry, daal, raita, and a whole range of pickles and sauces.
Little India | Places To Drink
The Whiskey Library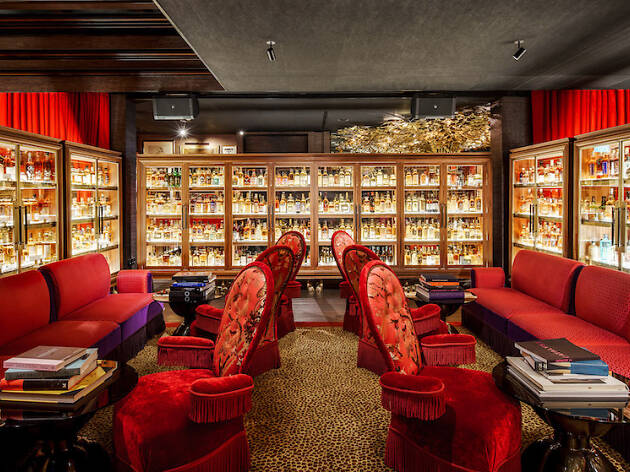 With over 1,000 bottles of whiskey – from the ultra-rare to the award-winning favourites – on its shelves, The Whiskey Library is one of the best places in Singapore to sip and savour a dram. Housed in The Vagabond Club, the luxurious boutique hotel with its red velvet banquettes, a stunning collection of art and locally handcrafted furniture, the bar oozes sophistication to the highest degree.
Enjoy a pour of your favourite Scotch – its collection comprises mostly limited-edition single-cask bottles – or get the bartender to whip up an old fashioned to pair with an international selection of cigars.
Old Hen Coffee Bar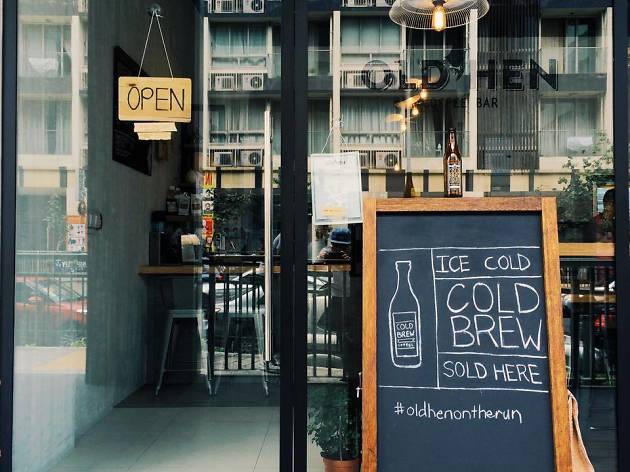 This neat coffee spot in the Farrer Park neighbourhood serves espresso drinks to complement café fare like chicken cheese burritos, Croque monsieurs, and hot favourite popcorn-topped panna cottas at wallet-friendly prices. 
But the main draw for the java-jonesin' are its cold-brewed bottled coffee and chilled Valrhona dark cocoa brews, which the devoted can take home to ration sips.
The Singapura Club (Little India)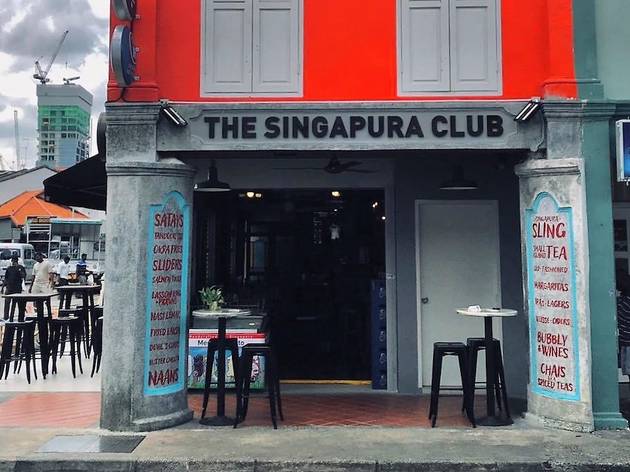 Quench your thirst for booze and gossip at the sister outlet of Haji Lane's Singapura Club. A laid-back spot for a quick catch-up with the pals, the heritage-style bistro and taproom serves up the usual suspects like the margarita, champagne, wine, IPA, and lager, as well as its very own take on the Singapore Sling (aka Singapura Sling), and chai.
And if you're feeling peckish, add some bar bites like satay, fries, and naan to your order.
Little India | Places To Shop
Mustafa Centre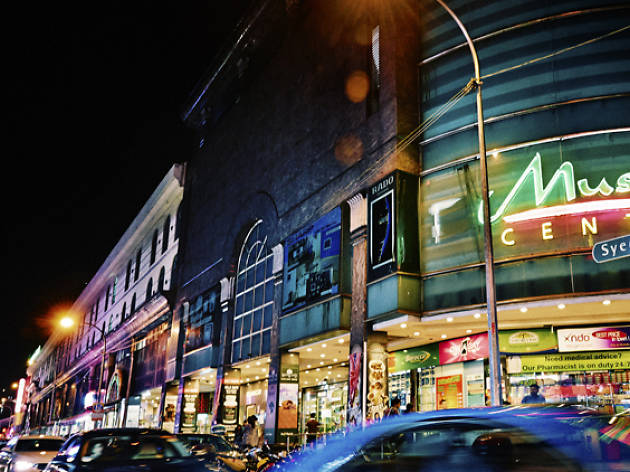 A Singapore institution, Mustafa is open round the clock, offering 75,000-square-feet of bargains. It's a treasure trove of discount shopping, carrying everything from skincare and electronics to sportswear and luggage.
Sumptuous sari fabrics can be found in the basement, and beauty products at ground level, a supermarket with fresh produce and flowers at its uppermost floor, and even a corner for London souvenirs, of all things.
Pottu Kara Maami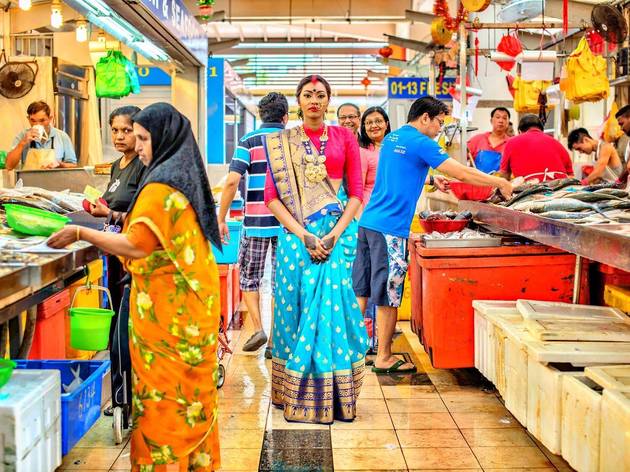 The brainchild of sisters Sindi and Shruti Suria, Pottu Kara Maami started as a home-based boutique before setting up shop in Little India. It offers saree-seekers a variety of options from modern silhouettes embellished with embroidery, sequins, and block prints to traditional pieces like mangalagiri cotton sarees, and kanchipuram sarees.
It's even got an online store, complete with a catalogue at your fingertips. With its stunning collections, there's no doubt you'll be spoilt for choice
Haniffa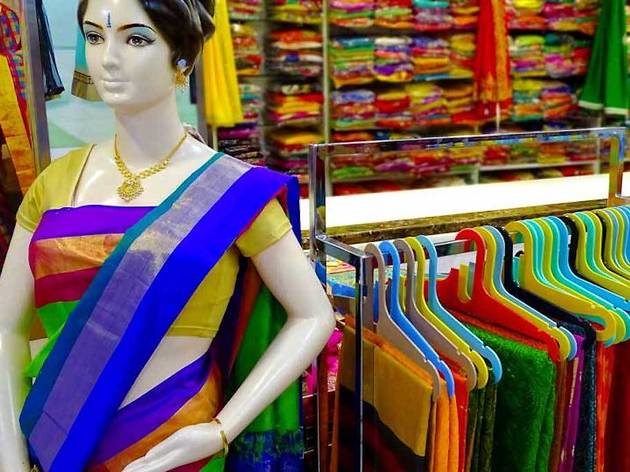 What started as a small shop in Little India has grown into a multinational company with outlets in Malaysia and an export house in India. The go-to shop for textiles, Haniffa is a fabric haven – whatever colour or design you desire, you'll find it here.
It also boasts an exclusive range of silk sarees that aren't easily available elsewhere. Going beyond textiles, the store has expanded to include jewellery, electronics, and even food products
Mud Rock Ceramics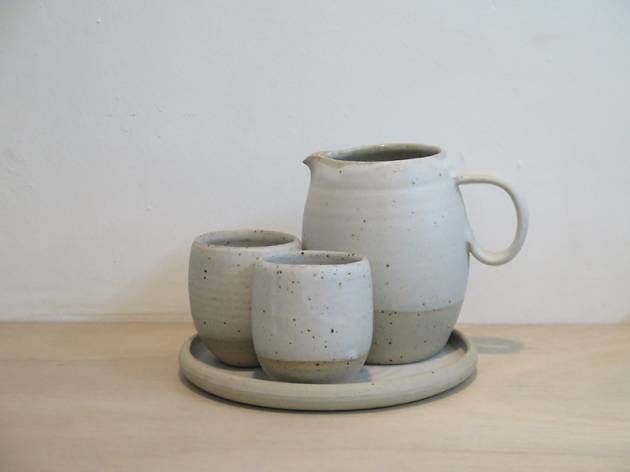 Blame it on the growing automation of our lives where hands are reduced to just typing and swiping, it's no wonder maker crafts like pottery is growing in popularity. Besides selling handmade ceramics, pottery tools, kits and glazes, Mud Rock Ceramics also conducts classes at its Maude Road space, so you can get a feel for throwing pots, slab building and glazing.
But if getting your hands dirty isn't for you, then put in a custom order, or drop by and hope to purchase one of their creations.
Jothi Store & Flower Shop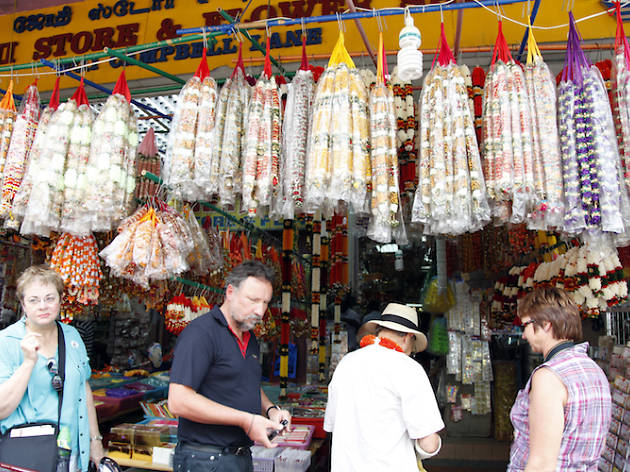 Here's where you can pick up a fragrant garland. But if flowers aren't your thing, they retail everything from coloured rice used for kolam, pooja (offering items), copper goods, Indian cosmetics, and all manner of henna items.
They're also one of the few shops in Little India selling freshly made paan, the red coloured betel leaf liquid.
Frequently asked questions about Litle India, Singapore
Q. Is Little India Singapore safe?
A – Singapore is safe, but Little India probably is the least safest of this safe island, relatively speaking. It's still not so bad and there are plenty of backpackers in this area. Singapore is most probably one of the safest city in SEA but always practice to be cautious.
Q. What is Little India known for?
A – Little India is a precinct that is not quite like any other in Singapore. Together with Chinatown and Kampong Glam, it is part of the popular trio of cultural precincts on the tourist circuit. It is also an important place for the local Indian community who visit it to eat, shop, socialize and pray.
Q. Why Singapore is called Little India?
A – As its name suggests, Little India is the heart of Singapore's Indian community. Several streets in Little India bear the names of personalities who once lived in the area. For instance, Dunlop Street and Clive Street were named after notable European families who stayed in the area during the early 1840s.
Q. Which city is known as Singapore of India?
A – Gurgaon, Sep 2: The industrial growth rate is surging in Gurgaon with a rate of 40 per cent as against the national growth rate of 28 per cent and is now rightly named as 'Millennium City' or 'India's Singapore'
Q. Who is known as the Little India?
A – Singapore. Little India is an ethnic district in Singapore. It is located east of the Singapore River—across from Chinatown, located west of the river—and north of Kampong Glam. Both areas are part of the urban planning area of Rochor. Little India is commonly known as Tekka in the Indian Singaporean community.
Q. What is the Singapore famous for?
A – Experience the architectural marvels, rich cultural diversity, vibrant jewellery and drool-worthy cuisine!