Wildlife Safari, We have already talked about the fact that in Africa it is not necessary to die, we calculated how much the tourist joys of Tanzania cost, and now you are definitely ready for the climax. Here is a detailed list of places of interest in seven African countries, for which you will not have to pay more than $ 30 to visit, or you will not have to pay at all.
Kenya
Firstly, it is easy and inexpensive to get here – your favorite Qatar Airways often gives out promotions on tickets from Moscow to Nairobi. Secondly, almost everyone here speaks English. And thirdly, there are still places in Kenya where the budget traveler will not be bored. Let's start with the most expensive.
Hell's Gate National Park is one of the few national parks where it is allowed to be without a car, which means that the cost is limited to the entrance ticket. There are no predators in this park, but there are giraffes, zebras, antelopes, buffaloes, monkeys, and other good animals. A kind of wildlife safari for the poor, but it is quite worth it. In addition to animals, the park has a photogenic Gates of Hell Gorge and hot springs, but there are no shops at all, so it's better to take care of water and food in advance.

You can get around the park by car, on foot, or by bike, which is cheaper to rent in the city, but you can also get around at the entrance for $ 7. The workers will put their lives trying to impose a guide on you, but if you are a confident user of offline maps, you can safely refuse: the park is small, and the paths to all interesting places were paved long before you. The entrance costs $ 30, which is quite inexpensive for tourist entertainment in East Africa.
Kisumu Impala Sanctuary is another budget wildlife safari alternative, only in the west of the country. The animals live here in captivity, but this place cannot be called a zoo either: just a small well-groomed reserve, as close as possible to wildlife. Zebras, antelopes, and monkeys walk freely among people, and only predators are protected from visitors by spacious enclosures. Here you can feed the animals, and even pet some – of course, for a small "compliment" to the park employee.

The reserve is located on the very shore of Lake Victoria, and it is one of the few places on the Kenyan side where the shore is well-groomed and not occupied by fishermen. In general, the park is not bad in all respects, but is it worth its 25 bucks – it's up to you. It becomes especially sad when you see that the locals pay exactly 10 times less for the entrance, but in Africa, you have to put up with this.
If suddenly you are nevertheless brought to Kisumu, then it makes sense to take a ride to Kakamega Forest – also a nature reserve, this time a forest one. There are no serious animals here, but the number of unseen birds, beetles, and monkeys is simply off-scale. Besides, it is not just a forest, but also a rainforest – it is always humid and cool here, and in Kenya, you will love it. The forest is very ancient, and mysterious, and "thanks" to the locals who cut it down for coal, it may soon disappear altogether.

It is better to get there from the city of Kakamega and enter from the southern entrance – there are few tourists here, and therefore the price is 10 less than in the north. A short walk costs $ 6, and five more must be paid for a guide, for whom this money can become the only income for the whole month. If there is no money at all, but you really want to look at the beetles, then just go into the forest along any path marked on the maps. me, and try not to be seen by the local lumberjacks. We advise you to walk to the Rondo Retreat Lodge – it's just very beautiful there, especially in sunny weather.
David Sheldrick Wildlife Trust is perhaps the cutest place in all of Kenya. This is a shelter for elephants left orphans for various reasons. Here they are surrounded with care, given milk from a nipple, their psychological problems are solved, and when the elephants fully adapt to life, they are released. At the entrance, the shelter is open only for an hour a day, from 11 to 12 in the morning: it is at this time that the elephants are fed with milk and bathed. There are many who want to be amazed, so it makes sense to arrive early and take a place in the queue.

But that is not all. For only $ 50 a year, you can take custody of an elephant, receive monthly photo and video reports about his life by mail and simply rejoice that there is one less sad elephant in the world. In addition, guardians have the right to visit the shelter for free and at any time when ordinary tourists have to pay $ 5 for just one hour.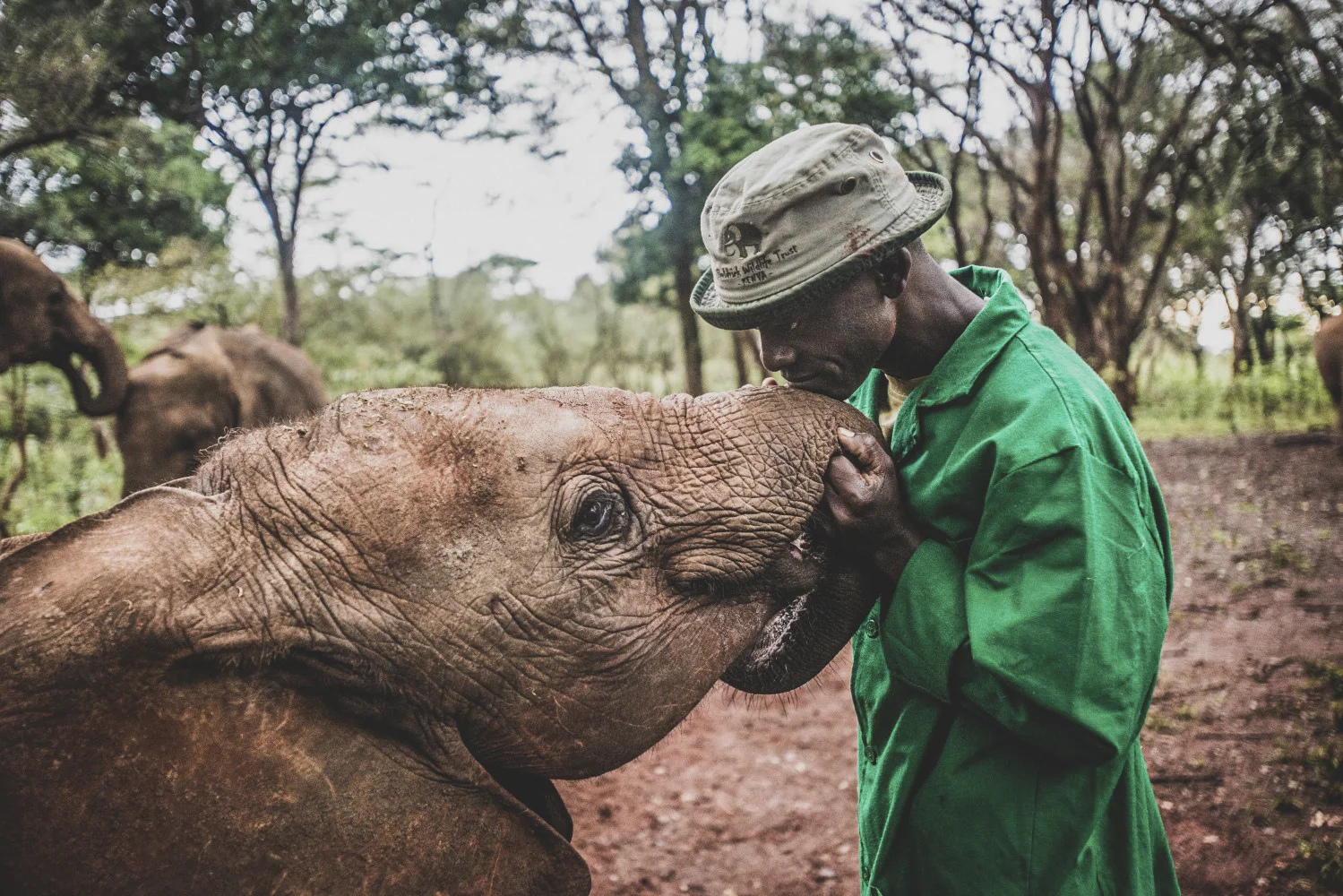 Giraffe Center is the main competitor of the previous place in terms of cuteness. The giraffes living in this nursery have been surrounded by human care since birth, so they are not at all afraid of people and rather behave like horses rather than wild animals. Here, giraffes can not only be hand-fed but also stroked and even kissed – they are used to it. The center is open daily from 9 am to 5 pm, but it is better to come on a weekday, since on weekends the giraffe may not reach your hand through the crowd of nursing and kissing. The entrance costs $ 10, and from the center of Nairobi, it takes only 40 minutes.
If the elephants and giraffes have already been fed, and you are still in Nairobi, then you can escape from the infernal city in Karura Forest. This is a very pleasant and well-maintained forest park with waterfalls and ponds, but the main thing is that here you can forget what you find in the capital of Kenya and finally relax. You can also look for antelope, of which there are as many as three species, look at lemurs and various birds. It doesn't take long to get to the forest from the center of Nairobi, even by public transport, or you can rent a bicycle and use it to move around the considerable territory of the park. The entrance costs $ 6.
Ngong Hills is a scenic area near Nairobi. In addition to trekking, there is not much to do here, but the photos are excellent. Despite the fact that there is no service here, the entrance still costs about $ 6 – it seems that this is the minimum cost of any more or less beautiful place in Kenya. You don't need to pay anything, just go around the payment point within a radius of a couple of hundred meters and walk to your health.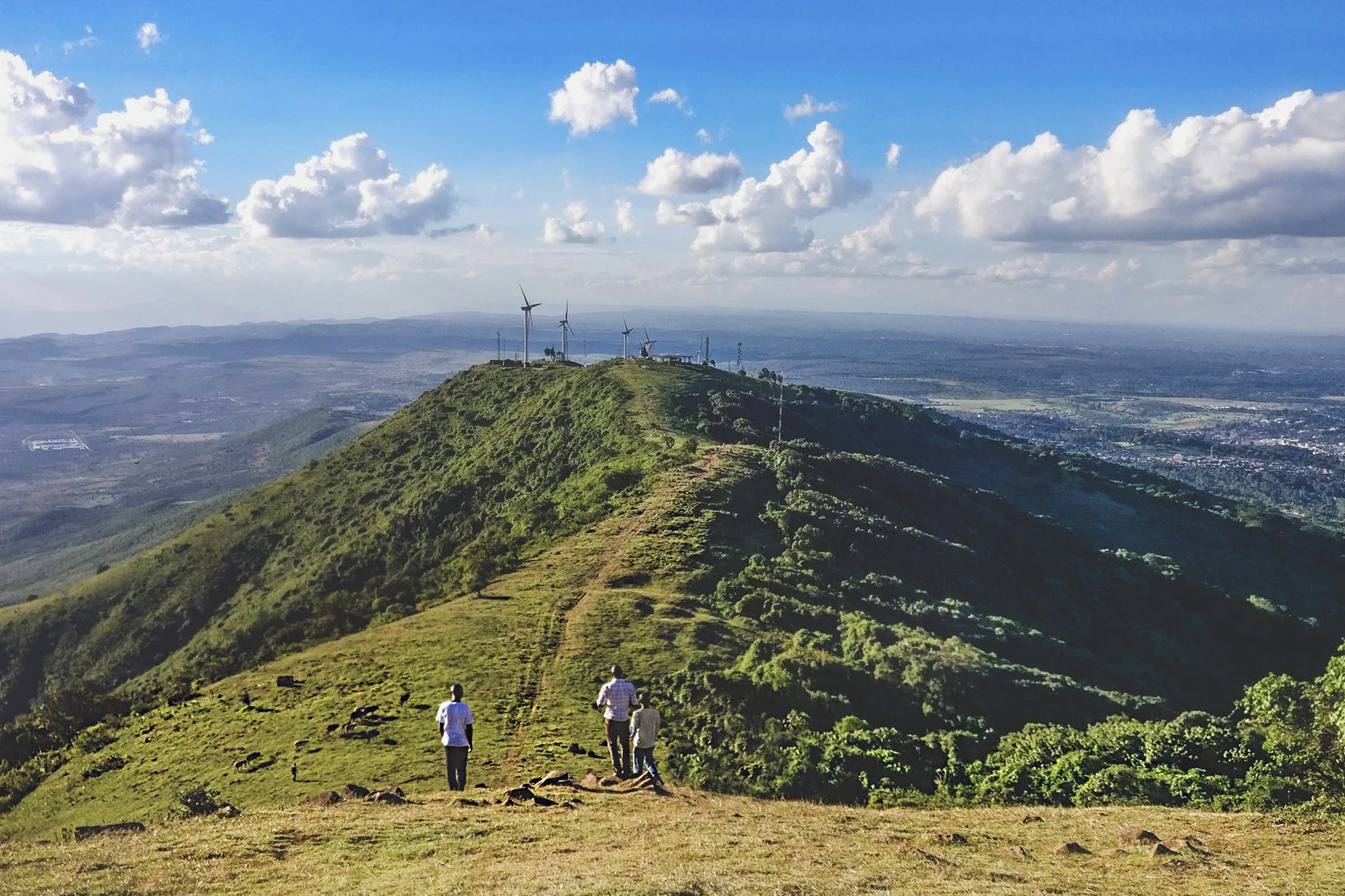 Haller park in Mombasa is a very fun place where you can hand-feed giraffes and monkeys, pet hippos, antelopes, buffaloes, warthogs, crocodiles, birds, and snakes. You can't just ride on huge turtles, but you can also stroke and scratch them, so everything is fine. At three o'clock in the afternoon, meals begin the first to feed the giraffes, at about 4 pm – the hippos, then the turn of crocodiles and other animals. To feed yourself, you have to pay a little extra, buy food and push through the queue. The entrance to the park costs $ 14 , and you definitely won't need a guide here.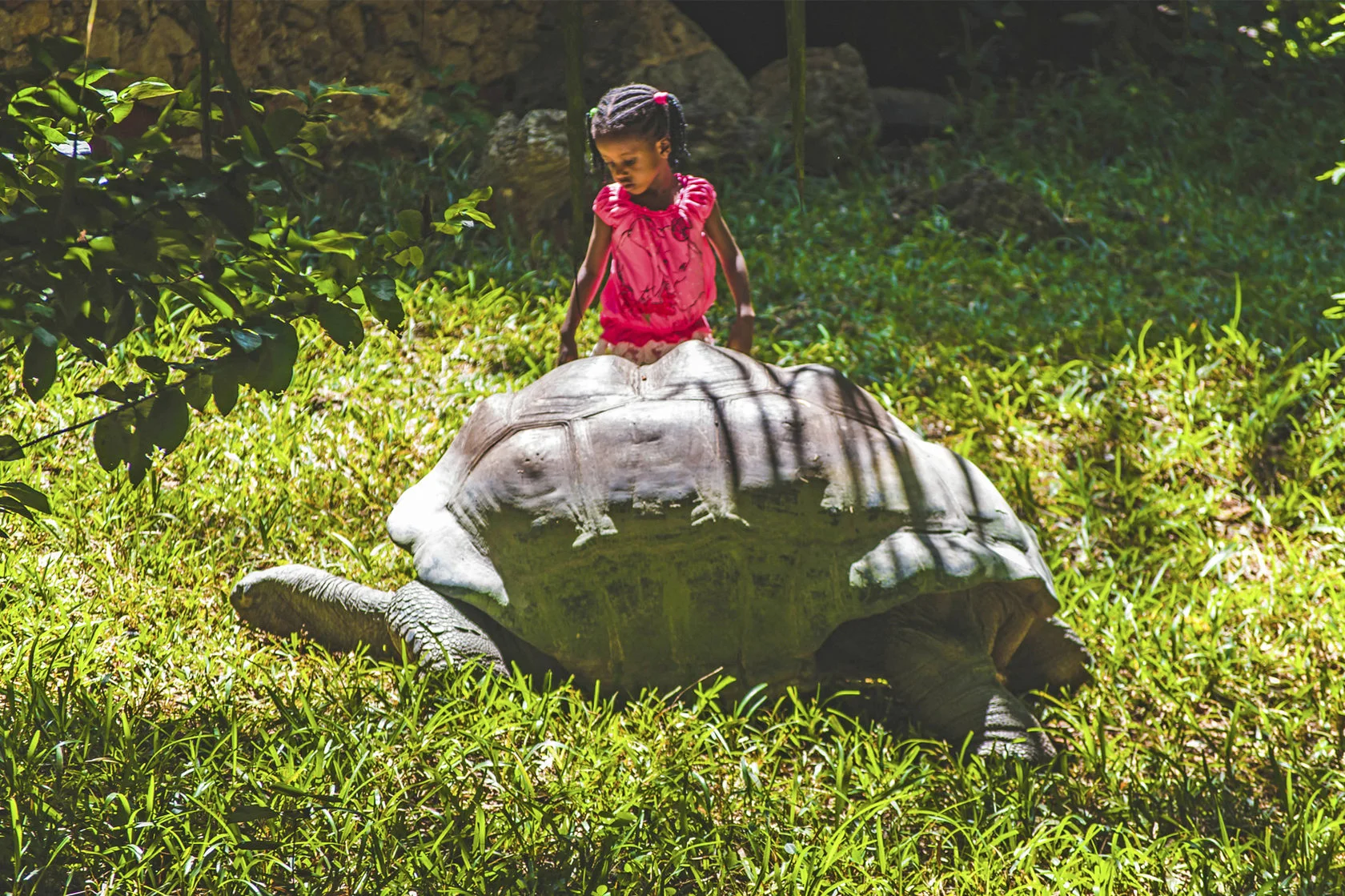 Mombasa, or rather its Old City, is almost the only architectural landmark in Kenya; it includes as many as two UNESCO sites out of seven in the country. It is a very Old Town and Fort Jesus ( Fort Jesus ), where the entrance is worth $ 12 – another proof of the fact that for any more or less interesting in Africa need to pay.

The old town of Mombasa is African-colorful and resembles a heavily neglected Zanzibar: it is a Muslim quarter, indented by narrow streets, built up with dilapidated houses with large carved doors and lame wooden balconies. It is clearly worth taking a walk here, but flashing an expensive camera and a gold watch is not. As for the fort, we advise you to look at it for free from the beach and save 12 bass for a more impressive place.
Uganda
A country completely unsuitable for a budget traveler: interesting places are represented mainly by national parks, the prices of which are raised to unprecedented (even for Africa) heights, and it will be problematic to get to a few beautiful and free places without your own transport. However, there is also a little entertainment here – the very thing for a two-three-day transit from Kenya to Tanzania or vice versa. It is very convenient that three out of five are located approximately in the same place.
The Source of the Nile is both a beautiful, free, and geographically accessible place, and therefore unique for Uganda. In fact, it is free only for the savvy, ordinary tourists pay $ 5 in vain for the same view as 100 meters from the payment point.

The Source of the Nile we need is located in the southwest of the city of Jinja… Cliff Road leads to the source, which is clearly visible on the map. Before reaching the end of the road, turn right to the river – there will not be such well-groomed lawns as at the tourist observation deck, but the view opens up almost the same, besides, you can sit on a tree with your legs hanging over the Nile itself. But if you think that no one will believe that you really visited the source of the longest river in the world, for only 5 bucks you can take a picture at the sign that will dispel all doubts. To do this, just go to the end of the road and pay to enter the people in uniform.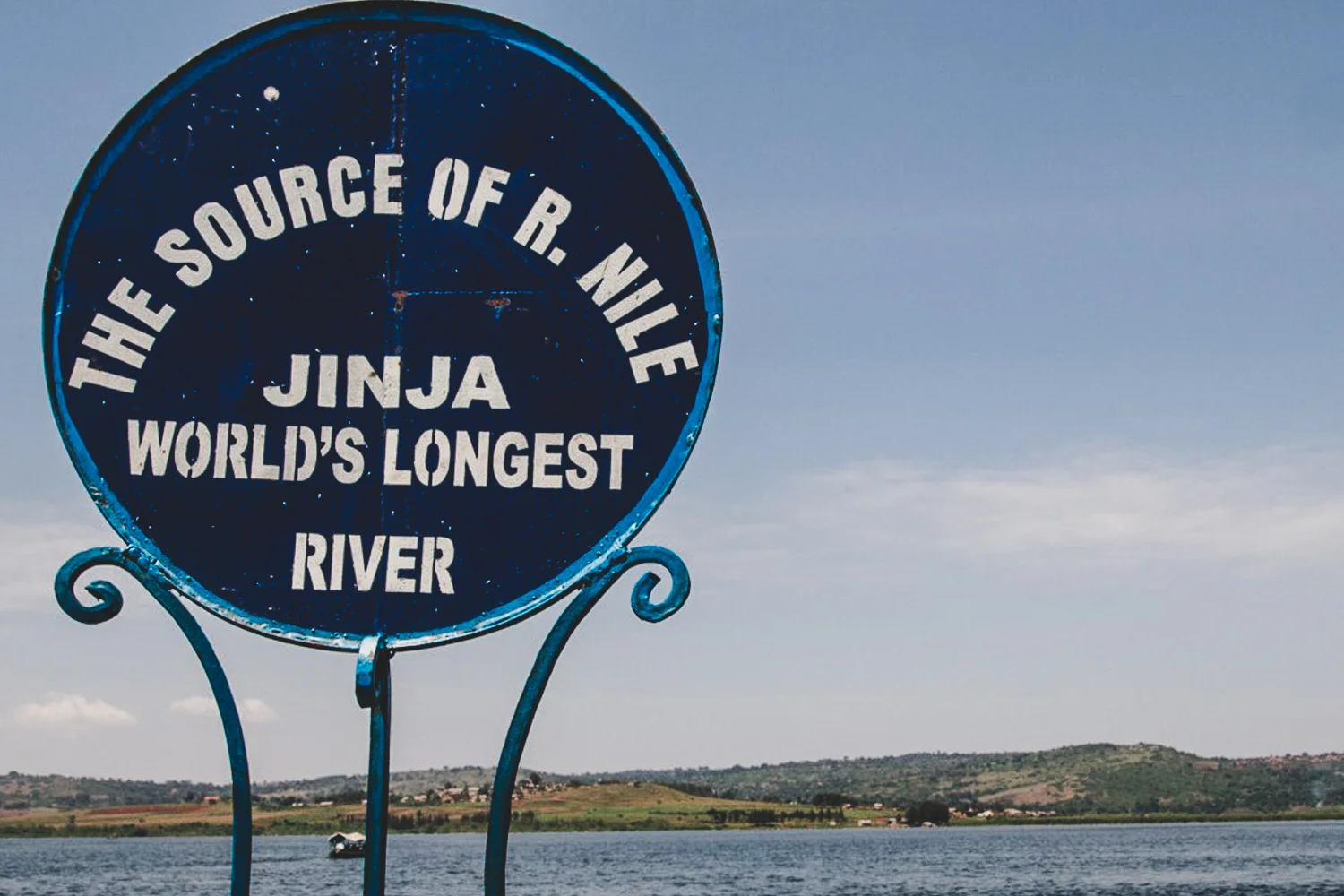 When looking for a source on a map, be sure to indicate that you want the Source of the Nile Uganda. In length, the Nile competes only with the Amazon, it has many parts and different names, and therefore the disputes around the real source still do not subside.
Only swimming in it can be cooler than a photograph at the source of the Nile. The best and safest way to do this is from Jinja to Bujagali Hydroelectric Power Station . Due to the construction of the hydroelectric power station, the crocodiles and hippos, which really teems with the Nile, have left these places downstream and can never be on this side of the dam. Such a chance cannot be missed!

The most civilized descents to the river are in campsites. Get to any of them (e.g. Nile River Camp), and with a stone face go to the shore. If the workers still stop you and say that swimming in the river on their territory costs money, just walk a little further along the shore and find any of the paths trodden to the water – this is the work of the feet of local children who love to swim, and where they do it, you can definitely swim. You should not play the discoverer and make your way to the river through the bushes, it is not safe.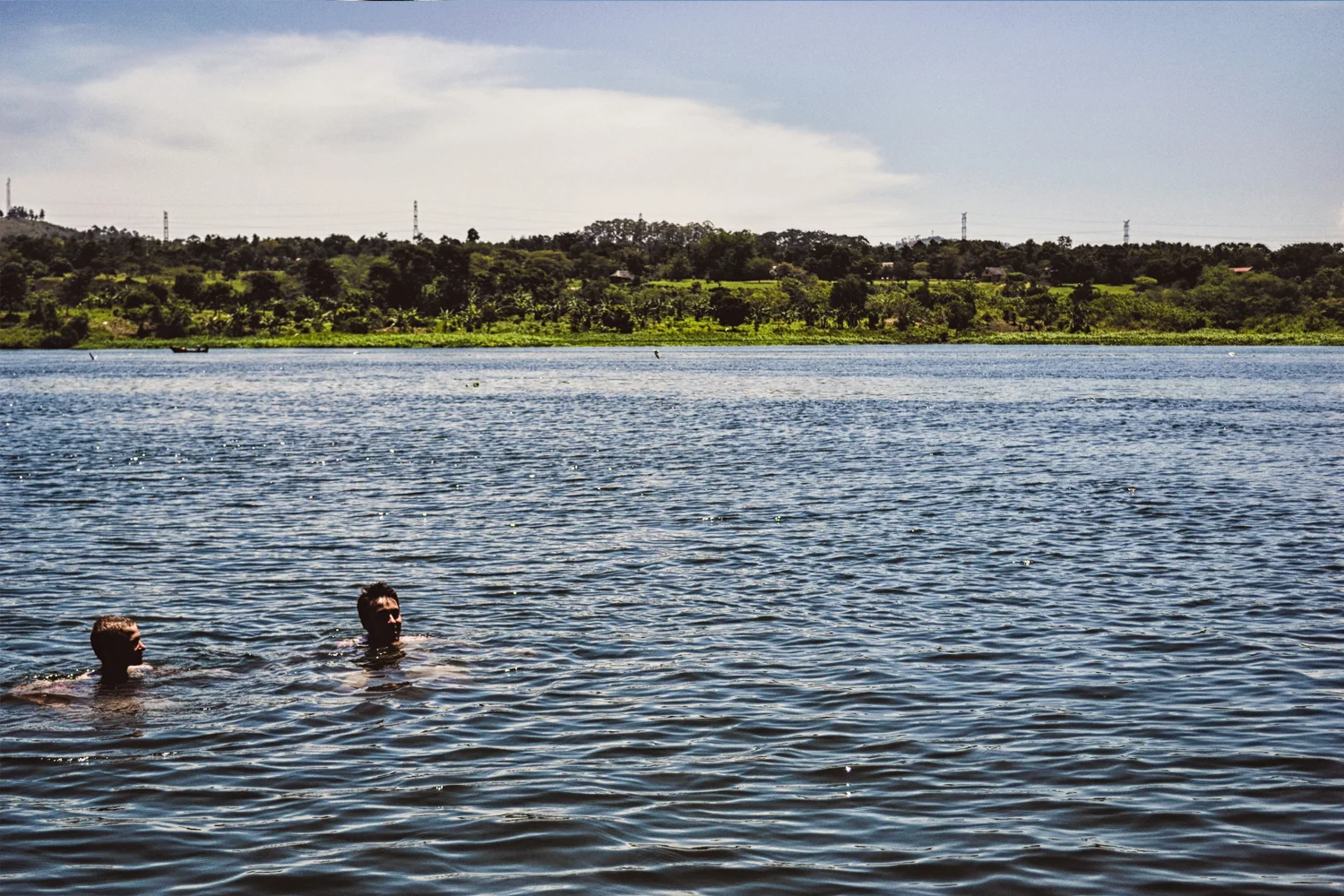 And another interesting thing about Neil is called Itanda Falls. These are rather stormy river rapids than waterfalls, but in any case, they look very impressive. Several times a year the water level in the Nile drops, the rapids almost disappear, but even at this time you should not give up the trip: this is one of the few well-groomed places in Uganda where it is pleasant to just walk or have a picnic. Officially, the entrance costs $ 15, but through simple negotiations, the price quickly decreases to $ 0.5-5, depending on your persistence and the mood of the guys at the entrance. There are waterfalls 30 km from Jinja, the road will take about 45 minutes if you go by motorbike and as long as you like if you hitchhike.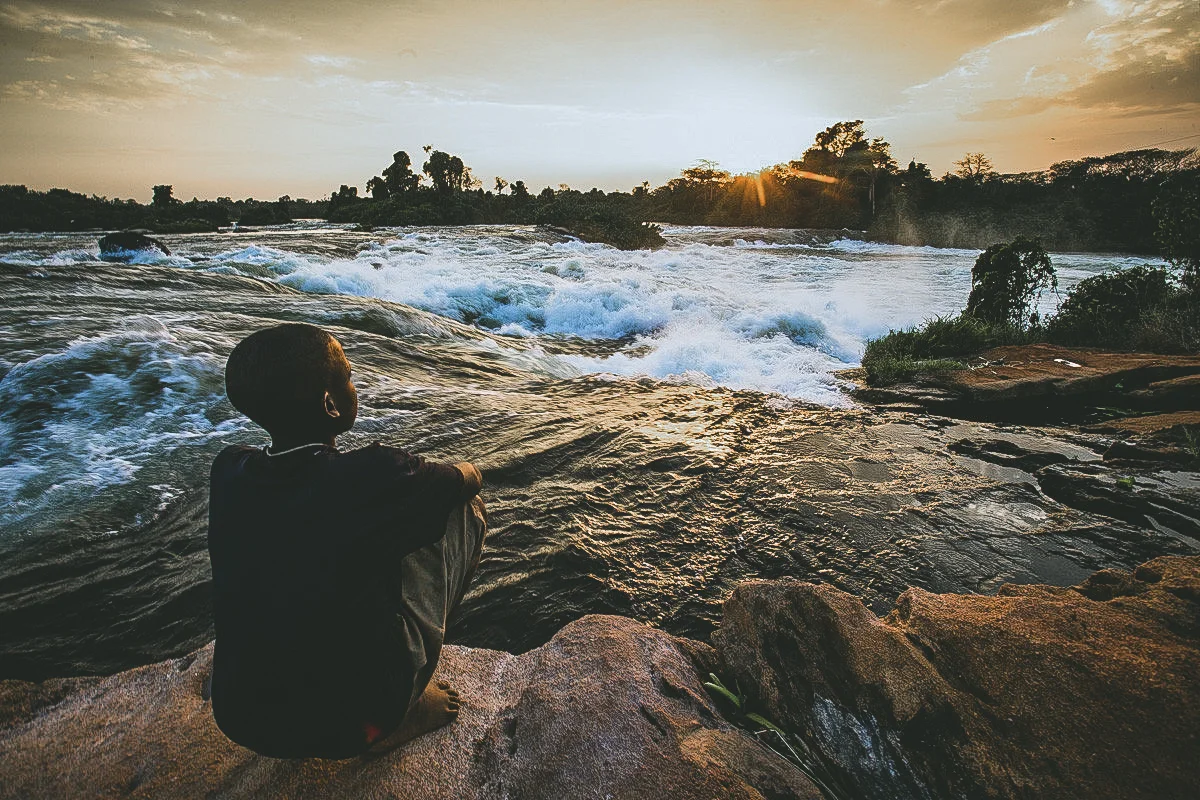 Not too touristy, but because so far the materially accessible place is hidden in the vicinity of the city of Mbale. This is Sipi Falls, this time three real and very charismatic waterfalls.

It's not easy to find them on google maps, but on maps. me marked not only the waterfalls, but also the paths between them, and even some kind of building, very similar to the point of payment. Google users claim that the entrance to the falls is free, and that only the guide will have to pay, but knowing the Ugandans, we suspect that they will try to take money for both. And again, according to the old scheme: first we try to agree on free admission, then we bargain, and if the price still does not suit us, we simply bypass the payment point and look at the waterfalls for free with full confidence that we are right.

One problem: it's a long way to go from Jinja and Kampala to Sipi Falls, but if you have a day or two left, then you can try. They say that the view is worth a long journey.
At the very border with Rwanda there is a beautiful and completely free for contemplation Lake Bunyonyi – a deep and clear volcanic lake with many islands, between which it is very good to move by canoe or boat.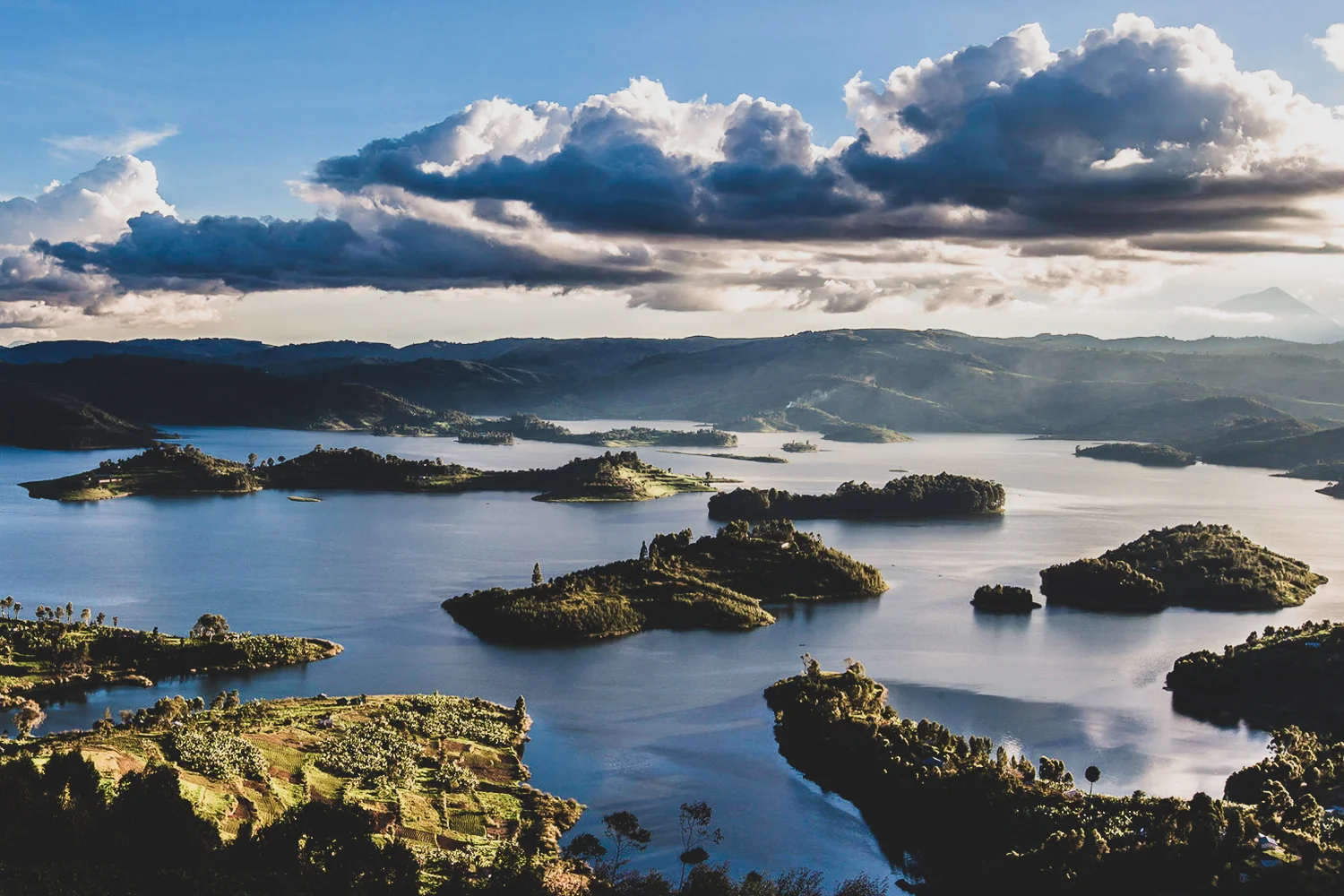 Renting one canoe varies from 4 to 20 bucks per day, but you can do wiser. For just $ 4 camping Edirisa on Lake Bunyonyi offers to put their personal tent on his refined territory, and for $ 6 , you can stay in a camping tent. There is everything you need here: toilets, showers, equipped bathing areas, but most importantly, guests of the camping can use a canoe for free and explore the lake and its islands without limit.
Here there have pricing information camping, and here you can learn more in detail about camping, the lake and accessible activity.
Ssese Islands is a Ugandan resort on Lake Victoria and a favorite vacation spot for wealthy residents of Kampala and Masaki. These islands are not very popular with whites, so you can still hang out here cheaply and with African chic. We must say right away that the Sses Islands are not Fiji or Tahiti, everything is much simpler here, and even if you are lucky to find a snow-white beach, you will hardly be able to swim on it. But here it is cheap, quiet, and African-style at ease. If you want, sleep in a tent right on the beach, reveling in a bag of local gin – no one will tell you a word.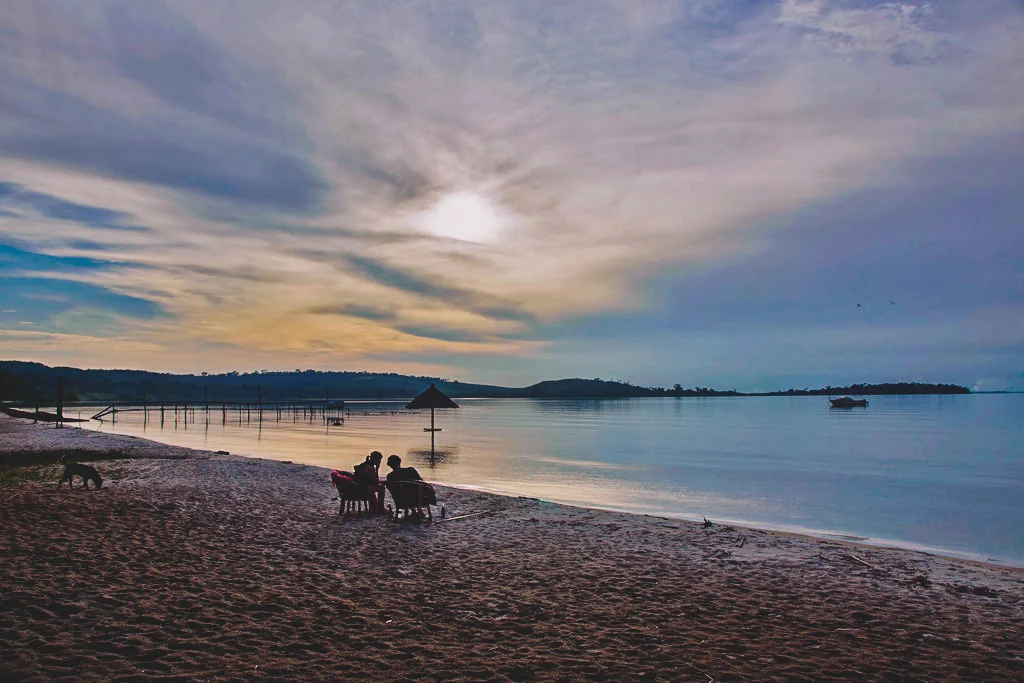 The easiest way to start exploring the islands is Bugala Island . A modern ferry departs here from the port of Nakiwogo (an hour's drive from Kampala) daily at 14:00, a ticket to the island costs about $ 3 for the second class and 3.5 hours of travel. Back to the mainland, the ferry leaves at 8 am from the same bay where it comes from ( Kalangala bay ). Ferries also run between the island and Masaka town, so it's a good option to get to western Uganda by boat, stopping for a couple of days.
There are several luxury hotels on Bugala Island with their own private beaches, and if you ask well, for a small fee, you will be allowed to swim in company with the local wealthy. Swimming on other beaches is not recommended, but if you see that someone is doing it, then you can take a chance and join. In general, Ssese Islands is an archipelago of 84 islands, half of which are uninhabited, and boats run between the other half, so there is definitely enough space for research.
Tanzania
Tanzania is magnificent in its natural diversity – there are jungles, savannas, mountains, plains, a couple of giant lakes, a hundred common bodies of water and an ocean. There are more than enough beautiful places here, hitchhiking is good, and public transport, although poor, is developed, so you can travel around the country for a long time and productively.
True, not a single Tanzanian wildlife safari park will get into this article, since this pleasure costs a little more than $ 30, but you can read about the country's expensive tourist joys here.
Let's start with the non-obvious.
The road leading to Tanzania from Uganda passes through Burigi Game Reserve. The park does not deserve a separate visit, but if you enter the country in this way, then look around: an antelope, a warthog or even an elephant may appear on the road and in the bushes. By public and private transport with a black driver (we are talking about hitchhiking, of course), travel through the park costs nothing, so such a trip could be your first and only wildlife safari in Tanzania 🙂
Even if your path lies in the tourist Arusha in the north of the country, we advise you to make a small detour to the west and reach the town of Kigoma . There is nothing to do in the city itself, but it is located on the shores of the longest freshwater lake in the world, which you probably heard about somewhere – Tanganyika Lake . One day is enough to walk along the coast, drink tonic cognagi at the beach bar and admire the purity of the water in Tanganyika, which is so rare for African waters. And yes, you can swim here!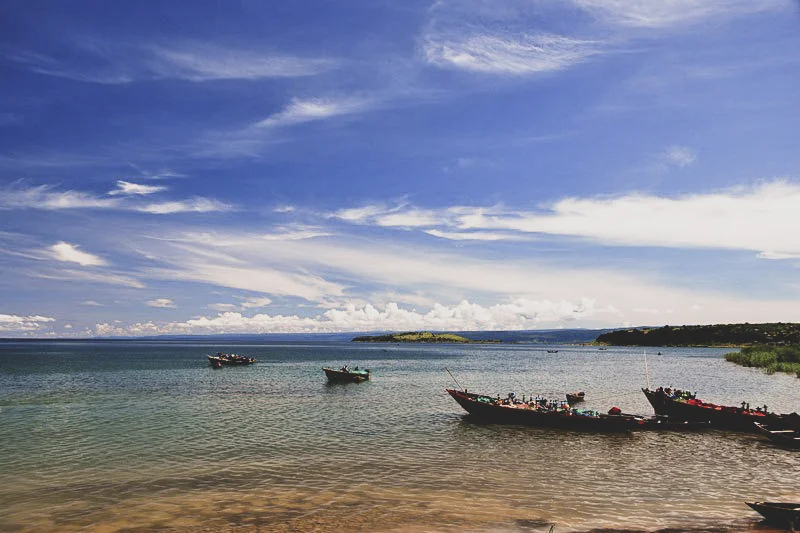 Now about what is closer to Arusha.
To the south of the town of Mto wa Mbu, the territory of the very beautiful and no less expensive Lake Manyara National Park is green. You won't be able to get inside without money and a car, but you can admire the lake from above. Dial Panorama wildlife Safari Camp and Lodge in your navigator and get to it in any way you can – from Mto wa Mbu to the lodge just 6 km. It has an impromptu bar where you can order an inexpensive drink and go with it to the gazebo on the edge of the cliff. From this place, there is simply a breathtaking view of the Rift Valley, the lake and the park, and only creepy-looking baboons living on the campground can interrupt your delight.
Also, from Mto wa Mbu to the north, there is a country road toward the village of Selela. Just 5 km from the road, Africa begins from the National Geographic plots: a velvet savannah, languishing from the heat, lifeless bushes, sand tornadoes, and all this color uniformity is broken only by striped zebra priests and bright spots of Masai capes.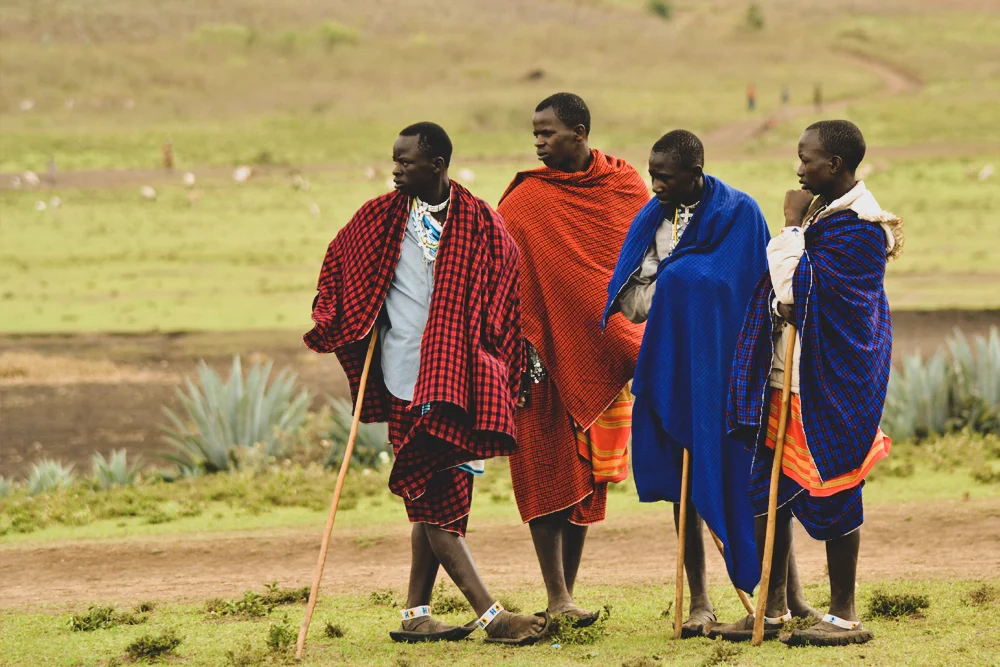 This is the East African Rift Valley, and the first 10 kilometers from the highway for finding here money will not be taken from you, since there is simply no one. A car is also not required – all predators are safely hidden by people in national parks. But in these parts very colorful Maasai tribes live, and they live for real, and not for tourists. If you are lucky, the local children will bring you to their village to show you as a curiosity to friends, relatives and cows.
On this free beauty to the west of Arusha ended, we continue to move east. If you leave the city towards the airport "Kilimanjaro", then after 20 km it is worth stopping at Mount Meru Game Lodge & Sanctuary . This is one of the hundreds of luxury lodges in Arusha for packed tourists, but, firstly, they make the best coffee in the city, and secondly, zebras and ostriches walk around the hotel, monkeys jump in the trees, and porcupines meet guests at the entrance. This, of course, is not a wildlife safari at all, but drinking a $ 4 coffee with a view of the zebras is more pleasant than doing the same in a regular cafe.
The next place is called Chemka or Kikuletwa Hot Springs . What does the hot springs have to do with it, since this is a real oasis in the middle of the desert with crystal clear water of a piercing blue color. The water, by the way, is not hot at all. The place is excellent in all respects, and it is definitely worth getting to it.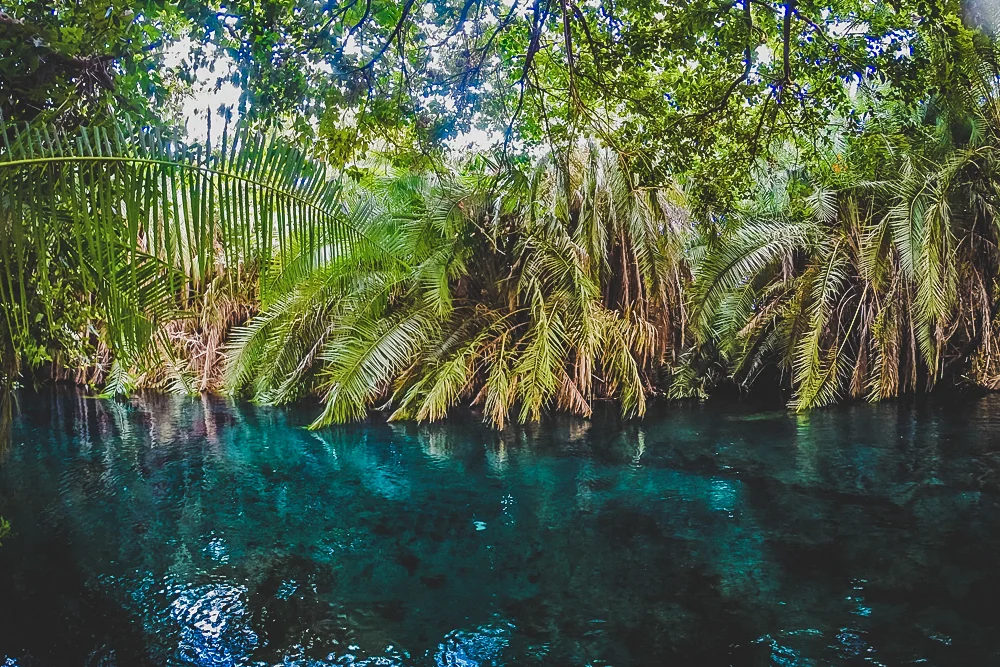 How to get there?
First of all, you need the village of Boma Ng'ombe, which is easy and cheap to get to by dala-dala (minibus), and then there are few options left. The easiest way is to switch to peaks-peaks (motorbike), which will be offered to you a second after you get off the bus. Bargain mercilessly! The author of this article drove 14 km off-road for 25 cents, but even $ 5 for such a trip is a bearable price. There are also tuk-tuk , but it is more expensive and longer to ride on them, a taxi, which is simply expensive, and hitchhiking is free, but for a long time, because cars rarely go in the right direction and most often they are packed to overflowing with people.
From Boma Ng'ombe to the oasis, drive 14 km south on the wilderness of the savannah, so get ready for a dusty and bumpy road. The entrance to the springs costs $ 5 , and you can swim and jump from the bungee until dark, the main thing is to find a way to return to the track in advance.
Tip 1 : Come here as early as possible on a weekday morning and stock up on picnic food. Believe me, you won't want to get out of the coolness of the shady oasis and return to the dusty embrace of the savanna for a very long time.
Tip 2 : Try to get back to Boma Ng'ombe by 5pm to find a cozy spot to contemplate Kilimanjaro at sunset.
At 25 km from Boma Ng'ombe, at the very foot of Kilimanjaro is the town of Moshi. It makes sense to stop here for the day for another exciting and inexpensive adventure.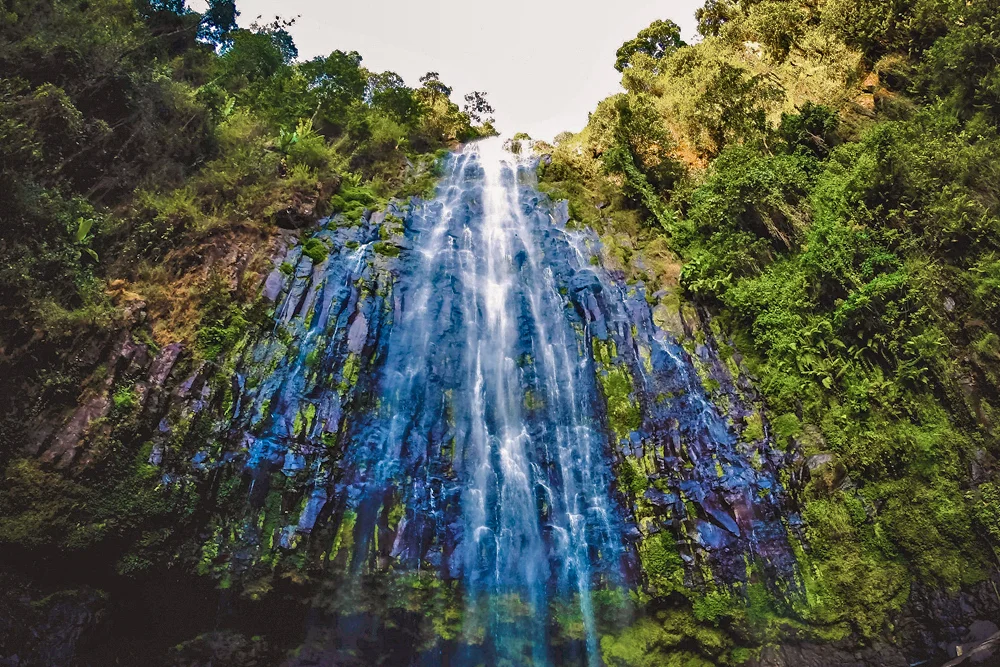 This 50-meter waterfall Materuni , the highest in the Kilimanjaro region, and it is quite possible to get to it on your own, without the help of tour operators and a guide. To do this, once again, you will need the omnipotent maps.me maps, where the waterfall for some reason is called Mataruni . And then everything is simple: lay a walking route and get ready to walk for a long time. Perhaps, some segment of the path can be shortened with the help of a pike-pike or hitchhiking, but the road will end, and you will still have to walk up the hill along the already trodden path. The entrance to the waterfalls costs the same $ 5, the view fascinates him, and you can also swim in it – the water is quite warm.
Zanzibar
Stone Town is definitely an interesting place on the island. The history of the city is long, multinational, it is interesting to walk around it and, most importantly, it is free. Here you can take a thousand and one photos of the famous Zanzibar doors, look at the house where Freddie Mercury was born and lived, get lost in the narrow streets of the city, but try to catch the sunset on the shore. Museums, churches, the Old Fort – there are many places in Stone Town, no more than $ 5 per entry, choose entertainment to your liking.

It would also be nice to eat Zanzibar pizza and other incomprehensible but delicious things at Forodhani Gardens Food Market – food in Zanzibar is very different from the meager dishes of mainland Tanzania.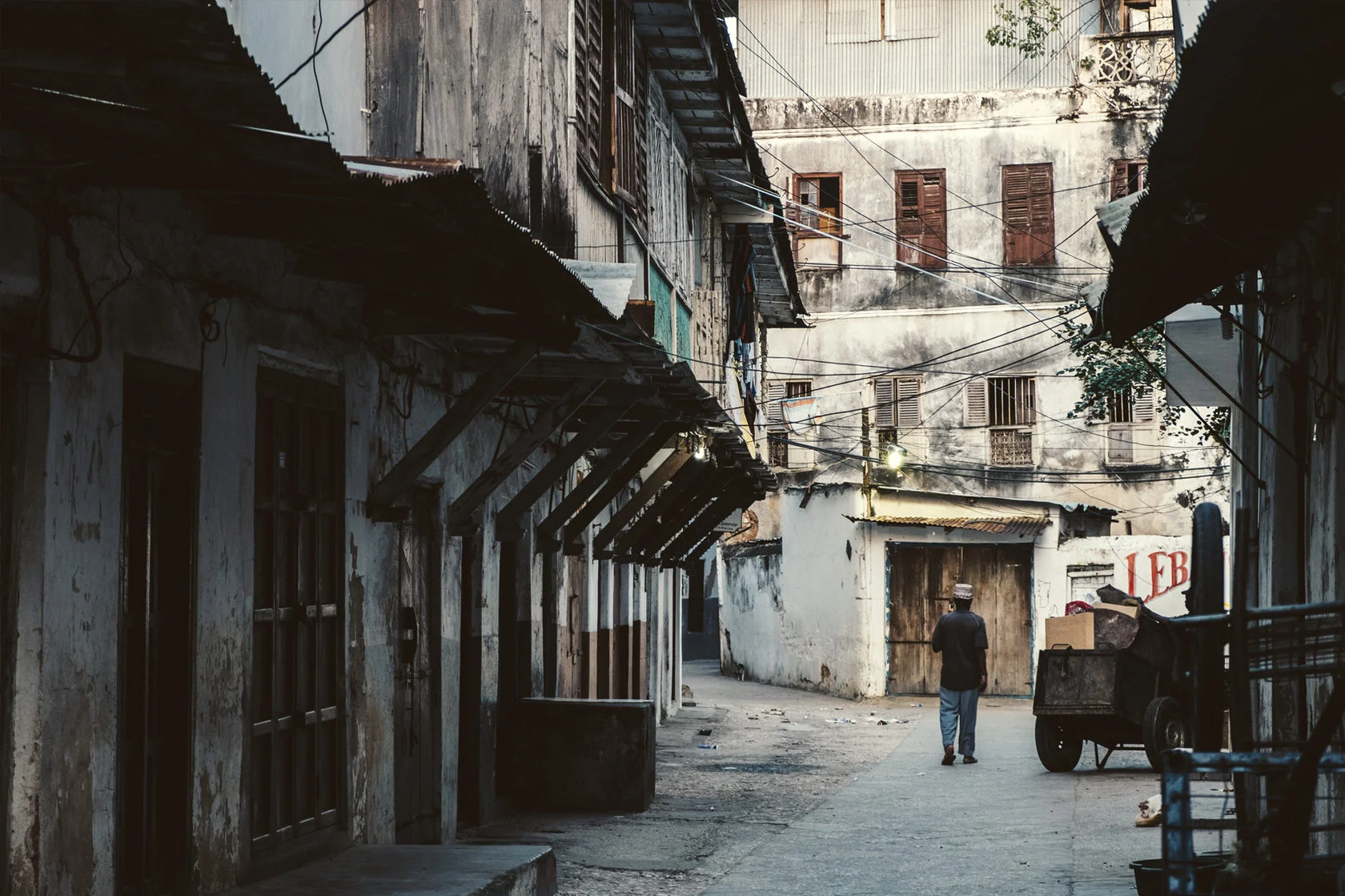 Take a trip to Prison Island – a former prison island, where huge Seychelles turtles now live and feel great. Just no excursions and guides are needed: a crowd of boatmen always hang out on the pier in Stone Town, with whom it is very easy to bargain. A trip to the island and back easily turns into $ 15-20 instead of the stated 50, and the entrance to the island itself costs $ 5, and this price also includes a whole leaf of cabbage, which can be immediately fed to the turtle you like.
Mnarani Marine Turtles Conservation Pond is a wonderful conservation area for the endangered species of great sea turtles for 25 years. For $ 7 you can admire turtles and feed them with seaweed, and for $ 10 you can swim with them in the bay.

The best part is that all the money raised goes exclusively to saving animals – at least that's what the organization claims, and we have no reason to doubt it. Before going here, you need to fill out a form , and if you are going to swim, do not wear anything green – the turtles will mistake you for a plant and try to bite off a piece.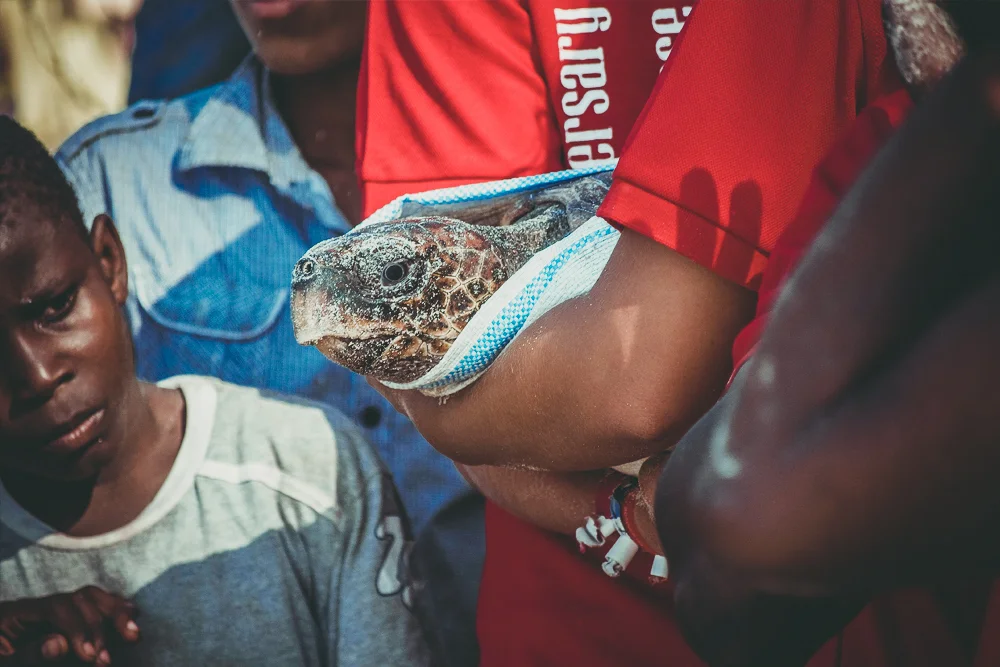 Zanzibar is primarily a beach holiday, but when you get tired of wallowing, go in search of Kuza Cave . It is a small but lovely cave with deep blue water. It is marked on the maps, but we do not know how to get to it. The entrance costs $ 10 , which is not very cheap for a small cave, but maybe you will charm everyone and drop the price.
Zambia
Quite civilized and very charming country, where even a budget traveler can afford the entrance to the most magical place in all of Africa. And if you ask at the border not for a simple visa, but for KAZA Univiza , then for the same $ 50 you can also visit Zimbabwe without paying anything extra – very convenient and smart.
Of course, Victoria Falls will take the first place in the list; It is very difficult to write about the most impressive places on the planet, so we will only get by with practical information.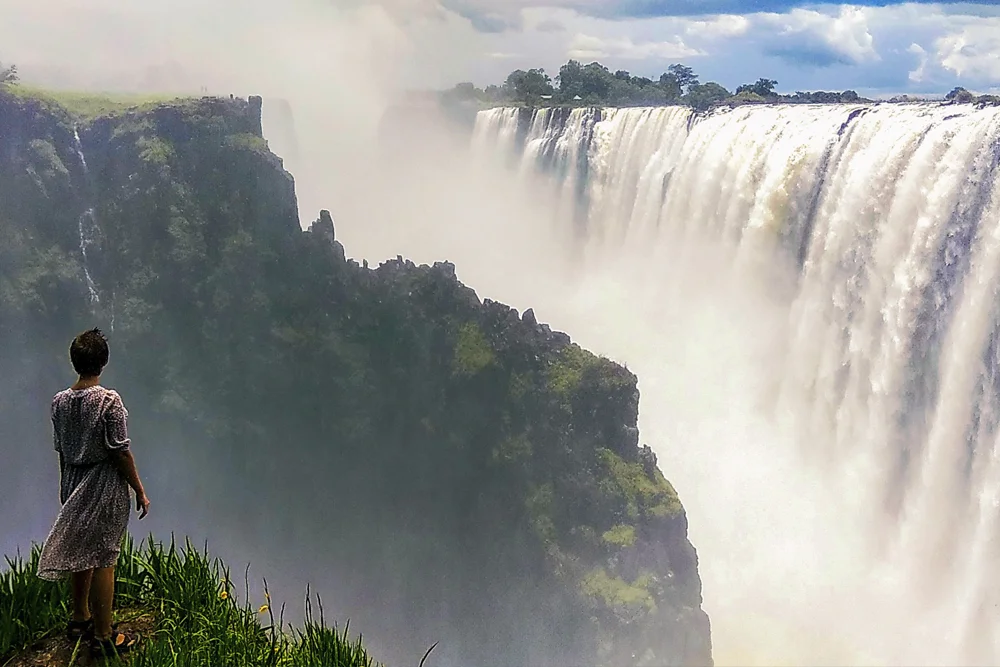 The waterfall is located on the border of Zambia and Zimbabwe and can be viewed from both sides. In Zambia, the waterfall is part of the Mosi-oa-Tunya National Park , which costs $ 20 to enter , which is incredibly cheap for a wonder of the world in Africa.
This park bends around the eastern part of the waterfall and its paths run very close to the ledge: in the high season, when the water level in the river approaches the maximum and the waterfall manifests itself in all its glory, being close to it is an incredible thrill. You feel its power, its vibration, and you are charged with energy as quickly as you get wet from splashes and fumes. In addition, in this park there is an opportunity to bypass the waterfall from the other side and be "behind the scenes", looking at the raging streams of the Zambezi River at the time of its fall from 885 meters.
In low season , roughly from late September to early December, the water level in the river falls catastrophically, and that part of the waterfall that is located on the Zambian side turns into a thin trickle. At this time, all that remains of the entertainment in Mosi-oa-Tunya is swimming in the Zambezi and a walk in the park itself, where there are a number of wild animals (not predatory, although it is better to avoid baboons). In its Zimbabwean side, the falls show more zeal, and even in low season looks decent, though not so impressive.
And further
To prepare your mind for a shock dose of beauty, we recommend watching the trailer before going to the park: for this, just go to the bridge that separates Zambia and Zimbabwe. This bridge is a popular observation deck, so you can admire the waterfall without leaving the country: stamps are put here only upon request. From here, a wonderful view of a small part of the waterfall and the mouth of the Zambezi opens up, which will be an excellent preview for the upcoming acquaintance with Victoria. It's also completely free.
A couple of kilometers from the waterfall is the pompous five-star Royal Livingstone Hotel by Anantara , but since one night in it will cost at least 600 bucks, we are only interested in the hotel territory, where zebras and giraffes roam freely. Any tourist can get into this mini-wildlife safari park: just be in clean clothes and say that you are going to have a coffee, even if it is not so.

Zebras are easy to see: they graze on the embankment opposite the windows of the most expensive room, where, apparently, incredibly tasty grass was planted especially for them. Giraffes, on the other hand, walk through the bushes, and in order to find them, you will have to spend time exploring the entire immense territory, but it is not necessary to do it on foot. For the convenience of guests, golf carts run along the entire perimeter of the hotel, the drivers of which are specifically looking for giraffes, and then they are happy to drive those who wish to the desired place in order to get a couple of dollars for tea. And the fact that you do not live in a hotel does not bother anyone here.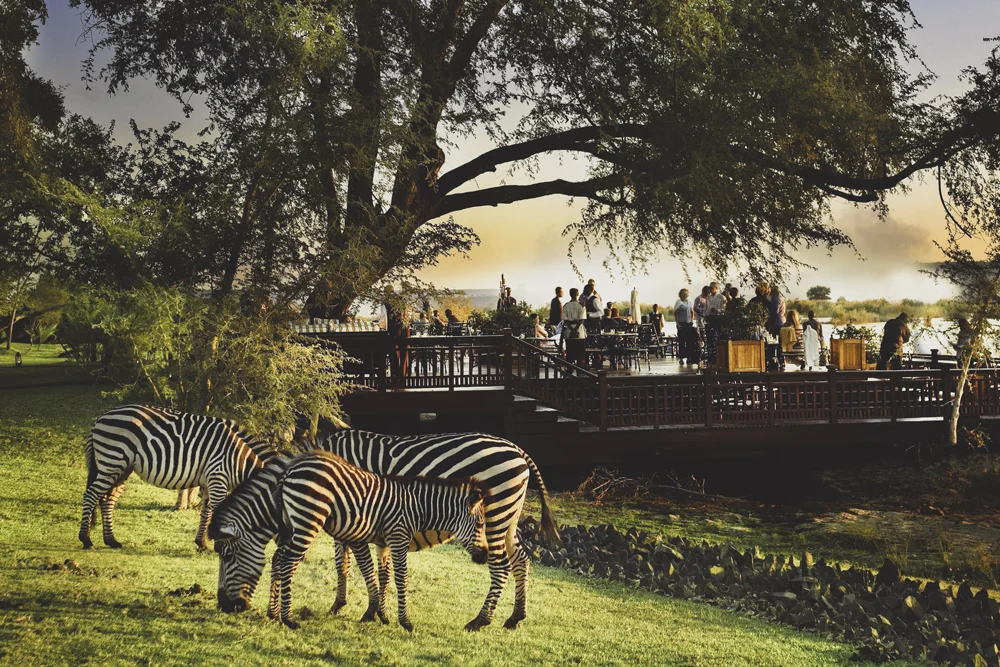 Livingstone Art Gallery is a small but very nice gallery with works by local artists. As befits Africans, their creativity is very contrasting: frank daub is adjacent to surprisingly harmonious exhibits, but everything is as juicy, bright and genuine as possible. Many paintings are on sale, but they are unreasonably expensive, but for a few dollars you can buy unusual handmade postcards here – they are very rare in Africa. The gallery is free to enter and is located halfway from Livingstone to Victoria Falls.
The capital of Zambia, Lusaka, is one of the few cities in Africa to qualify as well-groomed. There are even functioning sidewalks here! You should take advantage of this and walk to 37D Gallery – another art gallery, this time large and full-fledged, where you can not only look at the creations of mature and not so African artists, but also hear a lot of interesting things about local history and culture.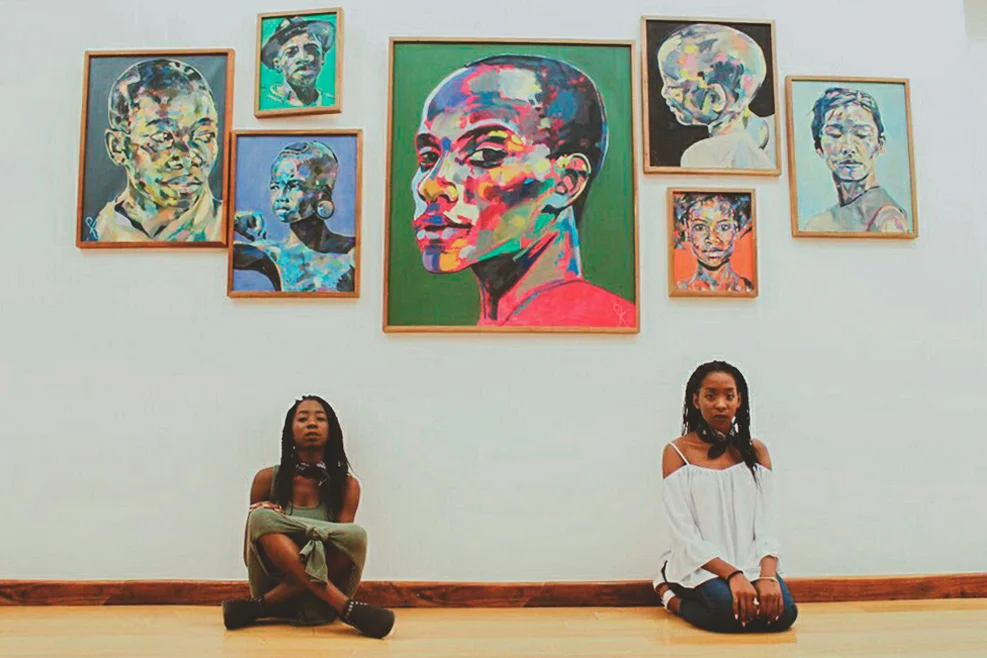 The gallery was created by a small non-profit organization, people work here are really interested and they select all the works for the exposition on their own. Admission is free , however, the gallery is open for visitors only on Tuesdays and Thursdays from 9 to 17.
The smallest national park in the country, Lusaka National Park, was recently opened 30 km from Lusaka . There are still few animals here: a couple of rhinos, several species of antelopes and their friends like deer and waterbuck (?), As well as zebras, giraffes, armadillos and warthogs. But the entrance to the park also costs a ridiculous $ 3 , so why not take a trip? And if suddenly they are not allowed to enter the territory on foot, then surely some lovely Zambian family in a car will not mind your company for a couple of hours of walking.
Lilayi Elephant Nursery is also located near the capital. This is a shelter for orphaned elephants, where visitors can watch the feeding and play of the babies and simply rejoice that the elephants are doing well. The organization lives on private donations, which are never enough, so shareware entry has recently cost $ 5 . However, on Mondays, visiting the shelter is completely free . Opening hours from 11:30 to 13:00, feeding the elephants starts at 11:45, and you can get there by looking at the Lilayi Lodge – the shelter is located a couple of meters from the hotel.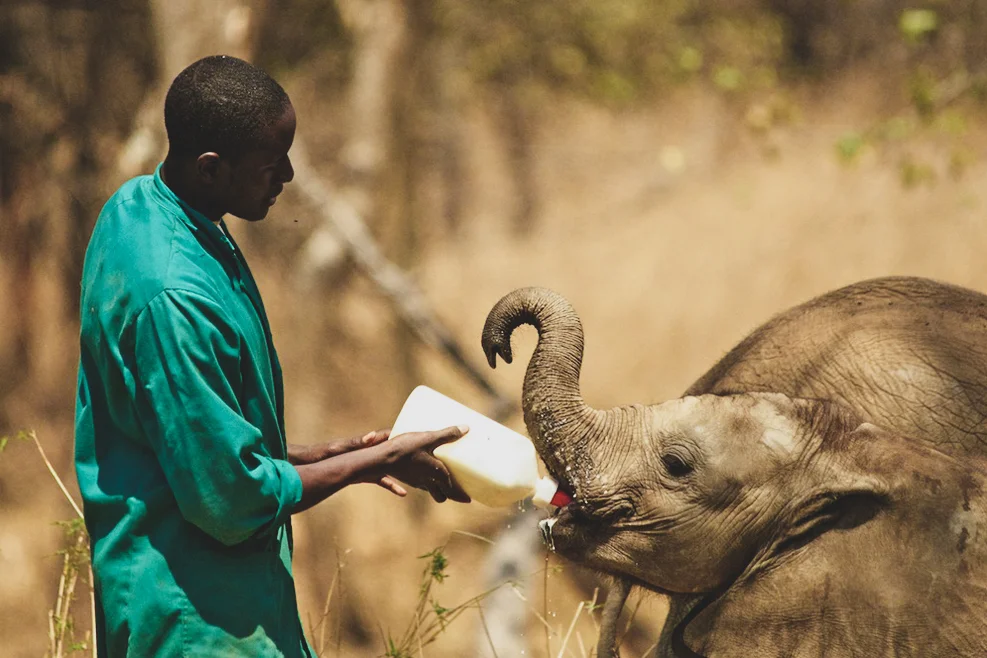 Another place for those stuck in Lusaka is Kalimba Reptile Park . Look at the most venomous African snakes, hold a python in your hands, watch crocodiles or even eat their meat (please don't) – all this costs $ 4 . In the park, you can have a picnic and swim in the pool – a good alternative to eating crocodiles.
When the people of Lusaka get bored with the city, they go to Lake Kariba , the largest man-made lake in the world. Yes, Africa is generally rich in all the greatest and most beautiful. Despite the fact that Kariba is more of a reservoir than a lake, crocodiles and hippos live in it happily, so only the most desperate guys swim here.

It is best to start exploring the reservoir from the dam, which is called Kariba Dam , and is located 190 km north of the capital. And then it's up to you: either to continue exploring the lake from the side of Zambia, or to go to Zimbabwe – the border divides the reservoir exactly in half.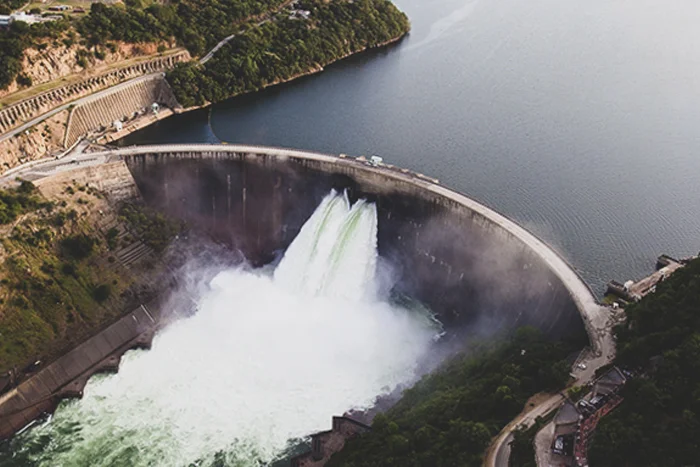 On the way from Zambia to Tanzania (or vice versa), it is worth stopping by the pretty Kundalila waterfall . It is only 13 km from the highway, but the place is not at all touristy, so transport can be difficult here. The entrance to the waterfalls costs from $ 0 to $ 15 depending on your bargaining skills, but on average they ask for $ 5 . There is also a camping site, and you can swim in the waterfall – a good spot for hitchhikers.
The Chimfunshi Wildlife Orphanage is the only chimpanzee shelter in Zambia. Most of the charges were confiscated from poachers who tried to smuggle them into Zambia for sale, but many were taken from abandoned zoos and circuses throughout Africa, Asia, Europe and South America. In addition to chimpanzees, other monkeys found their home here, as well as antelopes, sheep and birds, which were ever rescued from cruel human hands.

The place is uniquely unique, but it will not be easy to get to it, since it is located far from all the tourist buns of Zambia, almost at the very border with DR Congo, and 11 km of a deserted and very bumpy road leads from the nearest town of Chingola to the shelter.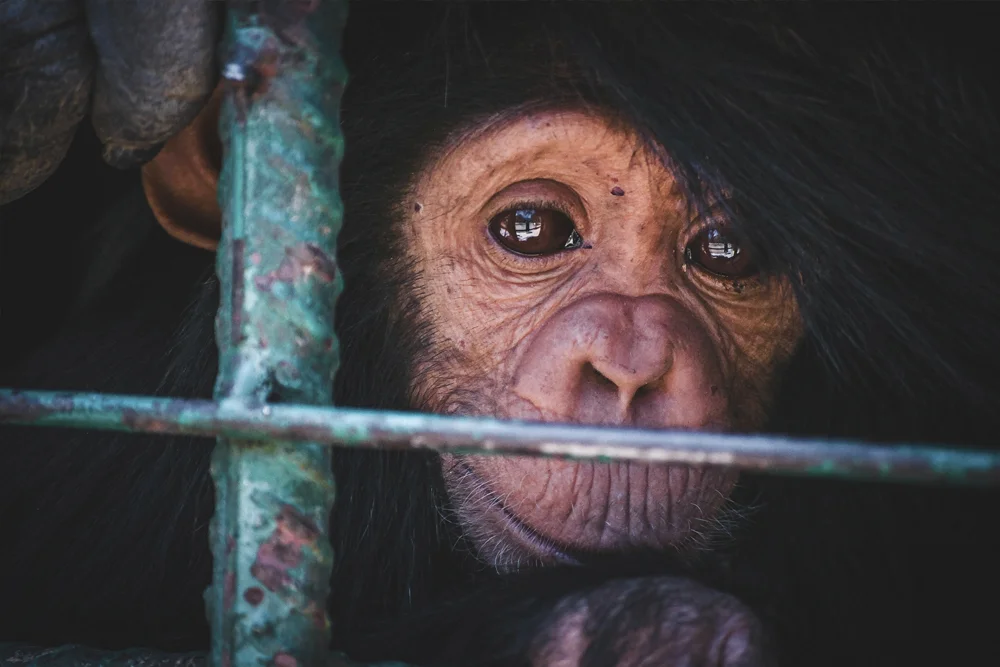 The entrance costs only $ 5.5 , but an overnight stay here will cost a tidy sum, so it is better to look for a place to sleep in advance and definitely not on the territory of the shelter. But if you have a couple of days left, then it's still worth the trip: the place is really very touching, and after walking with the chimpanzee by the hand, you definitely risk melting and staying here as a volunteer, which is not recommended, as it is very expensive and difficult. Before traveling, be sure to notify staff about your visit by writing to enquiries@chimfunshiwildlife.org.
In general, Zambia is very democratic in its prices for tourist attractions, unlike neighboring Tanzania. The entrance to the most expensive national park here costs $ 30 per day, but there are also quite budget options like Kasanka National Park for $ 8 or Sumbu National Park for $ 10 . It remains to solve the transport issue, and for this, numerous groups on Facebook come to the rescue, discussions on couchsurfing and topics on other travel services, where those who want to save money are looking for a company and share the cost of a car for everyone. By the way, this applies not only to Zambia, but also to all wildlife safari countries in Africa.
Zimbabwe
In this compact country, there was enough space for the Victoria Falls, and the "big five", and caves, and fortresses, and in general, all the beauty of South Africa is densely concentrated here, so you definitely need to go to Zim.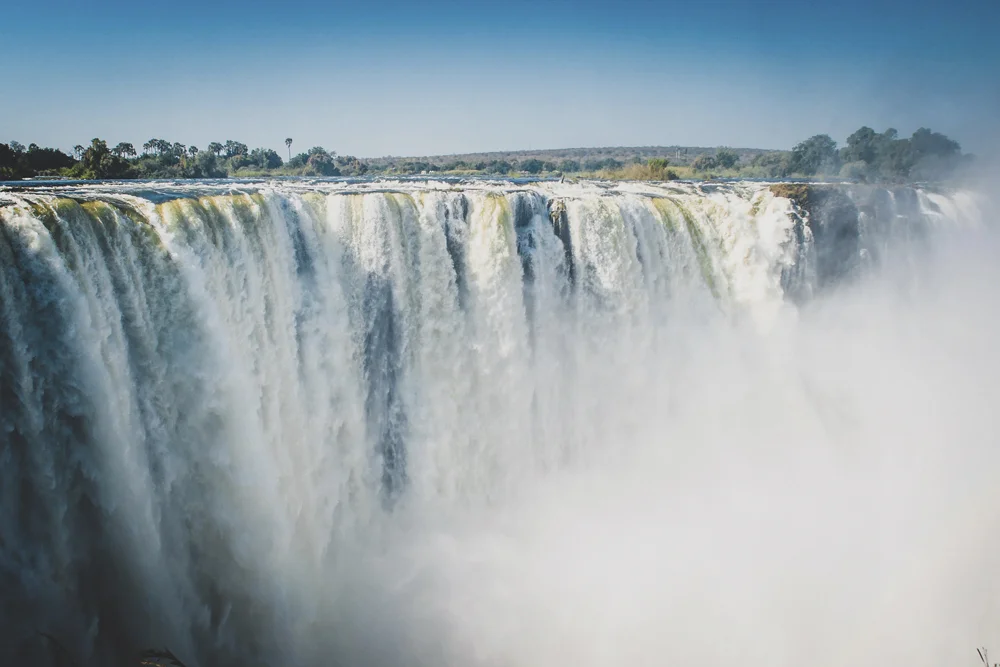 This country is a little more fortunate than neighboring Zambia: two-thirds of the waterfall and its main stream are located in the Zimbabwean part. Here the waterfall functions all year round, resting and slowing down only from September to December, but even at this time it looks impressive. Well, in high season, the view from this park can lead to a short-term stop of the heart from an overabundance of beauty.
On the territory of Victoria Falls there are as many as 15 viewing platforms, from which it is customary to non-stop photographing yourself and the waterfall, and you can take a breath in the rain forest, which is good for walking in the company of the ubiquitous monkeys. The entrance to this park is 10 bucks more expensive than in Zambia – $ 30, but it is worth every cent spent, and it is better to go here for the whole day from early morning to see the sunrise and not hesitate about another Chinese with a camera.
After visiting the park, it makes sense to go to the Shearwater Bungee Cafe , where over a cup of something you can comprehend what you have seen, upload the whole pack of photos with the waterfall on Instagram and admire the zigzagging channel of the Zambezi River, where daredevils jump from the bungee for only 160 bucks from the nose.
If you decide to move towards the center of the country, be sure to stop at Bulawayo . Firstly, the city itself is worthy of a short tour: it is clean and pleasant here, and some places and buildings evoke a fleeting and inexplicable nostalgia. Secondly, there are several interesting and inexpensive locations around the city.
For example, the Chipangali Wildlife Orphanage is a shelter for animals, birds and reptiles in trouble. The organization is private and, of course, it exists only through donations. Recently, they have been received clearly not enough, since the shelter looks shabby, but the entrance costs only $ 5 , and it takes no more than half an hour to drive from Bulawayo – why not make a small contribution to saving the animals, which can also be stroked? The shelter accepts visitors every day except Monday from 10 to 17.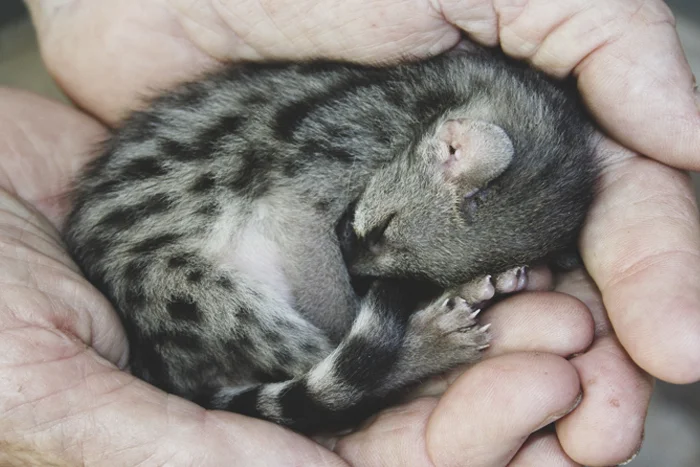 On the other side of the city, but also not far from it, there is an amazing Matobo National Park . He surprises with alien pyramids of huge boulders, balancing in the strangest positions or just randomly scattered across the park, rock art, hilly landscapes and sunsets, to which their creator has accurately applied a couple of filters.

Considered the spiritual home of Zimbabwe, this park contains the grave of Cecil Rhodes, the most controversial person in South African history, and is home to a large population of rhinos, including rare whites. The entrance to this extraordinary place costs $ 15 , and (lo and behold!) You can move around the park on foot, which means you don't have to pay for a car.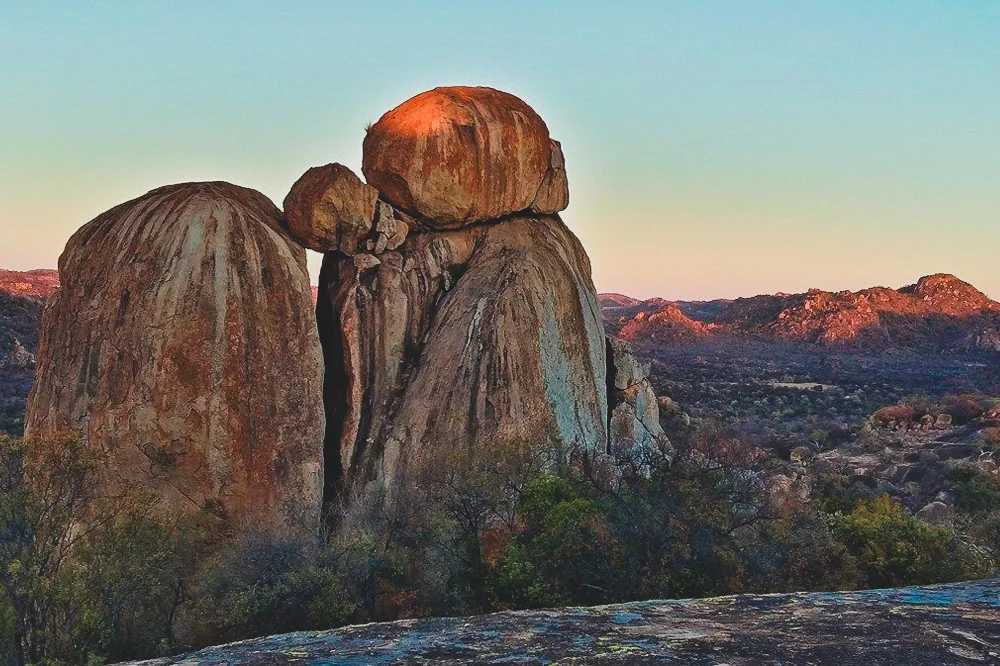 Zimbabwe also has a lot to offer to lovers of antiquity. Between Bulawayo and Harare near the city of Masvingo, there are the ruins of the city of Zimbabwe ( Great Zimbabwe ), which flourished in the 13-14 centuries, and then, for some reason, was abandoned and destroyed. The scale of the buildings is impressive, especially when you remember that you are in Africa, with which this kind of place is not associated in any way. If there is an extra $ 15 to pay for the entrance, then it is worth seeing, and it is better to splurge on a guide (from $ 3 to $ 10), otherwise the history of the city will remain a mystery to you.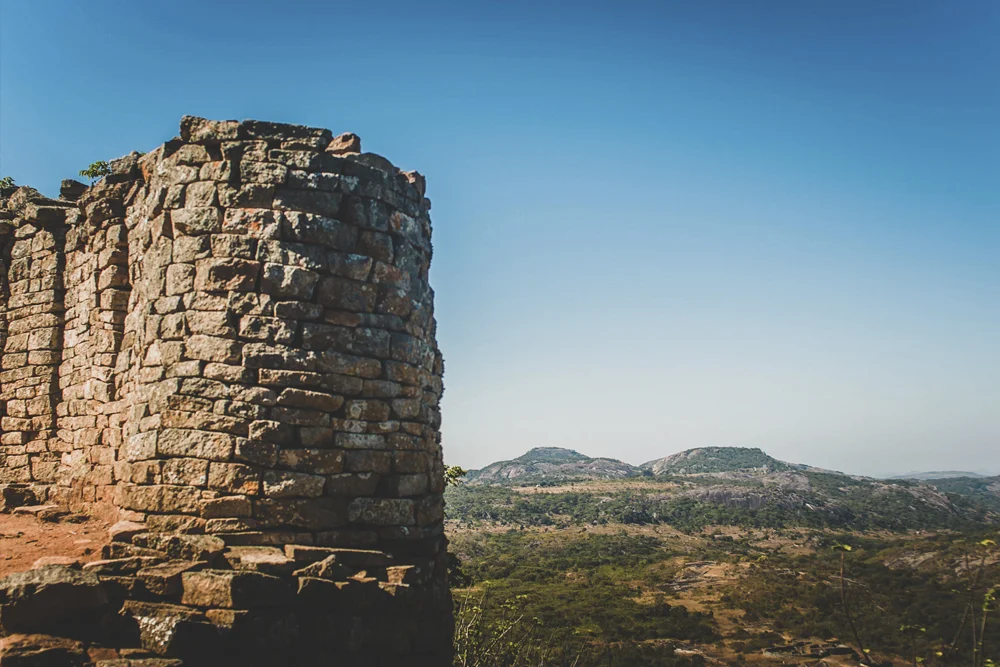 The capital of Zimbabwe, Harare, is not of particular interest, but it is comfortable to be in it, and there are many places around where you can go quickly and inexpensively. For example, Mukuvisi Woodlands is a small nature reserve within the city, where for $ 15 they offer to make a horse wildlife safari. Giraffes, zebras, antelopes living in the park are sympathetic to horses, and the rider is simply not noticed, so a ride on horseback allows you to get as close as possible to the animals and see them better. Since there are no predators in the reserve, you can walk around it on foot, the entrance costs $ 5 .
The Wild Is Life nursery shelter is praised by absolutely everyone who has visited it: they say that as much love and care as animals receive here, people rarely manage to find. The shelter is home to lions, cheetahs, elephants, giraffes, ostriches, antelopes, monkeys, birds and reptiles, and all of them are in close contact with humans, unless the animal is about to be released into the wild. The only trouble is that you can visit this place only privately, by writing to one of the contacts . As for the price, the story is the same: everything needs to be negotiated with the owners of the shelter, but, judging by the rave reviews, such a chance should not be missed.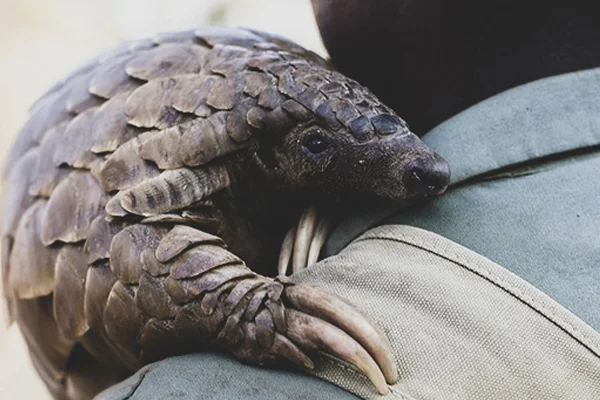 Lodge reserves are very popular in Africa: tourists love to relax with a view of giraffes and rhinos, and it is not very difficult to build several villas on the territory of a private reserve. One of these places is located 30 km from Harare and is called Thetford Game Reserve .

The relatively small area of ​​the reserve is home to almost a thousand wild animals, and for only $ 10, the staff offers guests to take a mini-wildlife safari in the lodge's car. Of course, most tourists, impressed by the trip, immediately rent expensive rooms or, at least, have dinner in a restaurant on site, but you can limit yourself to a simple walk. For some reason, the place is not marked on the maps, but an approximate route is described here .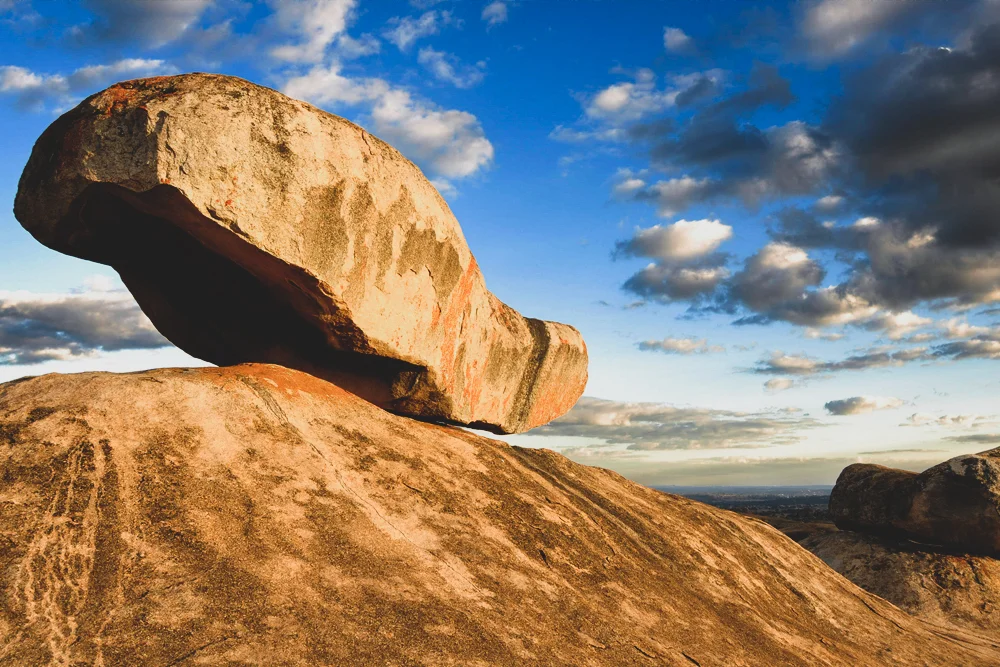 Another noteworthy place is Chinhoyi Caves two hours north of Harare . These are caves with water of a saturated ultramarine color, so unreal that it seems as if a cistern of paint was poured here. Entrance costs $ 10 , enthusiastic emotions and beautiful photos are guaranteed.
Just like in Zambia, Zimbabwe's national parks are quite affordable for the budget traveler. The most expensive – Victoria Falls – costs $ 30, but this is rather an exception. For example, the entrance to the stunningly beautiful Zambezi National Park will cost $ 15 , and the most popular among tourists and Hwange National Park – $ 20 . True, you will have to pay the same amount for the entry of the car as for the entrance, but it still turns out to be cheaper than just the entrance fee in any park in Tanzania.
Botswana
In this desert country, all the most interesting happens in the north, namely in the corner between Namibia and Zimbabwe – most of the national parks are concentrated here, and no one bothered to fence them, so that wild animals in those parts live and move freely.
Absolutely all parks and reserves in Botswana cost $ 11 + $ 5 charge for the entry of the car. The only exceptions are Khama Rhino Sanctuar y with a price of $ 8 for entry and $ 10 for transport, Lekhubu Island – $ 7 , and Kgalagadi Transfrontier Park , which even costs less than $ 3 to get to by car . Here are a few places to visit once in Botswana, but keep in mind that it won't be easy without your own transport.
Tsodilo hills are powerful rocky hills that are difficult to climb, but interesting to look at from the side. The place is historically important, therefore, if possible, do not refuse the services of a guide – without him, except for a beautiful picture, nothing will remain from the visit.
Khama Rhino Sanctuary is a nature reserve specializing in rhinoceroses, but giraffes, zebras, antelopes and warthogs can also be seen here. Staying at the campsite is not recommended: the local staff have a bad reputation for being absolutely indifferent to visitors, so it would be more correct to just look at the animals and quickly leave for another place.
Makgadikgadi Pan is a true African salt marsh. It looks most effective in the dry season, from July to mid-October , when the water dries up and leaves only a cracked layer of salt. It will be great to camp in the middle of the salt marsh to admire the starry sky and meet the sunrise in the snow-white desert.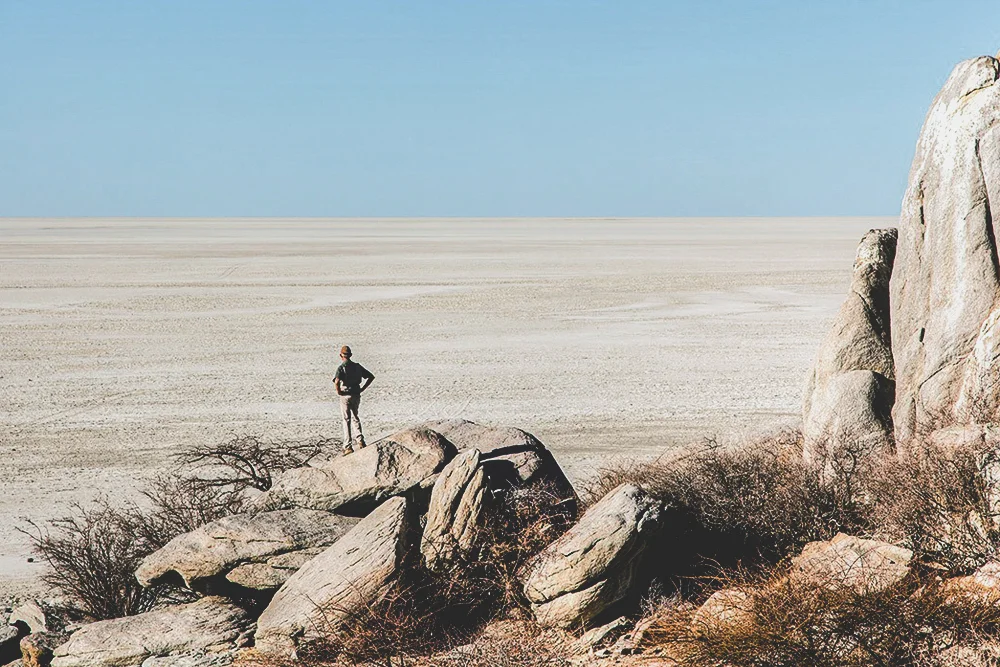 Drotsky's Caves ( Gcwihaba Caves ) are very impressive caves in the middle of the Kalahari Desert that have served as a haven for Bushmen for centuries. It is difficult to find them, tourists rarely come here, and this makes the place even more attractive. Caves are marked on google maps, so go for it!
Chobe National Park is the most visited park in Botswana, home to almost all important African animals. This one differs from other national parks in the country by its really beautiful landscapes and developed tourist "infrastructure".
Namibia
The paradox of Africa is that the richer and more civilized the country is, the cheaper it will be to admire it. Namibia is close to ideal: here bank cards are almost universally accepted for payment, the most expensive national park costs $ 6, and the country has definitely borrowed the landscape from another planet.
One problem – the proximity to South Africa gave Namibia all the delights of black racism and a high level of crime. Friendship with the head prevents 99% of dangerous situations, but there can be problems with hitchhiking: locals are simply afraid of strangers, even whites, even with backpacks and signs. You can try, but public transport or a rented car is still more reliable, albeit much more expensive.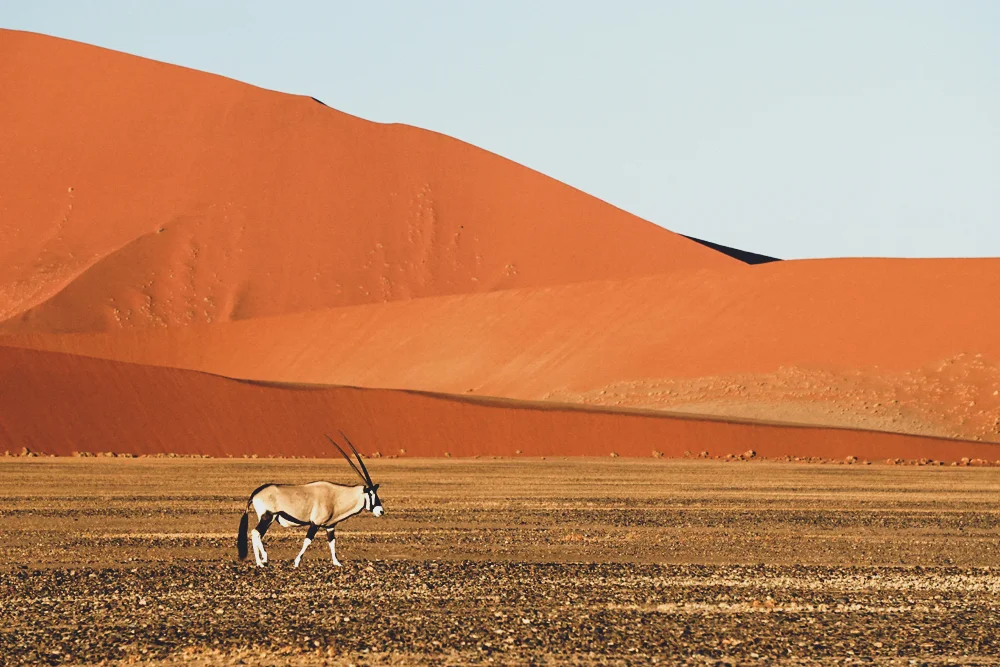 Let's start with the capital as a starting point for all directions.
Windhoek is a large city, but very sparsely populated, which is generally typical for Namibia, where the whole country has 2.5 million inhabitants. And also there is no public transport in it, so if you are without a car, you will have to move either on foot or by taxi.

People most of all resemble Muscovites: serious, tense, but friendly, if you ask them a question. There are approximately equal numbers of blacks and whites here, the confrontation is almost imperceptible, but sometimes you can catch malicious glances from black guys, although usually it does not go further. Windhoek has several art galleries, museums and the National Botanic Garden of Namibia – almost all free, but pretty bland.
There is a more interesting place not far from Windhoek. N / a'an ku sê Lodge and Sanctuary is another nature reserve and shelter for wild animals that you won't surprise anyone in Africa, and yet Naankuzi is special. Many felines have found a temporary and permanent home here: cheetahs, leopards, caracals and lions, which are not so easy to see even on this continent. Maybe for this reason, Angelina Jolie fell in love with the shelter, who often donates money to him, and sometimes visits.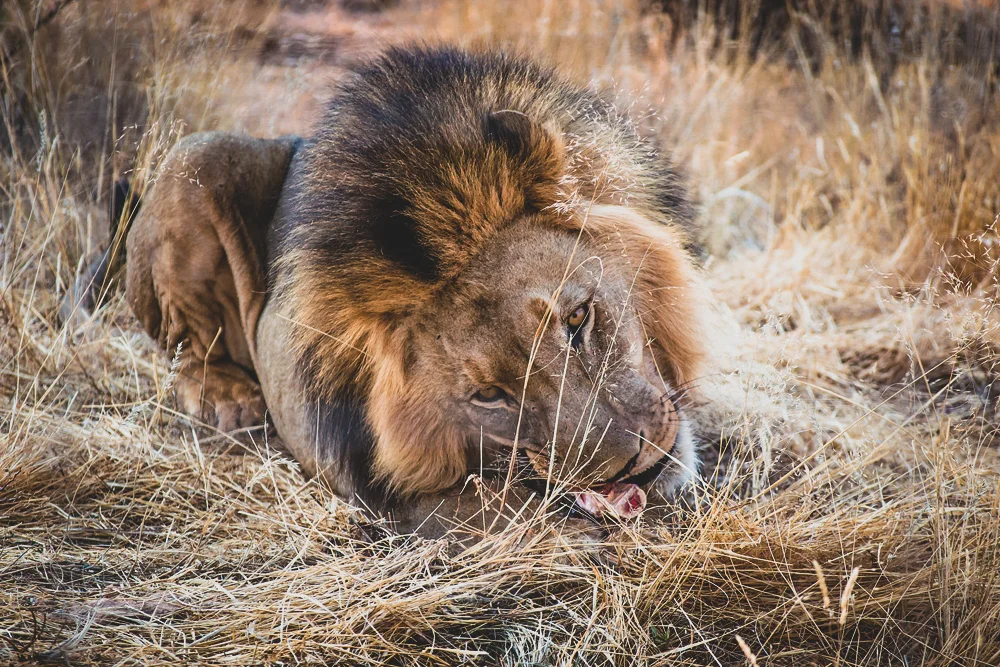 In addition to cats in the reserve, they take care of variegated wild dogs, playful orphan baboons, meerkats and other animals. And the most wonderful thing is that you can walk with the animals, and it is not so expensive: for a few hours of walking with feeding the predators, the shelter asks for about $ 23 , and for $ 19 those who want to ride around the territory in a car at sunset and are slowly taken back to darkness, when cats are especially active and start hunting.
If you decide to go for a walk with the lions, write to the shelter in advance and specify the best time to come. Just do not forget to say that you are not going to book anything (there is a luxury lodge on the territory), but you just want to see the animals.
A little further from the capital is the Omaruru Game Lodge – this is also about animals, but here everything is not so simple. This is not a shelter, and not even a nature reserve, but a lodge with a large territory where everyone lives: giraffes, rhinos, hippos, leopards, cheetahs, elephants, zebras, antelopes, and this is not the whole list.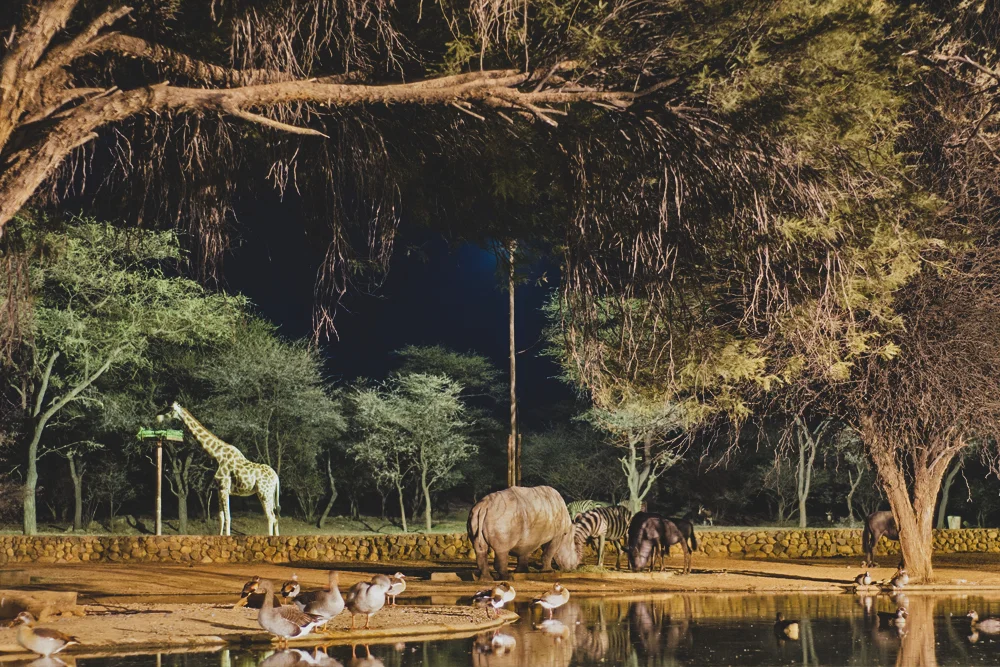 On the one hand, being in such close contact with animals, stroking a giraffe and feeding a rhino with an apple is an invaluable and unforgettable experience, but on the other hand, which Namibian wildlife defenders often shout about, all these animals are forever lost to life in the wild, since too accustomed to people and will no longer be able to defend themselves on their own.
We will not enter into controversy, but simply say that every day from 9 to 15 o'clock the lodge conducts mini-wildlife safari tours around its territory, and for an hour and a half and $ 17.5 you can see so many animals here that about all the pitfalls like- it is forgotten by itself.
We advise you to come to the town of Swakopmund as early as possible. It is the most easily accessible, completely free and ideal place to explore Namibia. The city itself is very pretty, but its European houses and sleek streets quickly fade against the background of soft sand dunes and a cold, but beautiful in its alienation ocean. To see the latter, it is enough to drive a few kilometers along the coast to the north.
The dunes are difficult to confuse with something or not notice: they appear immediately at the exit from Swakopmund and stretch 30 km along the coast to the next town. Choose the highest dune and crawl to its top. It's not that easy, but you will certainly be rewarded with a view of the ocean and a crumpled blanket of sand on the other side.
The dune strip is pumped near the town of Walvis Bay . It is the twin brother of Swakopmund, only smaller and more desolate. At the far end of town (which actually looks more like a downtown area), there is a waterfront spot especially attractive for pink flamingos. We don't know what they like here so much, but there are hundreds of them! And you can look at the birds as much as you like until you get bored – it's just a city embankment, not a national park. On maps. me this place is marked: " Flamingos " with the binoculars icon.
Flamingos are common in these places, so you shouldn't stay too long. A kilometer from the birdlife, the city embankment turns into a road and leads to the spit separating Walvis Bay from the open ocean. There is also something to see on this spit: at least, on a wide and completely deserted coast, on which seals and even penguins sometimes crawl out, but it is better not to count on these unnecessary friends.
The eerie Skeleton Coast Park occupies almost the entire northern part of the coast. This is 500 km of ocean and desert, among which there are huge bodies of abandoned ships, fur seal rookeries and (very rarely) desert elephants. The southern part of the park is free to visit, the entrance costs $ 6.5 along with the car entry fee and is located at the Ugab Gate on Google maps and Ugabmond Gate according to maps.me.

You can drive a regular car no further than 200 km from the entrance to the park: there the road ends and the bare dunes sliding into the ocean begin, on which there is nothing to do without a 4wd jeep (Top Gear proved the opposite, but they are professionals). Yes, and hardly after three hours of a beautiful, but terribly monotonous picture, you will want to continue driving through the desert, where there is nothing in-oh-oh-b-e-e 300 km ahead.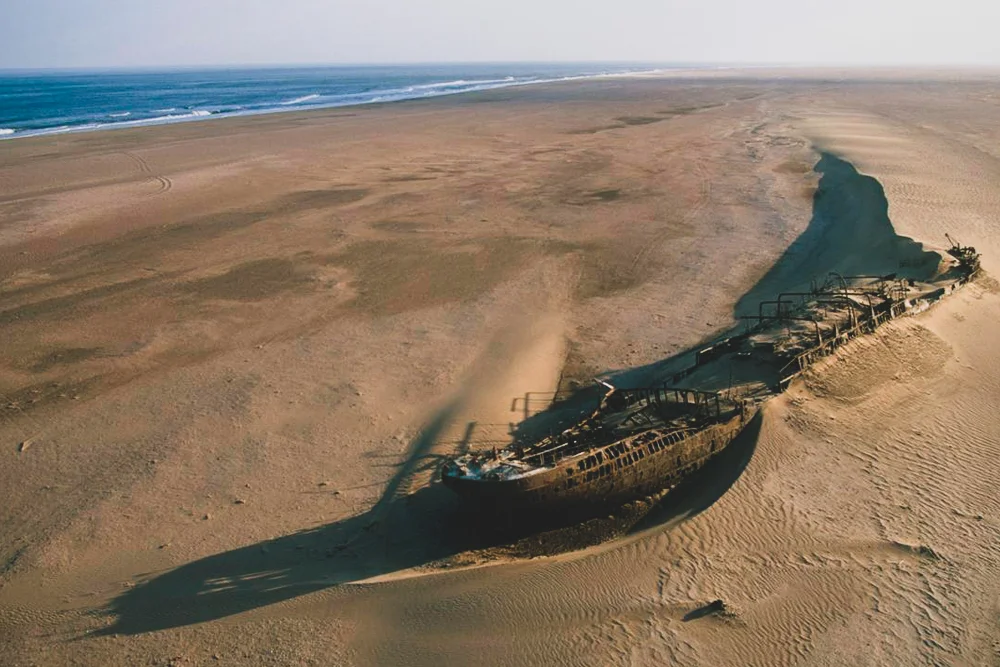 If you still find yourself in the north of the country, then be sure to get to Epupa Falls – very picturesque waterfalls near the border with Angola. The entrance costs less than a dollar (count it free), and the main road is just a stone's throw from the waterfalls. Just don't expect to get to Angola from here: the border point is located in a completely different place, and behind the waterfalls an impenetrable lunar landscape stretches for many kilometers.
Also in the north of the country is the main wildlife safari park of Namibia – Etosha National Park , and in its eastern part you can move independently, that is, necessarily in closed transport, but not necessarily with a guide. This is very convenient and saves a lot of money, since you can drive around Etosha in any car, not just wildlife safari jeeps, and the entrance to the park costs the same $ 6.5 .

Etosha has all the animals of the Big Five – elephant, lion, rhino, buffalo and leopard – and this is perhaps the most inexpensive park in Africa where you can see them all at once. In the middle of the reserve there is a large lake, to which all animals, without exception, come to drink, and this is a great chance to watch how predators and herbivores get along in an unfriendly desert.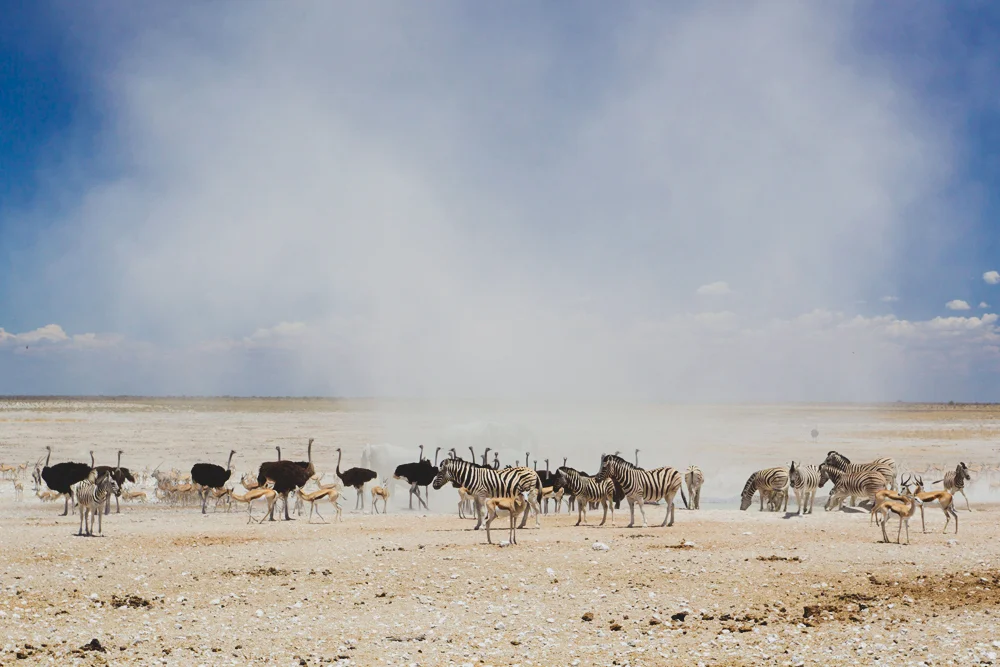 On the way from Etosha to Windhoek (and vice versa), you can make a short detour and stop for a couple of minutes in the town of Grootfontein , or rather in its vicinity. There has been a meteorite named Goba for thousands of years, the largest and most famous piece of natural iron found by man. To look at Hoba Meteorite you will have to pay $ 2 , but you can lie down on it and recharge the energy of space for a couple of minutes.
It is good to spend the energy absorbed from the meteorite in the small but charming Waterberg Plateau National Park . It makes no sense to linger for a long time, but walking along a short trekking route overlooking the majestic plateau and the Namibian expanses is quite worth its $ 6.5.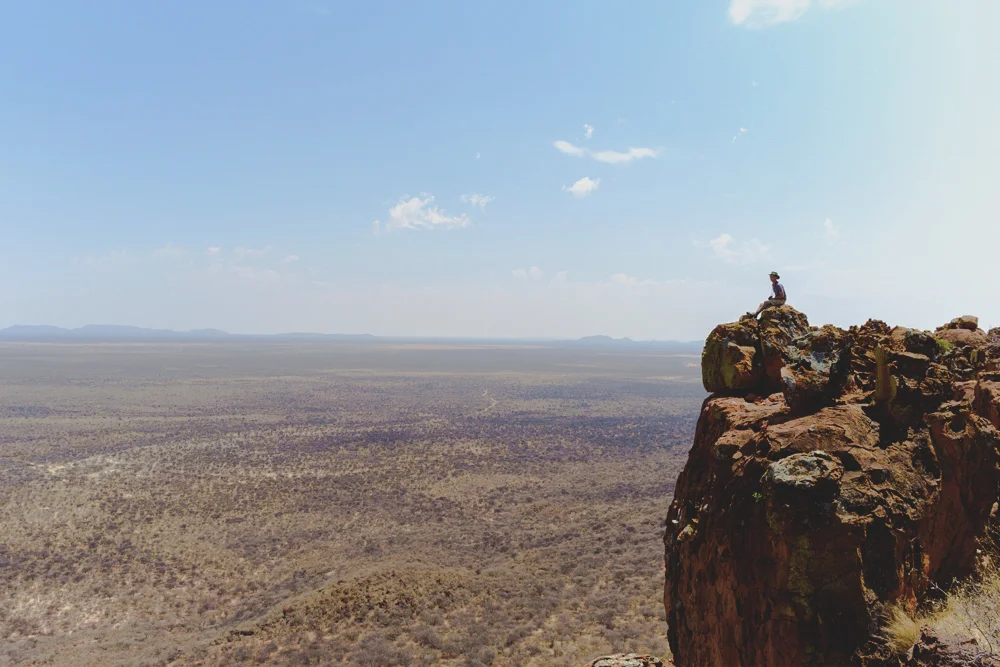 You can't do without a trip to the south of Namibia. Its significant part is occupied by Namib-Naukluft National Park – the largest national park not only in the country, but throughout Africa. This is the Namib desert, which has seen dinosaurs, the endless territory of ancient sands and orange dunes that have fallen asleep. Fortunately, the most spectacular sites in the park are easily accessible by car, so even one daylight hours will be enough for a quick acquaintance with the desert.
Where to go?
The entrance to the park is located near the town of Sesriem , where you have to pay the usual $ 6.5 and then move deeper into the desert. Before that, it makes sense to look into Sesriem Canyon , because after the views of the park this canyon will not seem very interesting, but just right for warming up.
Then everything is simple. The only road in the park ends at the Sossusvlei plateau , surrounded by the famous dunes of overripe carrots. These dunes are the oldest and highest in the world, and therefore have earned their own name, or, at worst, a number. For example, Dune 45 is only 80 meters tall, but its sand is already 5 million years old, but Big Daddy grew up to 325 meters, and still is not considered the highest dune in Namibia.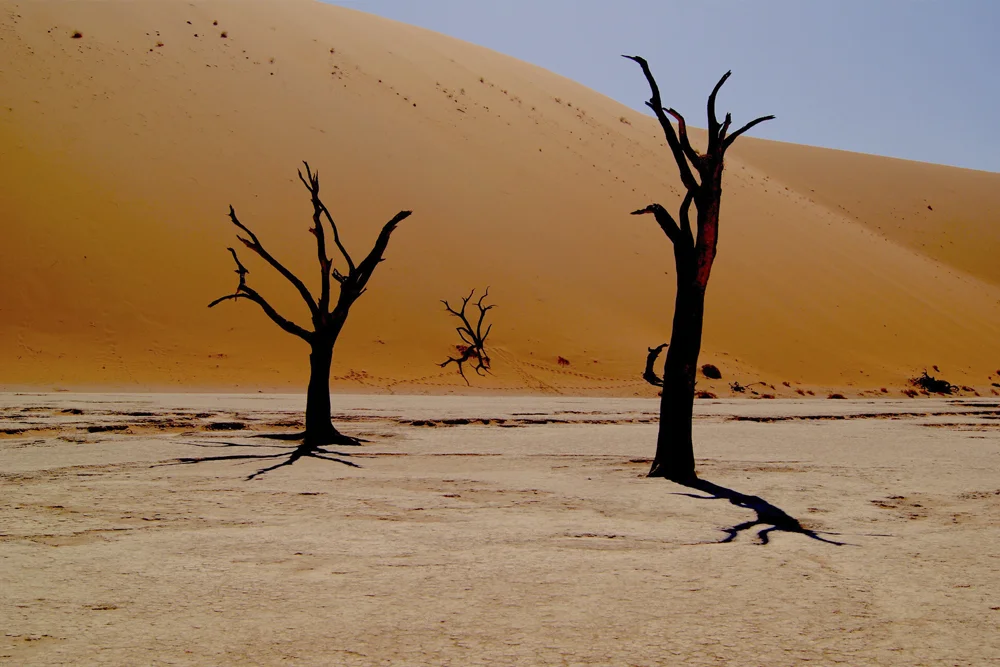 Near the red plateau is Deadvlei – the bed of a dried-up river, where dead "things" from "Mad Max" froze in ominous poses. The landscape is unearthly and exciting.
It is best to go to the park in autumn or spring, and the most suitable light for photographs happens at sunset and sunrise. Therefore, if there is an opportunity to stay at one of the campsites and spend the night in the most ancient desert in the world, be sure to use it.
And finally. In the very south of the country, there is a place for the Fish River Canyon – the largest canyon in the world after the American one. It will take 5 days and a lot of money to walk 80 km along the popular route along the canyon, but simple contemplation from the observation deck is enough to take your breath away from the beauty.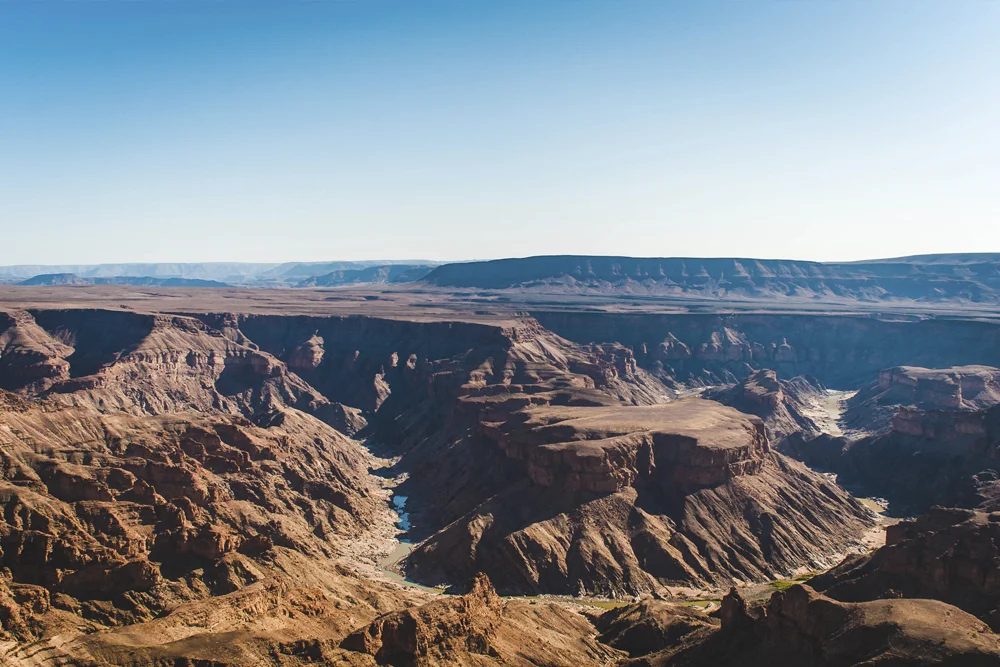 It won't be easy to get here, but this place is definitely worth the time spent on the road. The main thing is to correctly indicate the destination: the canyon is huge, it has many marks on the maps, and not every one of them looks photogenic. On Google Maps, the main observation deck is designated Fish River Canyon Viewpoint and is located near Hobas. The price is the same: $ 5.5 for entry and $ 1 for a car. Enough for the first time. Now you know for sure that a traveler in Africa is not alone on a wildlife safari.
Good Reads