Kanha Tiger Reserve is situated in the Mandala & Kalaghat districts of Madhya Pradesh, India. Kanha is a source of inspiration for famous poet & writer Rudyard Kipling, As he depicted the beauty of Kanha & Some other forests in his beautiful creation " The Jungle Book ". It is declared as one of the finest wildlife areas in the world.
Important Milestones
In 1879, 'Kanha Reserve Forest' was created.
In 1933, it was designated as 'Wildlife Sanctuary'.
On 01 June 1955 Kanha National Park was created.
In 1973, it renamed 'Kanha Tiger Reserve' under the famous 'Project Tiger'.
About the Park
– Kanha Tiger Reserve is divided into four different zones: Kisli, Mukki, Kanha & Sari.
– There are two entrance gates to explore the National Park: Khatia & Mukki.
– Khatia entrance gate is in the Mandala district and it provides access to Kisli, Kanha & Sarhi zone.
– Mukki entrance gate is in the Balaghat district and provides access to Mukki Zone.
– Park remains open from 16th October to 30th June every year.
– Park's minimum temperature is 2* C & max. temperature remains at 43* C.
– Highest recorded rainfall is 1800 mm.
Wildlife Safari
– Here you can enjoy Jeep Safari and Elephant Safari to explore the wonders of wildlife.
– In this, 6 seated open vehicle is provided along with driver & local tourist guide.
– Jeep safari takes place twice in a day, In early morning hours and late afternoon hours.
– Great attraction in a park is "Bamni Dadar " which is a sunset point.
Fauna
Wildlife has species of Indian tigers, leopards, wild dogs [Dholes], wild cats, Swamp deer, etc. Gaur is the largest wild animal in the park. Whereas Swamp deer or Barasingha is a pride of Kanha.
Other animals include Spotted Deer, Sambar, barking deer, four-horned antelope, langurs, wild boar & Nilgai. Nocturnal animals including Foxes & jackals, civets, porcupine & hares can be seen outside the parking area.
In a Kanha, bird lovers can view around 300 species of birds. You can see birds such as blossom headed parakeets, common teal, crested serpent eagle, drongos, Indian Roller, lesser whistling teal, Malabar pied hornbill, Indian peafowl, steppe eagle, Tickell's blue flycatcher, white-browed fantail, wood shrikes & many more species.
Reptiles are present including Pythons, Indian cobras, kraits, rat snakes, vipers, etc. If you observe the water bodies, many species of turtles & amphibians can be seen.
Such a variety of wildlife can provide a wonderful experience.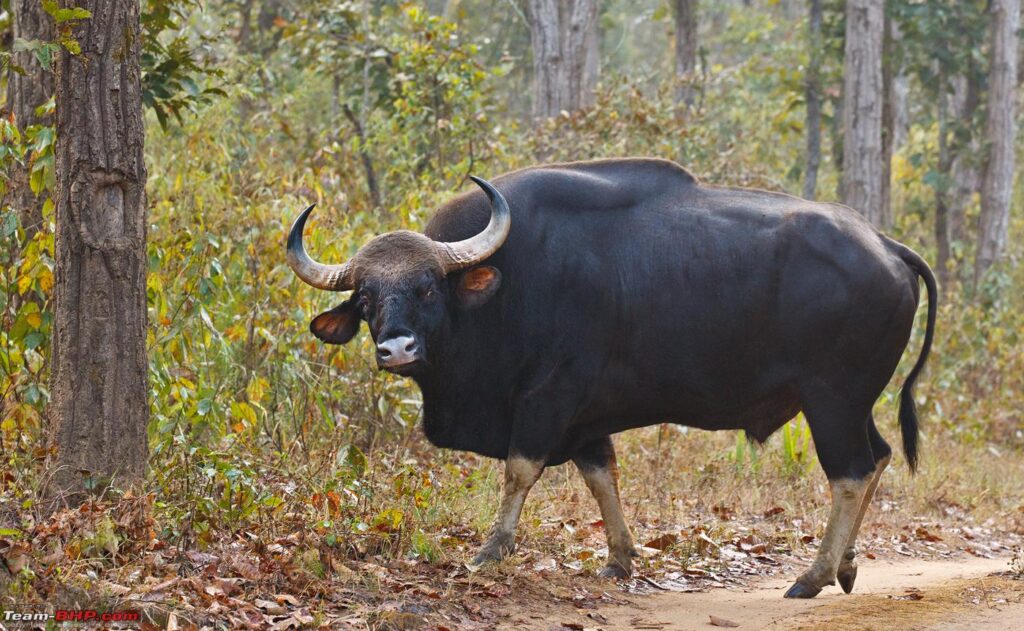 Topography & Flora
Today, Kanha's total area is 940 Sq.km. It is situated at an altitude of around 600 M to 870 M [1900 ft. to 2900 ft.] above sea level. It is situated in Maikal Range [Chain of Hills] of Satpura in Madhya Pradesh. Kanha's topography mainly comprises of landscapes, luxurious meadows & dense maroons of forests. Amidst the dense jungle, there is the flow of crystal clear streams. This all provides a wonderful & eye-catching view of Kanha National Park.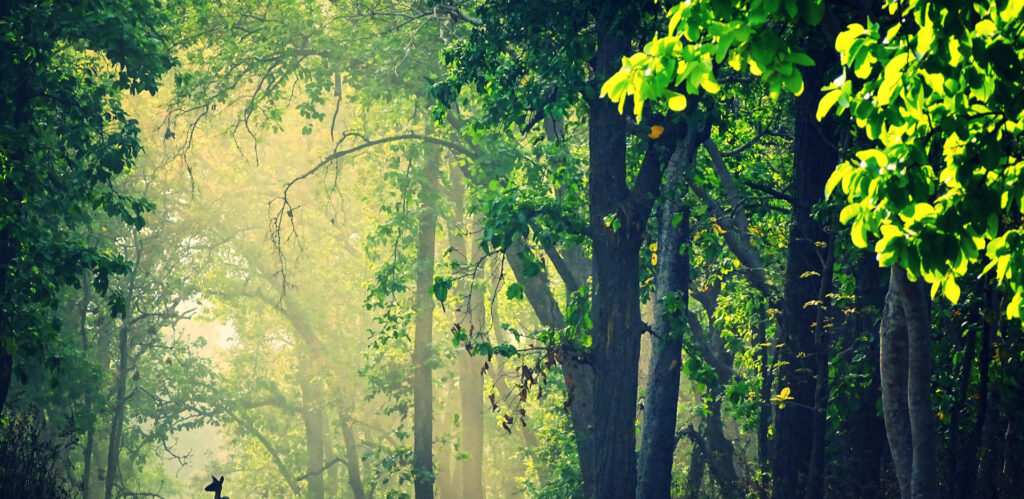 Kanha is situated in the central highlands of the Indian Tropical Zone. The lowland forest is comprised of Sal trees with supporting meadows. Highland forests comprised of tropical moist, dry deciduous forests and most interestingly having bamboo trees on their slopes. 'Indian Ghost Tree' can also be seen in the forest
Related Posts – Coorg | Nagarhole National Park  | KAZIRANGA | Bandhavgarh |
Frequently Asked Questions About Kanha National Park
Q. What is Kanha National Park famous for?
A. Kanha National Park is known for its flora and fauna. There are various animals you can spot here, including Bengal Tiger, swamp deer, Indian wild dog, and 300 species of birds.
Q. How many tigers are there in Kanha National Park?
A. There are around 500 tigers in Kanha National Park and this is why it is famously referred to as one of the best tiger reserves in India.
Q. How do you reach Banjaar Tola?
A. Reaching Taj Banjaar Tola is not a task. It is located at a distance of 150 kilometers from Jabalpur Railway Station as well as Jabalpur Airport. A cab will be easily available for you to cover that distance.