Halloween is on the way, and it's time to celebrate. Get ready now and plan your Halloween festivities at the Ghostly Gathering Bar Crawl in Hoboken. Join your friends to party on All Hallows Eve at Hoboken's favorite bars and dance clubs for themed spooky drinks, contests, and dancing, and be hauntingly entertained until the witching hour.
Halloween isn't just for kids
Halloween is a favorite holiday for many adults who love to get creative with spooky costumes and have a devilish night out on the town. Your creepy costume could win you a nice prize. A Hoboken Halloween bar crawl is the perfect event to sample Halloween-themed food and spooky drinks at some of Hoboken's best bars.
Witches, ghosts, and goblins can hang out with friends and meet new friends along the way. Halloween pub crawls are one of the favorite ways for adults to celebrate the year's scariest holiday. Get creative with your costume, but consider you'll be walking to each of the venues. Wearing comfortable shoes will prevent sore feet halfway through the evening.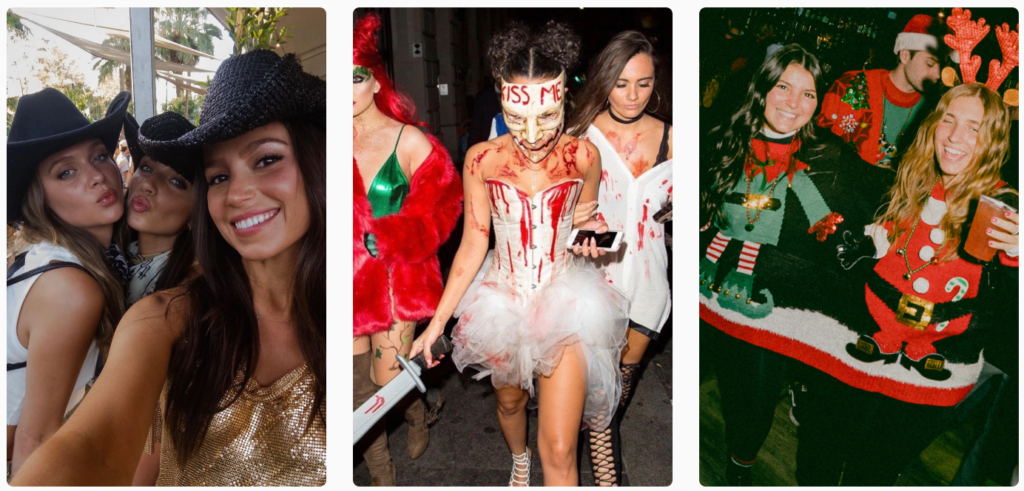 Here's what to expect at your spooky celebration
You'll experience a night of celebrating All Hallows Eve with your friends. The bars that participate offer special discounts and deals for partygoers. You'll experience the best of Hoboken's favorite night spots. Prior to the event, ticket holders get an email with a digital list of the participating bars. You can access all bars on the Ghostly Gathering list with a bar crawl wristband. Special drinks are Halloween-themed.
Bars feature costume contests with prizes for the most creative entries. Photographers and videographers are ready to capture all the scary fun. Select bars on the list feature DJs. Pub crawls are themed. Participants may wear casual dress, but costumes are more fun. Groups, couples, and individuals are all welcome. A Halloween pub crawl is a great way to check out Hoboken's best nightlife.
Here are a few favorite pub crawl venues in Hoboken
The Wicked Wolf Nightclub is a sports bar, nightlife venue, and a favorite for Halloween pub crawls. The Birch Nightclub is one of Hoboken's hottest nightclubs, with a bi-level dance floor and state-of-the-art lighting and sound systems. The Fat Taco Tequila Bar is a casual tequila bar with a fantastic nightlife scene and singalong music. The Texas Arizona Bar N' Nightclub in Downtown Hoboken is a sports bar and nightlife venue with an outdoor bar and seating.
The Green Rock Bar is a popular venue for parties and special events. The 80 River Nightclub is rebranding into a vintage, garage-style bar with an industrial vibe and live bands. The Lola Nightclub is a cocktail lab and eatery on the Hudson River specializing in private parties. These Hoboken bars are just a few with private events and pub crawls.
The bar list is announced before the pub crawl and could be subject to change. Mike's Wild Moose Saloon is the only country bar in Hoboken. The Wild Moose features house drinks, dancing, and a DJ.
Similar Article – Halloween Celebration Ideas
Here's what you need to know before your Halloween pub crawl
Participants for the Ghostly Gathering Halloween bash must be 21 and must have a valid license, state ID, or passport. Most of the venues on the pub crawl offer non-alcoholic drinks. You can still socialize with friends and enjoy the party atmosphere on Halloween if you don't drink.
Pub crawls typically last a few hours to allow spending time at each venue on the list. Transportation isn't provided between pub crawl venues since the bars are in the same area. Some groups rent a car or limo to transport them to the first venue and arrange for pickup when leaving the last bar for the evening.
The nightlife scene in Hoboken rivals the nightclubs in Greenwich Village and Williamsburg, Brooklyn. Hoboken's best bars are primarily in a cluster in one area, within easy walking distance, and perfect for themed pub crawls for Halloween.
Tickets are limited for Hoboken's Ghostly Gathering Halloween Bash, so take advantage and get your tickets early. You'll get a Bar Crawl LIVE wristband that admits you to all the venues and gives you discounts on themed drinks, beer, and shots. Cover charges are waived the night of the event.
Hoboken's Ghostly Gathering