Bandhavgarh tiger reserve maybe a park located in the Umaria District of Madhya Pradesh. The name Bandhavgarh is derived from one Hillock in the park which was said to be gifted by Hindu Lord Rama to his brother Lakshmana to keep watch on Lanka [Today's Sri lanka]. So Bandhavgarh means Brother's Fort. The park has the highest density of tiger population in India. [around 8 Tiger/Sq. Km]. It is home to Royal Bengal tigers & Indian leopards. Maharaja Martand Singh of Rewa captured here the first White Tiger named 'Mohan' in the year 1951. Bandhavgarh National Park.
History and Milestones
1. Prior to becoming a National Park it was maintained as 'Game Preserve' by the Maharajas of Rewa State till the British rule for hunting.
2. In 1947, Rewa State was merged with Madhya Pradesh in independent India.
3. In 1968, it became the ' Bandhavgarh National Park '.
4. In 1993, it gained its status of ' Bandhavgarh Tiger Reserve '.
Topography
As Per biogeographic classification the park is included in Zone 6A-Deccan Peninsula, Central highlands comprising Indian moist deciduous forests. Park is located in the Vindhya mountain ranges of Central India. Its altitude is around 800 M above sea level. Four zones of Bandhavgarh is Tala, Magadhi, Khitauli & Panpatha. Park's core area consists of 716 Sq.Km. which is spread over above three zones. Whereas the Buffer area comprises 820 Sq.Km. which is spread over the Umaria & Katni district of Madhya Pradesh.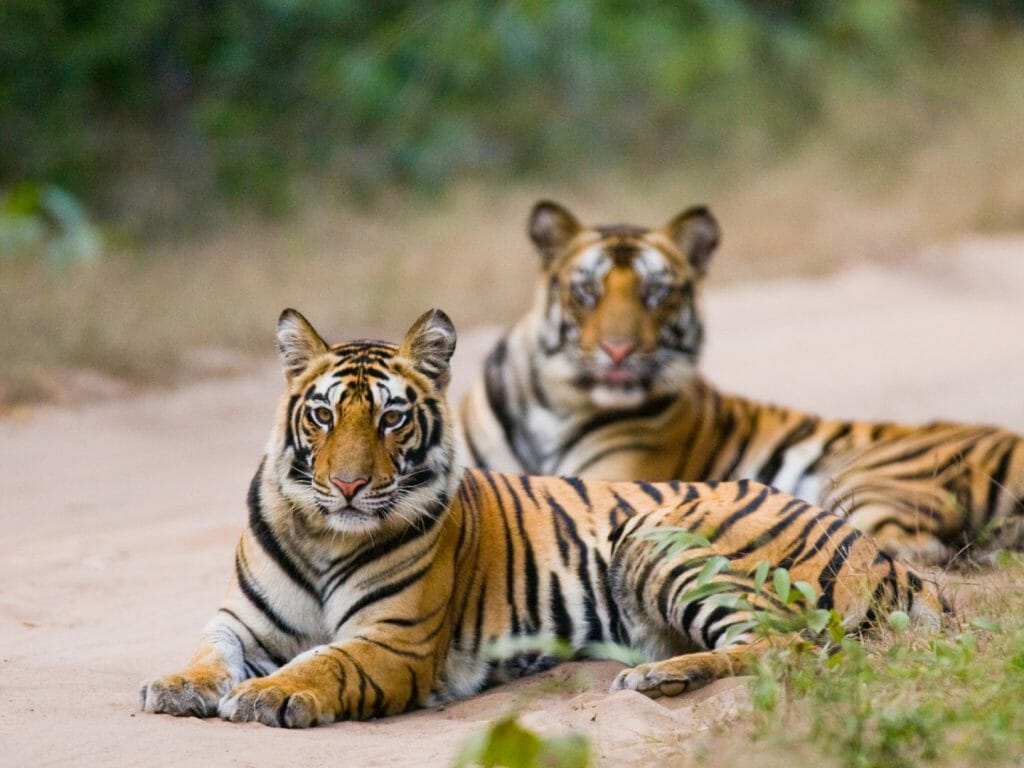 Flora
Park's rich vegetation consists of Tall grasslands and Thick Sal forest. Vide valleys with supporting streams form wide grasslands covered by mixed forests on valleys as well as on lower slopes. Mixed & deciduous forest trees include Sal, Saja, Salai, etc. You can also see Bamboo thickets in many places.
Fauna
According to forest officials, Bandhavgarh is having 37 species of mammals, More than 250 species of birds, about 80 species of butterflies, and many species of Reptiles. There is a possibility of more than 350 bird species present in the park. As Per the 2012 Census, the Bengal tiger population is around 50. It is saying that "In Bandhavgarh, you are unlucky if you can't see at least one tiger."
Bandhavgarh also has the largest breeding population of leopards. Other animals include Gaur [Indian Bison], Sambar, Barking deer, Chital, Nilgai, etc. Gaur was died by disease passed from other cattle to them. So, 50 Gaur were shifted and reintroduced from Kanha National Park to Bandhavgarh in 2012.

Bird species include: Orange-headed thrush, brown-headed barbet, Common myna, Alexandrine parakeet, Carrion crow, Great egret, Indian Robbin, Eurasian collared dove, White-throated kingfisher, Oriental white eye, Lesser whistling teal, Long-billed vulture, Chestnut shouldered Petronia, Yellow-footed green pigeon, Sapphire Flycatcher, Crested hawk eagle, Purple sunbird, Tickell's flowerpecker, house sparrow, jungle babbler, Red-collared dove, Common sandpiper, Asian pied starling, Asian duck & many more.
Bandhavgarh fort
It is located in the middle of National Park on Bandhavgarh hill, rising 811 meters above sea level. It is surrounded by small hills & valleys. The fort has 39 historical caves situated inside. It is home to many endangered species of flying vultures. At present, the MP tourism department doesn't grant permission to visit the fort. Only Lord Vishnu's statue on its base is open to visitors.
Related Post –Nagarhole National Park | KAZIRANGA NATIONAL PARK
Frequently Asked Questions About
Bandhavgarh National Park
Q. What is Bandhavgarh national park best time to visit?
A. The best time to visit Bandhavgarh National Park is from October to June. The park is closed in the months of July, August, and September.
Q. What is the nearest airport to Bandhavgarh National Park?
A. Both the Khajuraho Airport and Jabalpur Airport are around 250 km from Bandhavgarh National Park and one can opt for either of them.
Q. How much Bandhavgarh national park distance is from Delhi?
A. The distance from Delhi to Bandhavgarh is around 978 km and we would recommend you to book a flight to its nearest airports.